Teaching and Learning
Southern Utah University goes all in with an experiment on general education, combining 13 courses into one year of material that eight professors jointly teach.
Surveys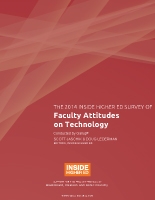 Oct. 29, 2014 -- Inside Higher Ed's 2014 Survey of Faculty Attitudes on Technology examined the views of faculty members and academic technology administrators on online education and a range of other technology-related issues.
The survey was conducted in conjunction with researchers from Gallup. 
Inside Higher Ed regularly surveys key higher ed professionals on a range of topics. A copy of the report can be downloaded here.
On Nov. 18, Inside Higher Ed's Scott Jaschik and Carl Straumsheim conducted a free webinar analyzing the survey's findings and answering readers' questions. To view the webinar, please click here.
The survey was made possible in part by financial support from Blackboard, Pearson and Sonic Foundry.
Booklets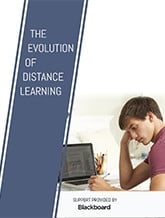 "The Evolution of Distance Learning" is Inside Higher Ed's latest compilation of articles.
The print-on-demand booklet features articles about a range of institutions and approaches.
This compilation is free and you may download a copy here.
And you may sign up here for a free webinar on Tuesday, Oct. 13, at 2 p.m. Eastern about the themes of the booklet.
Topics
Section Topics
Related Jobs
Other, indicate below, IL
Hofstra University is a dynamic, private University offering more than 145 undergraduate and 160 graduate programs in Liberal Arts and Sciences,...
Founded in 1873 in Marshall, Texas by the Freedman's Aid Society of the Methodist Episcopal Church, Wiley College is an historically black, primarily...
Most
Past:
Day
Week
Month
Year