Technology
Has edX become a platform for a Chinese propaganda course?
Surveys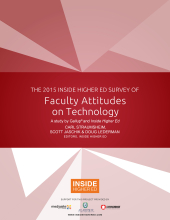 Oct. 14, 2015 -- Inside Higher Ed's 2015 Survey of Faculty Attitudes on Technology explored the views of instructors (and campus administrators who oversee digital learning) on a range of timely issues.
A copy of the report can be downloaded here.
Inside Higher Ed regularly surveys key higher ed professionals on a range of topics.
On Nov. 12 at 2 p.m. Eastern, Inside Higher Ed's Scott Jaschik and Carl Straumsheim will conduct a free webinar analyzing the survey's findings and answering readers' questions. To register for the webinar, please click here.
The survey was made possible in part by financial support from Mediasite, the Learning House and Academic Partnerships.
Booklets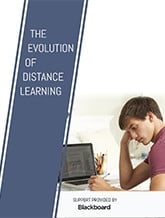 "The Evolution of Distance Learning" is Inside Higher Ed's latest compilation of articles.
The print-on-demand booklet features articles about a range of institutions and approaches.
This compilation is free and you may download a copy here.
And you may sign up here for a free webinar on Tuesday, Oct. 13, at 2 p.m. Eastern about the themes of the booklet.
Blogs
Technology and Learning
November 30, 2015 - 9:00pm
Can you add to this list?
Technology and Learning
November 29, 2015 - 9:00pm
An argument about the unintended consequences of online learning for foundational residential courses.
Law, Policy -- and IT?
November 29, 2015 - 5:34pm
Why change is needed now.
Topics
Section Topics
Related Jobs
Washington and Lee University, the nation's ninth oldest institution of higher education, is an independent liberal arts university that develops...
Gordon State College is a residential state college in the quiet middle Georgia town of Barnesville. From its founding as a seminary for men and...
Most
Past:
Day
Week
Month
Year