You have /5 articles left.
Sign up for a free account or log in.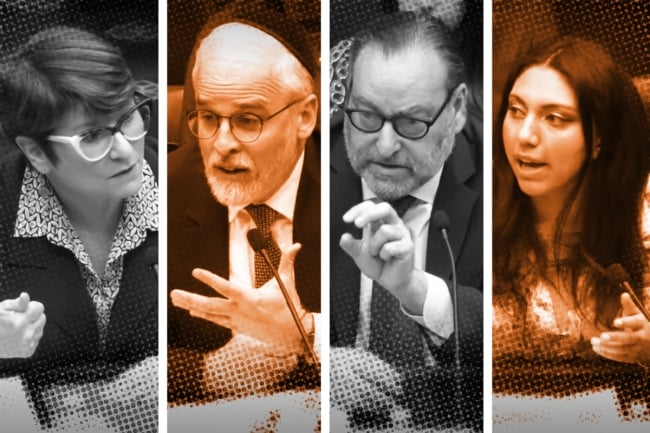 Photo illustration by Justin Morrison/Inside Higher Ed | U.S. House Committee on Education and the Workforce
Diversity, equity and inclusion programs on college campuses are behind the recent spike in campus antisemitism, several House Republicans said Tuesday during a hearing on "confronting the scourge of antisemitism on campus."
"I think DEI is a fraud and what we're seeing now on campuses is proof of that," said Burgess Owens, the Utah Republican who chairs the House higher education subcommittee.
Democrats and Republicans on the subcommittee condemned the increase in antisemitic incidents on college campuses since the start of the Israel-Hamas war last month. Some Democrats also decried the increase in Islamophobic incidents, though that was not a focus of the hearing.
Republicans in Congress have become increasingly critical of how some college students rallied in support of the Palestinian people following the Hamas attack, and of how universities have responded to the outbreak of antisemitic speech, threats and assaults against Jewish students. Some students have said they don't feel safe on campuses as their peers rally for the Palestinian cause, share pro-Hamas statements on social media and display controversial slogans. Meanwhile, pro-Palestinian students say they're facing backlash for criticizing the Israeli government. Both Jewish and Muslim students have been assaulted.
Owens, along with fellow Republican lawmakers and witnesses who testified before the committee, said DEI programs promote hatred by dividing students into either the oppressed or the oppressors. That dichotomy doesn't make space for Jewish students to be considered oppressed, they said.
"The modern form of antisemitism is more subtle, for it is often disguised under progressive political innuendos," Owens said. "For example, Offices of Diversity, Equity and Inclusion steeped deeply in the doctrine of Marxism are anything but inclusive for Jews."
Owens cited a study from the Heritage Foundation, a conservative think tank, that reviewed the social media feeds of employees in college DEI offices for comments related to Israel. Based on an analysis of the tweets, the report concluded that many DEI staffers are unwelcoming toward Jewish students.
Stacey Burdett, an expert in antisemitism prevention who formerly worked for the Anti-Defamation League, pushed back against the idea that DEI policies or programs are to blame. She said that while DEI offices might not have been set up initially to help Jewish students, the programs are adapting. "Don't make us the excuse to shut down something important," she said.
Sahar Tartak, a student at Yale University, told the subcommittee that the campus DEI office has done nothing for her and her Jewish friends while it protects every other minority group. In the wake of the Israel-Hamas war, she and other Jewish students have been barred from some campus events and experienced harassment, she said. (Palestinian students and their supporters were not included in the hearing.)
"Students are uncomfortable approaching their own professors for help with coursework because they are openly pro-Hamas," Tartak said. "Another peer slept on a friend's couch because her roommate supports Hamas. My peers and I have begun to recede into Jewish centers exclusively to study, eat and talk for fear of anti-Jewish peers on campus."
Tartak said academia has turned its back on Jewish students and urged the subcommittee to "mobilize on this issue." She wants Yale and others to "defund and derecognize" student groups that she said promote violence and support terrorism. A few universities or states have taken that step in recent weeks.
"Universities have allowed Jew hatred to run rampant," said Tartak. Yale did not respond to a request for comment.
'You Are My Enemy'
Some of the sharpest attacks at Tuesday's hearing were aimed at university leaders. Republicans on the committee accused administrators of cowardice and called for stripping colleges of their federal funding if they fail to protect Jewish students. Several lawmakers and witnesses said college campuses have become nexuses of hate and "hotbeds of antisemitism."
"I want to put colleges and universities on notice that if you permit or harbor antisemitism on your campus, you are my enemy," said Brandon Williams, a New York Republican.
Since the war began, college and university administrators have sought to support both groups of students and have faced criticism from both groups and others who have found their responses lacking. Leaders are also struggling to find a balance between protecting students and allowing for free speech.
The criticism didn't just come from Republicans. North Carolina representative Kathy Manning, a Democrat, said that "too many college leaders have failed to fulfill their moral responsibility to totally reject hatred and violence and antisemitism."
Manning said she was worried that the rise in incidents would force students to decide that they are safer if they "abandon" their Jewish identity. "We need to do more to address this issue," she said.
Throughout the hearing, lawmakers opined on or asked about what has caused the rise in campus antisemitism. Republicans did not just call out DEI programs; they also pointed a finger at the politics and viewpoints of faculty members, international students, the Black Lives Matter movement, and academic programs such as Middle Eastern Studies.
Democrats disagreed with Republicans on the specific causes of campus antisemitism. They noted that antisemitism has persisted for decades and its recent resurgence shows that something is wrong in the country.
"Any student of history knows that it did not start with the current war, foreign influences or any new philosophy," said Virginia representative Bobby Scott, the top Democrat on the larger education committee. "My colleagues would do well to recall this country's centuries-long history of racism and antisemitism."
Burdett said antisemitism has deep ties to white supremacy and that no one can understand hate in America without it. While it's difficult to prove causality, she said, the way in which leaders use their platforms has an impact.
"It does make a difference when leaders use their microphone to say there were good people screaming 'Jews will not replace us' in Charlottesville," she said, referencing former president Donald Trump's remarks after the neo-Nazi rally in the Virginia college town in 2017. "That is terrifying and it still is. The way that some leaders have turned a blind eye to antisemitism when it's not coming from someone that they disagree with has been heartbreaking."
'Test Case in Noncompliance'
Tuesday's subcommittee meeting was the third congressional hearing or roundtable in the past week focused on campus antisemitism and the Biden administration's response. The House Ways and Means Committee is planning to jump into the fray Wednesday with a hearing titled "From Ivory Towers to Dark Corners: Investigating the Nexus Between Antisemitism, Tax-Exempt Universities, and Terror Financing."
Under federal civil rights law, colleges and universities are legally required to protect students from religious discrimination, including antisemitism and Islamophobia. Last week, the Education Department's Office for Civil Rights sent colleges and universities a reminder of their obligations under Title VI of the Civil Rights Act of 1964. The OCR enforces the federal laws and investigates complaints.
On Tuesday, before the hearing, the department announced new steps to help colleges protect students from discrimination and harassment. Those steps include more guidance for institutions and a series of listening sessions with students impacted by antisemitism and Islamophobia.
Rabbi Moshe Hauer, executive vice president of the Orthodox Union, testified that Jewish students need a "fortress" to protect themselves from increasingly hostile campus environments. He added that college administrators should be having serious discussions about how to give Jewish students a sense of safety.
"Title VI ensures that our federally funded environments are supposed to provide a place where all students are welcome," Hauer said. "What we are experiencing today is a test case in noncompliance with Title VI."
Kenneth Marcus, founder of the Louis D. Brandeis Center for Human Rights Under Law, said the Biden administration should be proactive in opening up investigations into institutions instead of waiting for complaints to come in, as it typically does.
"When the problem is exceptional and unprecedented, the solutions need to be unprecedented and exceptional," said Marcus, who led the Office for Civil Rights during the Trump administration.
Several Democrats on the committee commended the Biden administration for the actions it has taken to address campus antisemitism. They criticized House Republicans for proposing to cut the Office for Civil Rights' budget by $35 million while also calling for more enforcement of Title VI. The agency, which has been underfunded and understaffed, received nearly 19,000 complaints about a range of potential civil rights violations in 2022—a record number that's created a backlog in cases.
"I don't understand how we can complain about a group of people not getting through 19,000 cases when they are not equipped to handle that deluge," Burdett said. "The complaints that are going to be coming are going to be real, hard and need investigative capacity. Let's get busy and put people in those chairs."
Marcus disagreed that the Office for Civil Rights needs more money to tackle campus antisemitism. Complaints about the issue make up a small fraction of those sent to the office, he said, and should now be prioritized. "With a small number of significant high-profile matters, it's really a combination of political will and management that made the difference in those periods when it's been dealt with effectively," he said.
Scott appeared skeptical of that statement and asked if prioritizing antisemitism investigations without additional funding would mean ignoring the thousands of pending cases.
Marcus insisted that those pending cases don't need to be ignored while the office tackles antisemitism. "The assistant secretary for civil rights can really address any issue that is high on the priority list," he said, "while also addressing the bulk of them as well."