You have /5 articles left.
Sign up for a free account or log in.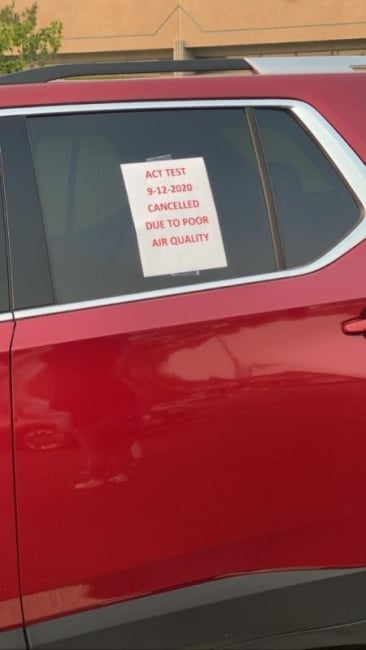 The letter emailed to the ACT this weekend was accompanied by a photo of a car parked outside a testing center with a one-page notice taped to the back-seat window.
"ACT TEST 9-12-2020 CANCELLED DUE TO POOR AIR QUALITY," the notice stated.
"What the #&%#* is wrong with you people?????" wrote the outraged and angry letter writer. "Just look at the attached image from your Reno location this morning! This is how you let people know a test has been canceled??? Aside from the obvious question about air quality and why that would possibly impact kids taking tests inside a classroom, don't you realize that due to past cancellations, parents and kids are traveling long distances to try and take these exams? Many are flying in from other states, as you no doubt understand. How, knowing this, can you possibly keep cancelling tests with no notification until the morning of? And with some cockamamie sign on the window of a car? I'd like to write a lot worse things, with all the curse words that are racing through my thoughts, but very simply: you should be ashamed of yourselves. Given all your no-notice failings over the last 6 months, I'm sure you aren't. But you should be," said the letter, which was also sent to Inside Higher Ed.
This weekend was the first test administration since the ACT vowed to improve in light of what happened at the July 20 administration of the ACT. That day, 1,400 students showed up to take the ACT and found that their testing centers -- typically high schools -- were closed. The test was taken by 88,000 students.
ACT is not releasing numbers of canceled tests. Tarah DeSousa, a spokeswoman for ACT, said that the organization helps those whose tests have been canceled register for another test. ACT does publish a list of testing centers that have canceled. The current list has more than 500 names of testing centers, mostly high schools. ACT has said that it hopes to have more tests given in hotels or conference centers to avoid the closures.
Late Monday, ACT released a statement about the test: "Our pop-up testing events and Sunday testing allowed us to expand testing capacity this weekend, with CDC guidelines for social distancing in place, and new requirements for test-takers to wear face coverings. We did experience some last-minute test cancellations with test centers and school sites closing due to COVID-19, and West coast wildfires and poor air quality. However, these were not as significant as compared to summer test center closures. As we continue to navigate capacity limitations and site closures up until test day, we know that some students will be displaced. We are working to register students who were displaced this weekend due to site capacity limitations, COVID-19 closures, and the wildfires, for the upcoming national test date on Saturday, September 19 or one of our four test dates in October."
Robert Schaeffer, interim executive director of FairTest: The National Center for Fair and Open Testing, and a long-standing critic of standardized testing, said, "We saw and heard a ton of complaints about registration problems and site assignment screwups, as well as ACT's lack of customer service."
Another parent letter shared with Inside Higher Ed discussed the parent's attempts to change testing dates for his child.
"We tried last night and this morning to make the change for the October testing. Your website remains down. Someone from ACT emailed yesterday saying it had been changed, I emailed back saying it did not show changed, and then she emailed me back that I was correct, that it had not been changed, and that someone would be in touch with me soon. I have heard nothing, nor have I received follow-up correspondence. So, how does ACT propose I resolve this? 1. Your website has not worked for at least three days; 2. Your customer service number leaves people on hold for two hours then hangs up; 3. You promise someone will elevate our issue and nothing gets resolved."
The College Board has also struggled to deliver the SAT during the COVID-19 pandemic. It announced in August that of the 402,000 students registered to take the SAT and SAT Subject Tests on Aug. 29, 178,600 would be unable to take the test for which they signed up because so many testing centers have closed due to the coronavirus pandemic.
Most colleges are not requiring the SAT or ACT this year. But many students still want to take the tests, fearing that their colleges may still prefer that applicants submit scores.