You have /5 articles left.
Sign up for a free account or log in.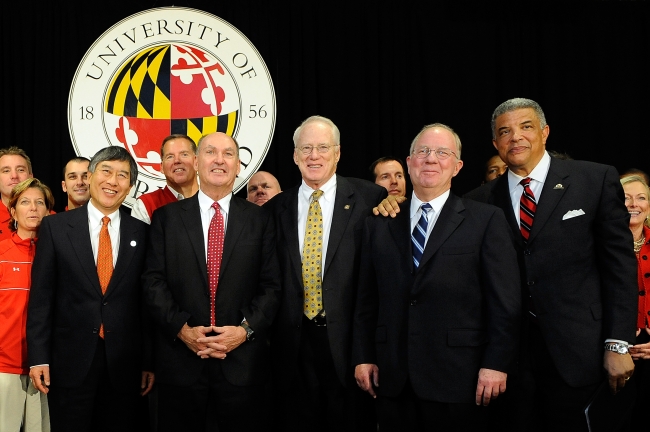 The way the Big Ten Conference commissioner and the presidents of his newly snatched-up member universities were talking last month, one might think there was nobody under the sun who took issue with the University of Maryland at College Park and Rutgers University joining the traditionally Midwestern athletic league.
Perhaps that's because nobody else got a say -- least of all the people who make up the backbone of the universities.
While Commissioner Jim Delany and Presidents Wallace Loh (of Maryland) and Robert Barchi (of Rutgers) were singing the praises of the Big Ten and its perfectly perfect fit for the universities, others in academe were struggling to catch up.
But in the few weeks since the expansion, faculty and others have started asking why they were shut out of the process.
C. Thomas McMillen, a Maryland regent (and former Congressman and professional athlete) who voted against the switch, spoke for many when he lamented in a Washington Post op-ed that faculty members, students and other stakeholders had no say in the decision because of a Big Ten nondisclosure agreement.
"The real problem is that commissioners of athletic conferences can dictate terms to universities that effectively hijack the possibility of debate, and that is just plain wrong," McMillen wrote. "Once more the tail wags the dog; once more athletics distorts higher education."
The most vocal opposition to the speed with which the Big Ten's expansion from 12 to 14 teams occurred was indeed directed at Maryland. The university system skirted state public meetings law by holding an impromptu, closed Board of Regents conference call late Sunday night, Nov. 18, that extended to a closed session Monday where the regents endorsed the move. Officials dodged questions about the process at a news conference that day, saying only that it had to be speedy and that they had consulted the state attorney general. In the following weeks, Maryland issued statements pointing out that it was not required to put the conference switch to a board vote, but chose to do so "on a move of such significant magnitude."
However, as Frank LoMonte of the Student Press Law Center pointed out with a memo to Loh and the board's chair, the board still was required by law to hold a public meeting to vote to hold a closed session.
"It's just a terrible precedent to let boards make huge policy decisions with eight-figure implications outside of the public view," LoMonte, executive director of SPLC, said in an interview with Inside Higher Ed. "Given that so many of these boards function as a rubber stamp of the president anyway, without much genuine checks and balances, it's only the public scrutiny that puts any kind of brake on the express train as it's careening down the tracks."
Notwithstanding the $50 million exit fee for which the Atlantic Coast Conference is suing Maryland, the university will make about $24.6 million annually in media earnings as a member of the Big Ten, nearly $8 million more than it earned in the ACC.
A former Baltimore County teacher has filed a formal complaint regarding the closed session with the Maryland Open Meetings Compliance Board. The system issued a quasi-regretful statement for meeting in closed session but defended its decision to do so.
But for other critics, Maryland and Rutgers aren't the only culprits. Some faculty members at other Big Ten institutions were taken aback that they were not consulted or even offered an avenue for input, particularly because Big Ten institutions (provided they are voted in) are also part of the Committee on Institutional Cooperation, a prestigious research consortium.
"There is an organizational structure which goes beyond athletics and in which the faculty is involved," said N. William Hines, chair of the University of Iowa's Presidential Committee on Athletics, which oversees the athletics program and advises the president at her request. "If we're going to have shared governance, one of the implications of that is you don't add a bunch of faculty associates to whomever your collegiate relationships are without at least giving your faculty the chance to comment on it."
But, perhaps in a sign of the times, Hines was reluctantly accepting of the secretive process through which the Big Ten expanded. Discussing expansion before signing contracts would open the door to lawsuits, bad publicity and general chaos.
"I think that's just the world we live in," Hines said.
John Infante, author of the Bylaw Blog and National Collegiate Athletic Association expert for the athletic recruit advisory website Athnet, said that it's true: conferences would never announce an invitation, and colleges would never solicit input – from regents or anyone else – unless they already knew they were going to accept it.
"The board oversight is rather perfunctory," Infante said. But if a university creates an oversight committee for athletics and then doesn't consult it on a major change that will affect finances (Will the athletics budget grow? Will the move increase institutional subsidies?), student welfare (Just how far do athletes have to travel for games now? How will that affect their schoolwork?), and academics (the aforementioned CIC), it calls into question whether faculty have any voice at all. 
And realignment is an issue faculty should have a say in, Infante said.
Edie Goldenberg, a political science professor and member of two University of Michigan athletic advisory committees, first heard about the expansion on the radio (not unlike the out-of-nowhere news she heard after the Big Ten added the University of Nebraska in 2010. Goldenberg doesn't know what the academic implications will be – for students or the professoriate – but she would have liked an opportunity to hash them out.
"It shouldn't be just a matter of money as people think about these issues," Goldenberg said. "These decisions just seem to be made by the presidents in consultation with the head of the Big Ten and not in consultation with anybody on the academic side on campus."
Meanwhile, a group of faculty members at the University of Massachusetts at Amherst want out of the Mid-American Conference – but they're not looking to join the Big Ten. They want out of big-time football.
Amherst's previous chancellor moved the university to the Football Bowl Subdivision about a year ago without any formal discussion with faculty. Now, after its first season playing FBS football, the program's revenues haven't risen and institutional subsidies haven't decreased (they stand at 83 percent of the athletic budget) – contrary to initial promises and projections.
Further, Amherst's plan to draw more alumni by playing games at Gillette Stadium, in Foxborough, more than 90 miles from campus, not only hasn't panned out in that sense, it's also created safety concerns for students (if they even bother) driving to a football game, drinking all afternoon, then driving home. (The university does offer free buses.)
Max Page, co-chair of the UMass Faculty Senate's ad hoc committee on FBS football, presented a report detailing those numbers at the senate meeting Tuesday night. The rules committee declined to put to a vote a resolution regarding whether Amherst should pull out of the FBS.
Page is more concerned about the direction in which the move has taken Amherst than the way in which it was taken, but had the idea been taken to the senate and others first, "there may have been very strong pushback," he said, noting that there's still "very strong sentiment" around campus against the move. While the focus of Page's committee is the cost of playing football, others demand to know why administrators want to make a sport increasingly shown to cause brain damage central to the university's image.
LoMonte, of the Student Press Law Center, says realignment shrouded in secrecy is "indicative of the level to which the financial stakes of athletics have come to predominate over everything else" in higher education.
"For some reason, institutions have convinced themselves that the money to be made in sports is worth cutting some corners," LoMonte said. "The normal rules that govern public business at college campuses seem more and more to be suspended when it comes to big-money sports."