You have /5 articles left.
Sign up for a free account or log in.
The amount of debt that graduate and professional students are incurring to pay for their education has surged over the past several years, according to a New American Foundation report released today.
Analyzing federal data, the think tank found that the median overall indebtedness for a borrower who earned a graduate degree increased -- in inflation-adjusted dollars -- from $40,209 in 2004 to $57,600 in 2012. The figure includes loans from both undergraduate programs and graduate and professional degrees.
Much of that increase was fueled by students, across a broad range of disciplines, taking out more money to pay for their graduate education, according to the report, written by Jason Delisle, director of New America's Federal Education Budget Project.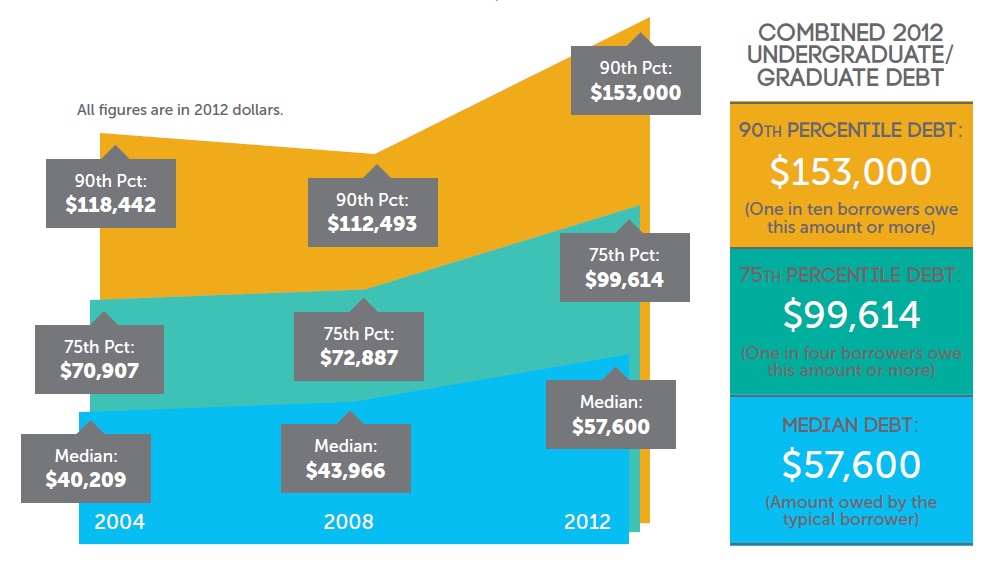 "[T]the largest changes in student borrowing are taking place in graduate education," the report says, noting that "this trend is not limited to what many already know are high-cost credentials like those in medicine and law."
For instance, the typical borrower who earned a master of arts degree owed $37,965 in 2004. That figure, adjusted for inflation, jumped to $58,539 in 2012. Similarly, students graduating with master's degrees in education who took out loans typically owed $50,879 in 2012, up from $30,726 in 2004.
The only type of graduate degree analyzed in the report that did not see a significant increase in the median debt load of borrowers was an M.B.A. The typical borrower of loans to pay for an M.B.A. program, adjusted for inflation, owed roughly the same in 2004 as he or she did in 2012.
Still, as was the case in nearly all types of graduate education, M.B.A. students who borrowed the most compared to their peers -- those in the 75th and 90th percentiles of debt -- saw the largest increases between 2004 and 2012.
"That the extremes are getting more extreme suggests to me that things have gotten out of control," Delisle said in an interview.
He said that the overall portrait of graduate education debt in his analysis suggests serious problems with how the federal government structures its aid programs for graduate students.
"You've got people who are borrowing these amounts knowing that they are more likely than not going to use these programs," he said, referring to the loan forgiveness provisions of federal income-based repayment plans and Public Service Loan Forgiveness.
Delisle has for several years pushed for the government to curtail the benefits those programs provide to graduate students, which he describes as a "windfall."
The Obama administration's 2015 budget request released earlier this month calls on Congress to adopt some of those restrictions on the programs, including a cap on the amount of debt that the government forgives.