You have /5 articles left.
Sign up for a free account or log in.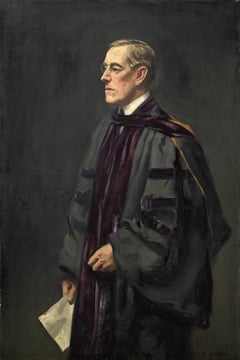 Princeton University late Thursday ended a sit-in in the president's office by agreeing to consider changing the prominent use of Woodrow Wilson's name -- in ways that honor the man who was president of the United States and of Princeton. The action was one of many in higher education in which colleges are trying to respond to a growing student protest movement that in the last 48 hours has seen new sit-ins and rallies -- and also new incidents of backlash and threats.
Here is some of what happened in the last 48 hours:
Princeton Agreement to End Sit-In
Black student groups have demanded that the Wilson name be removed from one of Princeton's academic units and from one of its residential colleges because of his racism and advocacy for segregation. An agreement signed by President Christopher L. Eisgruber pledged that he would write to the university's board chair "to initiate conversations concerning the present legacy of Woodrow Wilson on this campus, including Black Justice League's request to remove Woodrow Wilson's name." In addition, Eisgruber pledged that the board would "collect information on the campus community's opinion on Woodrow Wilson School name and then make a decision regarding the name."
He also said he would encourage the removal of a Wilson portrait from a campus dining hall.
Beyond the Wilson name issue, Eisgruber and other senior administrators agreed, among other things, to:
Create a working group "to begin discussions on the viability of the formation of affinity housing for those interested in black culture."
Have appropriate university groups consider "the possibility of cultural competency training."
Invite two members of the Black Justice League, the group coordinating the sit-in and other protests, to meet with a general education task force to discuss "the possibility of a diversity requirement" for students.
Pledge to take no disciplinary action against the students who remained overnight in the president's office from Wednesday through Thursday, provided that they leave the office, which they did.
Most of what Princeton agreed to do in the agreement was to have various bodies consider various changes -- from removing the Woodrow Wilson name to adding a diversity requirement. The university didn't pledge to actually do those things, just consider them.
And by Thursday night, many were speaking out online against the university doing those things. And many were criticizing the way Princeton resolved the sit-in. On the university's Facebook page, there were a few comments of support, but many more in opposition to the agreement. Some undergraduates posted comments stating that they did not agree with the Black Justice League demands or the university's agreement with the group.
A petition is circulating at Princeton criticizing several of the ideas that will get consideration under the agreement.
The petition states that the demands to remove Woodrow Wilson's name from campus represent "an alarming call for historical revisionism" about a "significant historical figure who, despite his flaws, made great contributions to this university."
As to the Black Justice League's demand for the university to require courses on "the history of marginalized people," the petition calls that "a thinly veiled attempt to impose the Black Justice League's unilateral narrative upon all undergraduates through the conduit of the core curriculum." And on affinity housing, the petition says that this "represents a morally abhorrent and blatantly illegal call for what is essentially racially segregated housing."
Finally, the petition states that "free speech is fundamental to Princeton's role as an institution of higher learning and excessive political correctness stifles academic discourse."
At the same time, others are speaking out to back the protest movement. Eleven faculty members in African-American studies issued an open letter early Friday that urged the university's leaders to take the demands of the protest seriously.
"Imagine how difficult it must be, for some, to have to live and learn in a place that celebrates people who believed passionately in white supremacy; to experience daily a sense of alienation and have no place to which to retreat and find comfort," the letter said. "Imagine the exhausting task of having to constantly educate your fellow classmates about the particulars of your experience and the complex histories that shape them. And, finally, imagine being told, in effect, 'be quiet' and endure. Such experiences suggest that Princeton is not truly their university -- that they are just passing through."
The letter also cautioned against a traditional (slow) consideration of the issues being raised. "Our students are no longer quiet. They have forced all of us to confront the urgency of the moment," the letter said. "Princeton's deliberate pace at reform often presupposes the sacrifice of those who must endure until we actually change. It's a costly wager. These students refuse to wait. They have forced the conversation and now we must act. We stand with them as they struggle with the racist legacy of Woodrow Wilson and its impact on this campus."
White Student Union at Illinois
At the University of Illinois at Urbana-Champaign, a group claiming to be the Illini White Student Union has twice created Facebook pages this week, and twice they have disappeared, amid concern from black students on campus and criticism from university leaders.
The News-Gazette reported that the page said it was created to be "a safe place for white students" so they could "be able to form a community and discuss our own issues as well as be able to organize against the terrorism we have been facing from Black Lives Matter activists on campus."
Rene Romano, the university's vice chancellor for student affairs, issued a statement saying of the posts on the Facebook page: "While they may be protected exercises of free speech, they are offensive, divisive and stunningly narrow-minded expressions."
A black student group on campus, Standing With heR, posted to Facebook that other posts on the white group's site (when it was up) suggested that people post photos of black students at the university. This should be viewed as something other than protected speech, Standing With heR wrote.
The black student group wrote: "Black students do not feel safe on this campus. By not giving serious antiblack acts of surveillance and intimidation weight or value, the University of Illinois [at] Urbana-Champaign is absolutely dismissing legitimate student concerns, is disregarding black student safety and is hypocritically speaking against its own proclamations that it values the stories and lives" of black students.
Demand for Presidential Resignation at Kean
At Kean University in New Jersey, a coalition of black ministers called for the resignation of President Dawood Farahi, saying that he had not responded sufficiently to threats against black students, NJ.com reported. The black ministers said the university was not taking seriously a threat posted to Twitter from @keanuagainstblk (an account that was quickly canceled). The account threatened to shoot black students at the university or to place a bomb there.
The ministers said Kean has not been an inclusive place for black students and more needs to be done, immediately, to protect black students.
The university maintains that it provides a supportive environment for all students and takes threats to student safety seriously.
Smith Students Bar Reporters for Being 'Neutral'
Student activists at Smith College barred reporters with a "neutral stance" from a sit-in Wednesday, MassLive reported.
Organizers told journalists they were welcome so long as they expressed support for the event organized in solidarity with students at the University of Missouri.
"We are asking that any journalists or press that cover our story participate and articulate their solidarity with black students and students of color," Alyssa Mata-Flores, one of the event's organizers, told MassLive. "By taking a neutral stance, journalists and media are being complacent in our fight."
Smith is a private college and exempt from the broad First Amendment protections that apply to public colleges and universities. But the episode is the latest in a handful of clashes between campus activists and journalists. Protesting students at the University of Missouri provoked a firestorm of recrimination after video spread of students blocking access to reporters on the college quad. (The protest organizers subsequently changed their position and encouraged more press coverage.)
Presidential Pledge at Towson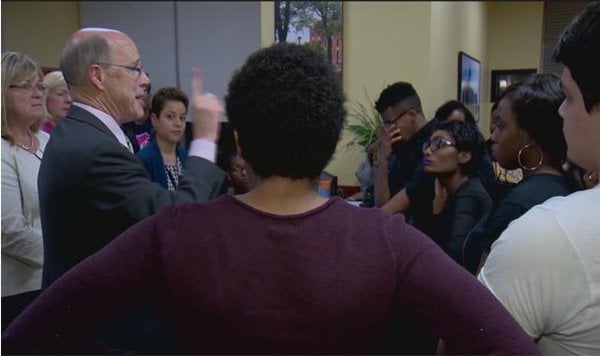 At Towson University, the interim president, Timothy Chandler, signed a pledge to "address" a list of demands made by black students who had spent the prior 10 hours in his office (photo at right). His pledge was to "move forward on addressing" the issues, and to communicate his support for the concerns. Further, he said that if he does not advocate for black students on these and other matters, he would resign.
The demands included increasing the number of tenured and tenure-track faculty members by 10 percent by 2018, pushing to diversify the committees that review tenure candidacies at the university, requiring that police activities be "equitable for black events and white events alike," and advocating for a course requirement for all students in American race relations.
In a statement, Chandler said, "This is what universities are supposed to do. We are supposed to help students express their opinions and find solutions to problems. I'm extraordinarily proud of this group of students, who want to make this a better place, not just for them, but for all of us."
Occidental Pledges Change, but Not a New President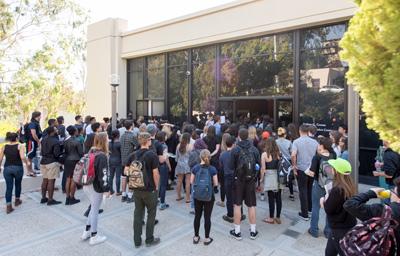 Occidental College, where students have been staging a sit-in and holding protests for several days, pledged a series of changes Thursday in response to students' demands.
The college pledged to immediately promote the chief diversity officer to a vice president, to create a black studies minor and to increase funding for various services and student groups for minority students. The college also noted that it has had success at recruiting minority students. At Occidental, 42 percent of students this year are not white, up from 36 percent in 2009. And of this year's new students, 45 percent are from minority groups.
At the same time, Occidental's board has rejected a demand that President Jonathan Veitch be removed, saying that he is leading the college well.
Portraits of Black Professors Defaced at Harvard Law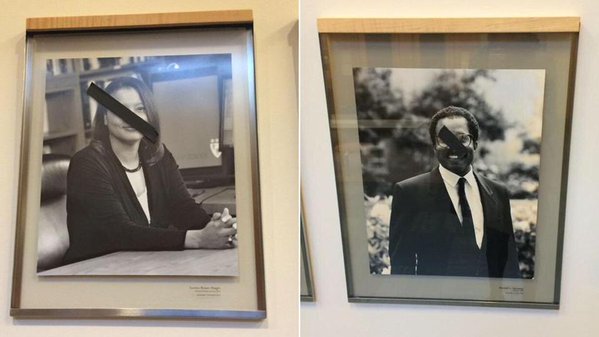 At Harvard University, students at the law school on Thursday found that someone had placed black tape across the faces of black professors in a series of portraits.
Martha Minow, the dean, issued this statement: "This morning, Harvard Law School discovered that portraits of some African-American faculty had been defaced with black tape. The Harvard University Police Department is investigating the incident as a hate crime. The HLS community gathered at noon to listen to one another, to share our concerns, experiences and perspectives, and to address ways to move forward. Expressions of hatred are abhorrent, whether they be directed at race, sex, sexual preference, gender identity, religion or any other targets of bigotry. Here at HLS, we are focused on efforts to improve our community, examining structures that may contribute to negative experiences of any members of our community, and pursuing opportunities where the school can both change and support change."
Michele Hall, a second-year law student at Harvard, blogged about the incident. "This morning at Harvard Law School we woke up to a hate crime. And tomorrow you will wake up to a hate crime on your campus too. And they -- the cowards who deface the portraits of black professors, who hang nooses in front of black dorms, who draw swastikas with human feces -- want for that to be the end of the story," she wrote. "But we, black students on campus, are not afraid of what you do under the covers of darkness and hatred and cowardice. We will march and scream and sit in and walk out and shout our demands and make ourselves heard and tear down these hallways of white supremacy because we belong here too. And no longer can you make us feel that we do not belong here. Because our sweat and blood and death and courage [are] what really built these hallways."
Josh Logue contributed to this article.