You have /5 articles left.
Sign up for a free account or log in.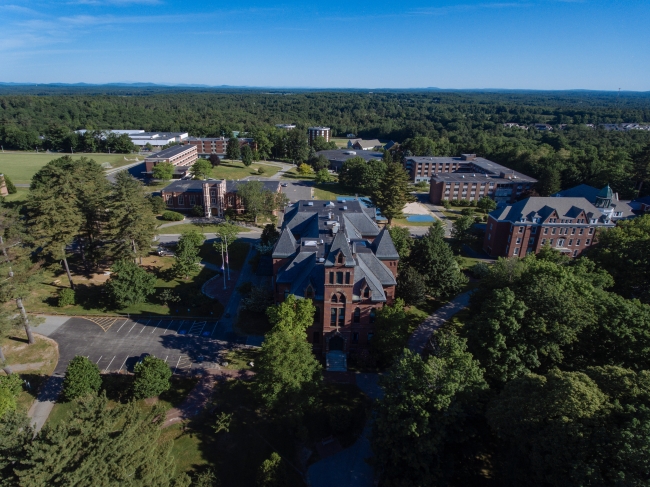 University of Southern Maine
Establishing affiliated elementary and secondary schools is not a new practice for universities, but in a twist on that model -- and a sign of growing budget pressures and international recruiting imperatives -- a handful of institutions have moved to host international high schools on their campuses.
The University of Southern Maine, in Portland, is recruiting its first class for the International Academy, an independent boarding school for grades 11 and 12 in which students from overseas will take two full years of USM classes, earning up to 60 university credits while also receiving a high school diploma.
In a different model taking hold in British Columbia, two universities in the Canadian province have entered into partnerships with a Chinese company to operate high schools on their campuses, and a third is exploring a similar partnership with a different company.
Administrators at various institutions speak of benefits like revenue generation, new international recruitment pathways and increased cultural diversity on their campuses, while critics question why their universities want to get into the business of running -- or in the case of the Canadian institutions, hosting -- international high schools. In British Columbia, student and faculty associations have raised concerns about the leasing of public university space to for-profit educational companies.
Standing Out From the Crowd
As the number of international students has increased over the past decade, more and more students, particularly from China, have come to the U.S. for high school. Federal data from March show that nearly 50,000 students from Asia -- including about 35,000 from China -- are enrolled in American high schools on F-1 visas. Private schools -- both boarding schools and day schools -- have seen surges of Chinese students, and even some public school districts have come to rely on Chinese enrollments.
At Southern Maine, President Glenn Cummings saw an international high school as a way the university could stand out. The university enrolls just 90 international students.
"We're trying to think about education a little bit differently and looking at models that attract students from around the world to our campus," Cummings said. "I think our goals would be very strongly met if we were able to stand out from the crowd and also were net positive in terms of fiscal revenue."
Cummings said, however, that the process of starting the boarding school has been "perhaps more complicated than we were anticipating." This was both because it took USM officials longer than they'd anticipated to obtain the necessary certification from the federal Student and Exchange Visitor Program -- recruiting couldn't begin in earnest until after that certification was secured, in late November -- and because of what seems to be a general slowdown in international student applications for the fall. Nearly 40 percent of colleges reported declines in international applications this year, according to one national survey of 294 institutions conducted by the American Association of Collegiate Registrars and Admissions Officers and four other higher education groups.
Joanna Evans, the executive director and head of the new high school, said she's expecting an initial class of just 10 to 20 students, rather than the 50 the plan originally called for. USM will therefore be subsidizing the school to a greater degree than it had planned as it gets off the ground.
Still, the administrators say they are excited about the concept, which will allow students to earn two years of college credit while completing their high school diplomas. Students will take only USM classes, and Evans said there will be a robust co-curricular residential life program. Students will also have supplemental English tutorials. The cost, including tuition and room and board, is $42,000 per year.
"We're very close to Boston, within an hour and 45 minutes from Boston," said Cummings. "One of the advantages that they have is if they do two years with us they can go on to MIT or Harvard or Yale and say, 'I came to University of Southern Maine as a junior in high school, I got a 3.8 high school average, I'd like to knock on your door for admission.' We realized we could do this at a price point less than the expensive academies, because we already have the infrastructure up and running. It's simply adding students to our existing class loads."
Evans added, "Part of the strategy and reason for developing it is to increase the diversity in the lower-level classes, the 100- and 200-level classes, which have a lot of students from rural Maine who have not necessarily gone to school with students with backgrounds very different form their own."
USM is expecting its second straight year of enrollment gains -- the number of students who have put down deposits is up about 30 percent this year compared to last, according to Cummings -- but only three years ago the university was slashing programs and laying off faculty members. Susan Feiner, president of the USM chapter of the Associated Faculties of the University of Maine, questioned why the university would start an international high school now when, she said, tenured and tenure-track instructors are too few in number and stretched too thin.
"Should people at USM be spending any portion of their bandwidth on developing an international high school?" asked Feiner, a professor of economics and women's and gender studies. "I don't think so. I think we have enough on our hands to increase recruitment and retention and completion of the students who are already here."
Thomas Parchman, a professor of clarinet and chair of Southern Maine's Faculty Senate, said the body had been briefed on the international school but did not take a formal vote on it. The high school has a separate advisory board that must consist of at least half USM faculty members.
"It's really something separate from the other things we do," said Parchman. "We have the physical space to do it, I believe -- in fact it might make a better use of some of the spaces that haven't been as well used as they might be. I don't see this as a bad thing; I don't see it as negative. It might develop into something very useful. There are a lot of students in China, and a lot of them are seeking opportunities like this, and this may well be a perfect blending of our resources and their desires."
Other High School Models
USM's model is unusual in that the university is starting its own private high school for international students with its own regular classes. There are parallels to other early-college programs such as Bard College at Simon's Rock, which accepts international students but is not exclusively geared toward them.
Other models -- none quite the same but with some similarities -- include the high school completion programs marketed to international students by many community colleges in Washington State (see, for example, this article, which discusses the high school completion program at Green River College in suburban Seattle).
Some universities have precollegiate summer or gap-year programs for international students. Eddie West, the director of international programs for the University of California, Berkeley, Extension, said the university was recently approached by a Chinese company that wants to recruit for what would essentially be a "souped-up" version of a modest gap-year program that the extension arm currently runs for a group of sponsored students.
"Only a couple weeks ago in talking about this with a colleague of mine, we turned to each other and said if there was ever any appetite to pursue this, what we're talking about is essentially building a high school here at the … extension. We kind of said it in the vein of, 'Do we really want to do that?' because of all of the considerations, not least of which is management and liability and all of the challenges that go along with it," West said.
"I would be kind of surprised to see universities wholeheartedly embrace this model in a very active way, because I think it's still so unproven for one thing. The phenomenon that's now been going on for years of younger and younger students coming to the country, I don't necessarily think there's a guarantee that will happen in perpetuity."
The Public-Private Partnership Model
For now at least, there is increasing interest on the part of some educational companies, particularly from China, in opening high schools in North America. You can see that phenomenon in action in British Columbia, where both Kwantlen Polytechnic and Thompson Rivers Universities have entered into partnerships with Maple Leaf Educational Systems, a company that operates a network of schools in China, to open high schools on their campuses.
In these cases the universities have no academic oversight of the high schools and there are no conditional admissions agreements. Students are not enrolled in college-level classes but instead take the Maple Leaf curriculum, which is accredited by Chinese government as well as British Columbia government authorities. The university's involvement is such that it leases space and sells access to certain services, such as meal plans and library privileges.
The Thompson Rivers partnership is finishing its first year, and Kwantlen Polytechnic plans to begin hosting a Maple Leaf high school on its campus in Richmond, a suburb of Vancouver, starting this fall. (Kwantlen Polytechnic's lease agreement with Maple Leaf is pending approval by the university's board, which already voted to move ahead with the partnership.)
Meanwhile, the University of Northern British Columbia has entered into a memorandum of understanding with AKD Education Consulting, in Beijing, to explore a similar partnership to open an international high school.
A message from UNBC President Daniel J. Weeks cites multiple potential benefits of proceeding with the partnership, including: "developing prospective international student pathways to UNBC," "fostering social and cultural diversity on our campus," "providing opportunities for the UNBC community, such as potential practicum placements for education students, or exchange opportunities for faculty," "economic development and diversification" for the surrounding city of Prince George, and "increasing revenue opportunities for UNBC."
Dan Ryan, UNBC's interim provost and vice president for academic, said creating a recruiting pathway in which a significant number of the high school students stay on at UNBC for their undergraduate degrees is key. "If we're in a situation where none of the students ever come to UNBC, it's not really a success for us," he said. "That's why we're talking about a pilot project."
Sal Ferreras, the provost and vice president for academic at Kwantlen Polytechnic, or KPU, said the long-term goal for the university's new partnership with Maple Leaf is also a recruitment objective, in their case, "to have access -- and, I guess, preferred status -- with their large network of schools in China."
"They have thousands of students coming through their system taking the British Columbia diploma program in China," Ferreras said. "These are students that have achieved a certain amount of English training -- they're not coming to us raw -- and also are familiar with our system and familiar with British Columbia. We would like to maintain a stronger connection to a large network that would maintain a steady stream of foreign students from this particular country."
The various agreements have, however, been controversial. Bob Davis, the president of KPU's Faculty Association, said members have been uncomfortable with provincial government pressure to increase international enrollment for what they view as revenue-generating reasons. "So the partnership, or the leasing of space on our Richmond campus to facilitate a private, for-profit international high school, hasn't sat well with our members," Davis said.
The student association at KPU has also expressed opposition. "The Kwantlen Student Association believes that any space on university campus should be used for students, faculty and staff," Tanvir Singh, the group's president, said of the Maple Leaf deal. "It is a good deal, I think, financially for the university -- the province kind of forces the universities to get creative with the way they acquire funds -- but our stance is fundamentally, in principle, university spaces should be used for students, faculty and staff."
"I fully understand that we've had over the last decade a reduction in government funding for our institution, so our administrators are really scrambling to find other revenue sources, so I can understand the motivation for this, but we had two main objections," said Tom Friedman, the president of the faculty association at Thompson Rivers University, or TRU, where the Maple Leaf high school enrolled 59 students in its first year.
"One was clearly that publicly supported facilities are now being leased to a private for-profit educational company, and our other objection was that there was no attempt to really engage in any kind of consultation with those of our members and our program areas that are being affected."
Friedman said that physical space, including lab space, "is really at a premium, and to have 60 high school students coming in and using this lab, it's a real imposition. They've told the association, 'Look, we're only using these labs when they're not scheduled for courses,' but the reality is a lot of our undergrads do research -- we pride ourselves on the fact that we encourage undergrads to engage in research, and research is not just in class time, these students are doing research for honors theses -- so this has created some tensions, the perception that our own programs are in a way taking a backseat to some of these high school classes."
Others dispute that there is a space crunch. Tom Dickinson, the dean of science at Thompson Rivers, said he asked faculty members to figure out if there were off hours when the Maple Leaf students could use the labs without impacting TRU programs -- and there were.
"I wouldn't have agreed to it if it was going to put an undue pressure and in any way compromise our own undergraduate programs, but what I was able to do is see that we did have capacity, especially outside of peak hours, that we could accommodate it. So I asked myself the question: Why wouldn't you want to accommodate something like this?" Dickinson said.
Baihua Chadwick, the associate vice president of international and chief executive officer of TRU World Global Operations, said she didn't understand the concerns about leasing space to a for-profit entity. She cited a space utilization study done by the university suggesting it has sufficient space. (She didn't have the study handy, but Matt Milovick, TRU's vice president for administration and finance, said a study found that in fall 2015, TRU's classrooms were, on average, used during 68 percent of available time slots between 8 a.m. and 5 p.m. An analysis this spring showed that utilization had increased by three percentage points, to 71 percent, which Milovick said is still below the target of 85 percent.)
"The PPP, private-public partnership, is not a new concept," Chadwick said. "If we didn't have the space, if we didn't have enough space for our own students, this would not be a consideration at all. They're taking up a very small amount of space. I'm talking about three classrooms, that's all, and this is on a temporary basis." At both TRU and KPU, the plan is to explore the possibility of Maple Leaf building a permanent school on land owned by or adjacent to the university campus at the end of a pilot period.
"It seems to me that no one is concerned about the opportunity we're creating for these young people," Chadwick said. "We're proud that we're part of this. We're part of creating these opportunities for the future leaders, and that is something noble."
"We understand that there are concerns. It would be naïve of us to assume that there wouldn't be," said Dawn Sutherland, the president of Maple Leaf Education North America. "Our expectation is that over time as we prove to be good partners and good tenants, that those concerns will, I guess, fall into the background. I would say certainly our experience at TRU this year, our students would be absolutely unaware of the fact that there's any controversy about them on campus. They have been very warmly welcomed by faculty, by staff, by other students. They feel a part of the university."
"So those issues, which I certainly understand are there, have not had a negative influence on our students. That certainly would be our consideration in the future. If the environment or if those issues were going to negatively impact the students, that would be a significant concern for us."