Whether it's a phone call to an escort service, explosive allegations of dangerous drug binges or questions about turning a blind eye to a problematic situation, recent higher ed scandals lay bare the murky moral waters leaders must navigate.
(Getty Images)
Successful people in power sometimes behave badly -- in both their professional capacities and in their personal lives.
The last few weeks in higher education provide two prominent examples. The head football coach at the University of Mississippi resigned July 20 after a call from his mobile phone to an escort service was revealed. The University of Southern California took steps to fire its former medical school dean from the faculty after allegations came to light that he repeatedly used hard drugs and socialized with a group of much younger people, some of whom had criminal backgrounds and one of whom overdosed in his presence.
In both cases, the universities acted after outside parties brought leaders' behavior to light. The two situations raised questions about the universities' priorities and processes. They also put the institutions' ethical and moral standards for their leaders under scrutiny.
Those standards aren't always clear, especially in a time when social mores are rapidly changing and the line between professional and personal life seems to be ever blurring. Nor are they always consistent between different jobs at different institutions in various parts of the country.
But the fact remains that moral standards do exist for leaders in higher education. And the cases of those who run afoul of accepted behavior are an important reflection of those standards in a world where messy and unclear morality is often obscured further by the temptations of money and success.
Mississippi Coach Called Out

Situations involving leaders who are said to have violated moral or ethical standards often come with a large share of twists and turns. The case of the University of Mississippi and its head football coach, Hugh Freeze, is no exception.
Freeze had coached the Ole Miss football team since the end of 2011, a time period that included a win in the lucrative Sugar Bowl in 2016. But the NCAA has also been investigating the university and its football program under a wide-ranging infractions case. It delivered a notice of allegations Jan. 22, 2016.
The way the university and its football program reacted to the NCAA investigation is at the center of a lawsuit filed by its previous football coach, Houston Nutt. The lawsuit, filed this month, alleges Ole Miss athletics officials carried out a "misinformation campaign" over several years to mislead the media, boosters and recruiting prospects about the nature of the NCAA investigation's targets. The strategy, the suit alleges, was to have off-the-record conversations with journalists to say that most of the NCAA's allegations were targeted at Nutt and his staff instead of Freeze. The strategy escalated, with Freeze courting "the entire 2016 recruiting class under false and misleading pretenses," the lawsuit says. It claims the university violated its severance agreement with Nutt, which prevents the institution from making statements that could damage the coach's reputation.
Nutt's lawyer gathered phone records in an attempt to prove Freeze and other university officials contacted journalists. In the process, he, along with the help of a researcher who is a fan of the Ole Miss rival Mississippi State, found a one-minute call from Freeze's university-issued mobile phone to an escort service in January 2016. At one point he emailed the university's general counsel, suggesting a deeper examination of the phone records because of a call that would be "highly embarrassing for all of you and extremely difficult to explain."
Nutt's lawyer would spread word of the phone call to the media, explaining the move by saying the lawsuit was in federal court, not "junior high school," according to Yahoo Sports.
University officials said they determined Freeze's phone had never called that number at any other time, initially labeling it a dialing mistake. But they looked at the rest of Freeze's phone records, finding what Ole Miss Athletic Director Ross Bjork called a "pattern of conduct that is not consistent with our expectations."
Freeze resigned without a buyout or settlement. A university spokesman contacted for additional comment referred to a July 20 press conference at which university officials announced the coach's departure. Officials said at that press conference that Freeze's privacy is important and that they would protect information regarding his pattern of behavior.
"While Coach Freeze served our university well in many regards during his tenure, we simply cannot accept the conduct in his personal life that we have discovered," Mississippi Chancellor Jeffrey Vitter said. Officials cited no additional allegations related to Freeze's management of the football program in the case. In fact, they specifically said his departure had nothing to do with the NCAA investigation.
Freeze told USA Today Wednesday that "God is good, even in difficult times."
Officials also said at the press conference announcing Freeze's departure that if he had not resigned, they would have terminated him under a clause in his contract for "moral turpitude."
Moral Turpitude
While moral turpitude may sound like a Victorian-era label, it's a term that frequently appears in contracts and state law. But it carries a definition that is by no means standardized.
Moral turpitude is normally, but not always, defined by court decisions in a particular state, said Raymond D. Cotton, a Washington-based lawyer who represents boards and presidents in contract negotiations. When it is included in a university employment contract, moral turpitude isn't always defined. It's often included alongside a laundry list of other undesirable behavior, like fraud, misrepresentation or plagiarism.
Moral turpitude can also come up in cases of faculty dismissal. The American Association of University Professors recommends faculty who are dismissed for cause receive either notice or salary -- unless moral turpitude is involved.
The AAUP's 1940 Statement of Principles on Academic Freedom and Tenure identifies moral turpitude as an exceptional case in which a professor may be denied a year's teaching or pay. It applies to behavior that goes beyond warranting a discharge and is "so utterly blameworthy as to make it inappropriate to require the offering of a year's teaching or pay."
The standard is not that moral sensibilities in a particular community have been broken, AAUP documents show. It is behavior that would bring condemnation from the faculty.
Moral turpitude is also in the AAUP's Recommended Institutional Regulations on Academic Freedom and Tenure. Faculty handbooks at colleges and universities often incorporate moral turpitude for cases of faculty dismissal.
When Cotton is representing boards of trustees who are hiring presidents, he always tries to write in a moral turpitude clause, he said. It gives trustees more power in a situation where they feel a leader has violated standards of behavior.
"I want to put it in the hands of the board," he said.
Still, courts have stated that moral turpitude is "an elusive concept incapable of precise definition." Experts generally agree its definition is likely to change over time.
"Take Colorado," Cotton said. "Five years ago, smoking marijuana on the street could be defined as an act of moral turpitude. Not today. It's legal."
Several experts likened moral turpitude to Supreme Court Justice Potter Stewart's famous "I know it when I see it" definition of hard-core pornography in 1964. But some resisted labeling the term as a simple catchall in a contract.
"I think it's impossible in a contract or in a policy to describe every form of potential misconduct," said Ann Franke, the president of Wise Results, a consulting firm that addresses legal issues and risk management. "Moral turpitude draws a line. It's a line that sets off extremely bad behavior from sort of normally bad behavior."
Franke hasn't seen many struggles play out at universities over what does and does not constitute moral turpitude. Someone charged with a moral turpitude violation has typically done something significant, she said.
"That individual would run additional reputational risk if they were to sue the institution saying it was only pretty bad, it wasn't horribly bad," Franke said. "That's not a lawsuit that a lot of people would be eager to bring against a former employer."
Franke didn't comment on specific cases. But she acknowledged there is often a tension between the urge of a college or university to help a leader who may have behavioral health issues and its need to have leaders that its board, faculty and students trust.
"In higher education there is often a laudable impulse to try to assist people and help them grow and overcome problems," she said. "Knowing when that approach is inappropriate or no longer applicable can be challenging."
Yet some criticized the term "moral turpitude" as harking back to a bygone era of rigid standards for behavior.
"The whole notion of moral turpitude has a very mixed history," said Arthur Caplan, a professor of bioethics at New York University who edited The Ethics of Sport (Oxford University Press). "It's a quaint, antiquated concept, a 19th-century agreement about how gentlemen -- I'll use that term purposefully -- behave."
Caplan does not oppose the idea of a policy intended to ensure officials uphold others' trust, Caplan said. But he's not sure the term "moral turpitude" is specific enough to be effective. The distinction between what is acceptable in personal and professional life could probably be laid out more clearly in most cases, he said.
Definitions of morality become tricky in a world of evolving standards, Caplan said. He also pointed out that in the world of college athletics, different people are held to different standards. He gave the example of a benchwarmer being more likely to lose his scholarship after a bar fight than a star quarterback would be.
The idea can easily be extended to coaches and university officials.
Money talks, but so does success, Caplan said. Right or wrong, what boosters and donors are thinking can matter when it comes to defining what an institution views as unacceptable behavior.
"It matters when you're trying to placate a board that has a lot of tensions around gender equity on it versus a bunch of boys who love that football program," Caplan said. "It's fairly interesting that those who control access to the top positions -- boards and trustees -- they actually at the end of the day end up setting the standard for moral turpitude."
Doctors and Drugs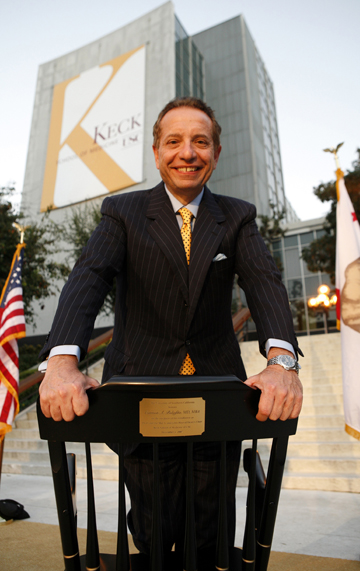 Another situation unfolding that lays bare questions of morality, money and power among high-ranking university officials is that of the University of Southern California and its former medical school dean.
That dean, Carmen Puliafito, was an eye surgeon with a good reputation. He was well regarded for raising money and improving the medical school's rankings and profile since he took over about a decade ago. Press photographs show him at swanky events posing with celebrities.
Then the Los Angeles Times published an explosive story July 17 saying the 66-year-old Puliafito "kept company with a circle of criminals and drug users who said he used methamphetamine and other drugs with them" in 2015 and 2016.
The story described photographs and videos the newspaper said it reviewed. In one, a tuxedo-wearing Puliafito was said to swallow an orange pill he described as ecstasy. In another, he was said to use a butane torch to heat a glass pipe outfitted for methamphetamine use before inhaling and exhaling white smoke, while a woman sitting next to him was said to smoke heroin. Some photos reportedly showed Puliafito's associates in late-night visits to the dean's office at the USC Health Sciences Campus in Boyle Heights holding drug paraphernalia.
Puliafito was also said to have written prescriptions for asthma inhalers for his associates to help their lungs, which were irritated from smoking methamphetamine and marijuana.
Puliafito resigned as dean -- a post with a $1.1 million annual salary -- in March 2016. He told the Times the next month that he resigned so he could pursue a biotech job.
Three weeks before his resignation, he was present in a Pasadena hotel room when a 21-year-old woman overdosed. A police report said officers found methamphetamine in the hotel room, but they did not make arrests. The incident was not exposed until the Times report.
The woman told the Times she and Puliafito had been partying a the hotel for two days when the overdose occurred. She said after she woke up in the hospital, Puliafito picked her up and they returned to a hotel room to continue "the party," the Times reported. She also told the newspaper she was working as a prostitute in 2015 when she first met Puliafito.
After he left the role of dean, Puliafito remained on the medical school faculty and was said to be accepting new patients at campus eye clinics when the Times story was published.
The story's publication set off a two-week period of public back-and-forth between the newspaper and USC. The university put out statements reacting to the situation and explaining itself. The Times published articles calling the university's actions and explanations into doubt.
After the story was published, the university announced Puliafito had been placed on leave from the school of medicine and that he was not seeing patients. In a July 18 letter posted by the university, president C. L. Max Nikias said USC condemns the unlawful use or distribution of drugs. It also expressed concern about Puliafito.
"Unfortunately, the issue of substance abuse is not uncommon and impacts individuals at all levels of society," the letter said. "Reports of high-powered executives, doctors and others with substance abuse issues have become all too common -- individuals who function in their workplace but have serious issues affecting their private lives. We understand the frustrations expressed about this situation, and we want to assure our community that we are taking all of the proper steps to examine and address it. More broadly, we are working to determine how we can best prevent these kinds of circumstances moving forward."
On July 21, Provost Michael W. Quick wrote another letter saying the university had been given access to information on Puliafito's behavior. That day was the first time it saw the information firsthand, Quick wrote. In response, the university started the process of terminating Puliafito's employment and stripping him of tenure.
The same day, Nikias posted another letter saying the university had hired a law firm to investigate Puliafito's conduct, the university's response and its policies and procedures.
"We are outraged and disgusted by this individual's behavior," Nikias wrote. "It runs counter to our values and everything for which our university stands."
Two days later, the Los Angeles Times posted another article pushing back against the idea that USC officials had only recently learned about Puliafito's alleged drug use. The newspaper repeatedly inquired about the dean over 15 months, it said, sometimes describing information reporters had gathered. The Times wrote about a series of emails sent and phone calls made to officials including Puliafito, a senior vice president for university relations and the university's president, Nikias. In one case, a reporter delivered a sealed note requesting an interview about the matter to Nikias's home, only to have the note returned, unopened, the next day by courier with a letter from the university's vice president for public relations and marketing saying the reporter had crossed the line. The article went on to quote medical ethicists who said USC had a duty to investigate allegations against Puliafito right away, even if they were incomplete, because of his position as a medical professional and leader.
The negative headlines kept coming. A Times column published July 26 brought up the case of former USC head football coach Steve Sarkisian, who was fired after the newspaper investigated his alcohol use at a previous job. It was titled "Yet Another USC Scandal Requires Blunt Talk About Money Culture and Values on Campus." It quoted an anonymous USC physician who said he hopes the president does not keep his job over the handling of the situation but ultimately expressed skepticism because "money wins out."
A Times editorial argued the full story about Puliafito should have come out last year, because an anonymous witness had called Nikias's office and told two employees about the overdose for which Puliafito was present shortly after it happened. That same source called the newspaper, causing it to investigate over the next 15 months. The editorial said the Times repeatedly made phone calls and sent emails to USC leaders in an attempt to discuss allegations, only to be ignored or rebuffed.
"A reporter even hand delivered a letter to Nikias's home, asking to discuss the circumstances of Puliafito's resignation," the editorial said. "The letter was returned to the Times by courier, along with a letter of complaint from USC's vice president for public relations, who said the reporter 'crossed the line' by taking a letter to Nikias's house. How, then, can USC leaders be taken seriously when they feign shock and outrage at the Puliafito story?"
Contacted Friday, the university answered questions from Inside Higher Ed by referring to past letters posted by USC's leaders. One of them was a July 26 letter from Nikias saying he was forming a task force to address questions raised by the organization. "We could have done better," he wrote.
"As a result of this recent incident, it is clear to us now that the university currently has only loosely defined procedures and guidelines for dealing with employee behavior outside the workplace that may be improper or illegal and has the capacity to affect USC," it said. "And, presently, the university has very limited capacity to conduct investigations and follow up on leads or anonymous reports of such employee behavior."
Then Saturday, the Times published another article after Nikias sent an additional letter to the USC campus late Friday. In that letter, the president said the university had in fact received complaints about Puliafito when he was dean. Puliafito had been disciplined and received professional development coaching, Nikias wrote.
The provost, Quick, had placed Puliafito on notice for being disengaged in 2015, the letter said. In March 2016, two USC employees told the provost Puliafito was even more removed from his duties. That prompted officials to confront Puliafito, who then resigned and was placed on sabbatical.
Nikias wrote that at the time, university leaders were unaware of illegal or illicit activities. He went on to say a communications staff member received an "unsubstantiated tip" about the Pasadena hotel incident in the fall of 2016. Officials asked Puliafito about the incident, and he said a friend's daughter had overdosed and he accompanied her to the hospital, the letter said.
The president also acknowledged that the Times this March provided the university with questions and a copy of a 911 recording from the Pasadena hotel incident. The university referred the recording to a committee that assesses clinical competency, which found no existing patient care complaints or known clinical issues.
That investigation was reopened after the Times published its first report on Puliafito this month, Nikias wrote. The Medical Board of California also started an investigation into the allegations the report contained. And the university moved to fire the former dean.
"In my view, we acted when we felt we had the information necessary to act, and then we acted decisively," Nikias wrote.
Sunday the Times published a piece saying that medical school employees had complained repeatedly about Puliafito, his temper, his publicly humiliating colleagues and what they perceived as him having a drinking problem. The piece said that Nikias's Friday letter was sent after USC had been contacted by the newspaper about the story it planned for Sunday.
The Times interviewed current and former university employees for the piece. It also reviewed letters of complaint from 2012, when the university was evaluating the dean and preparing to give him another contract.
One of the letters said Puliafito had alienated faculty and created a "siege mentality" in which employees were worried about their welfare, according to the Times.
Puliafito submitted a 19-page self-evaluation. He pointed out that he had raised more than $500 million and recruited prominent researchers, the Times reported.
Despite complaints, USC reappointed Puliafito to a new five-year term in 2012, the newspaper wrote.
At least some complaints reached USC upper management, according to the Times. Among numerous examples, it said one unnamed senior faculty member reported calling the provost's offices after Puliafito appeared intoxicated during an encounter.
The Sunday report also quoted an admissions dean who said she left her job because she could not work under Puliafito. An unnamed administrator was quoted saying that Puliafito was often absent during working hours in 2015 and 2016.
It is not clear what mechanism the university is using to fire Puliafito.
USC's Faculty Handbook does cover moral turpitude. The handbook lists moral turpitude as adequate grounds for faculty dismissal alongside violations like neglect of duty, incompetence, violations of academic freedom, misconduct and unmanaged conflicts of interest.
Consequences of Violated Trust
The boundaries of acceptable behavior aren't always clear until they're crossed. But some are clearer than others, even if acceptable behavior is more of a fuzzy spectrum than a series of bright lines -- smoking methamphetamine is not the same thing as smoking marijuana, which is not the same thing as drinking a martini.
Regardless, once the boundaries are crossed, the USC situation serves as a reminder that the fallout can be damaging to leaders up the food chain.
The argument can be made that Puliafito's behavior broke moral standards. One can also be made that USC leadership broke the community's trust in the way it reacted.
Negative press has been flooding in from across the country. Nikias's job could be in jeopardy. And faculty have been roiled.
Paul Rosenbloom is a computer science professor who is the president of the faculty at USC. He declined to specifically address Puliafito's alleged behavior other than to say faculty members have been upset and concerned. Faculty members offered mixed reactions to the way the university handled the situation, Rosenbloom said. Some are uncertain about what was actually done and why, and there have been responses ranging from support to condemnation to calls to wait for more information.
A crisis-management firm hired by USC released a letter from the chairs of 23 departments at the medical school affirming support for Nikias and Quick, the Times reported.
It shouldn't be lost, however, that even if USC leaders tried to do everything right, they were faced with a difficult scenario.
"It really is a land mine when you're dealing with off-campus behavioral mental health, substance-abuse issues with an employee and protecting your community," said Sean Rossall, a crisis strategist based in Los Angeles who is CEO and managing partner at Dick Jones Communications. Rossall also received his master's degree from USC, but he is not working for the university in this case.
"What is expected as ethical, moral behavior of employees around the clock as a broad community representative of the university?" Rossall said. "I think it's really going to force them to think about that and think about the type of culture they impart with their people."
Nikias raised some of the same questions in his most recent public letter. He wrote that the university would be addressing questions about balancing individual rights and privacy rights against protecting faculty, students and others. He asked how the university should separate allegations of criminal behavior that should be reported to police from problems with addiction that require compassion.
He also asked how the university can make sure incoming reports, "even if anonymous and questionable," get passed on to higher officials and the compliance office.
Generally, allegations against those dealing with vulnerable populations need to be taken seriously and investigated, experts agreed. That would include deans dealing with students, doctors treating patients and coaches on the football field.
"They need to adopt a policy of investigate first and find the answers so you can make informed decisions," Rossall said. "It is a tough needle to thread, but not impossible. You can conduct investigations in a manner that's respectful of the employee without jeopardizing things."
Resources for faculty and staff from our partners at Times Higher Education.
You may also be interested in...
Today's News from Inside Higher Ed
Inside Higher Ed's Quick Takes