You have /5 articles left.
Sign up for a free account or log in.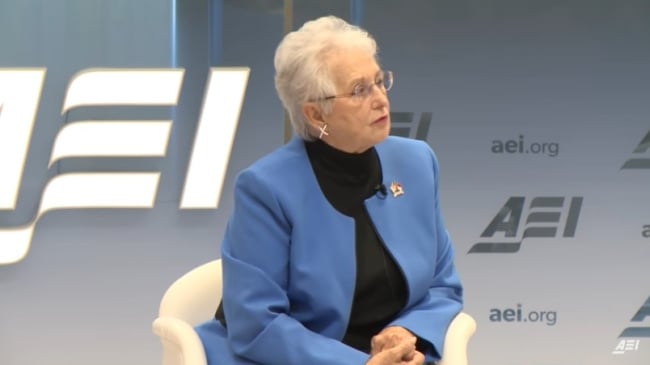 The education committee of the Republican-led U.S. House of Representatives is set to release an opening salvo in Congress's long-overdue reauthorization the Higher Education Act, the law that oversees federal financial aid programs.
Policy wonks circulated bullet points from the committee, which plans to release the full proposal later this week. And The Wall Street Journal on Wednesday published four articles about the pending legislation based on a summary the newspaper reviewed.
While plenty of details have yet to emerge, the summaries describe an ambitious plan to substantially change how the federal government targets and distributes student aid money, with moves to both deregulate and tighten oversight of aspects of aid programs.
Congress last authorized the Higher Education Act in 2008. The proposal from the House education committee, which is led by Representative Virginia Foxx, a North Carolina Republican, appears to be more aggressive in its goals than the changes Congress made almost a decade ago.
Dubbed the Promoting Real Opportunity, Success and Prosperity through Education Reform (PROSPER) Act, according to the Journal, the legislative proposals generally track with previous statements from Foxx and are consistent with the emphasis of hearings the committee has conducted in recent years as it has geared up for the bill's renewal.
Foxx told the newspaper that the bill seeks to combat the so-called skills gap by prodding colleges to better prepare students to enter the work force. Her committee's bill also will call for the expansion of alternatives to a traditional college education, including apprenticeships and competency-based programs. It would slash regulations for-profit colleges have long fought, even preventing the U.S. Department of Education from taking some future actions to rein in vocational programs.
Summaries of the House proposal also describe plans for "streamlining" student aid programs, by setting caps on loan amounts parents and graduate students can take on and scaling back income-based repayment programs and loan-forgiveness options for borrowers who work for government agencies and nonprofit organizations -- all of which have been pushed by prominent conservative higher education experts in recent years.
The bill also would dabble in controversial areas such as campus sexual assault and free speech policies. And while it loosens rules aimed at for-profits, the bill for the first time would attach graduation-rate strings to federal grants for minority-serving institutions.
These and other ideas included in the bill's summaries are paraphrased below based on reporting by the Journal and from the circulated bullet points.
The U.S. Senate's education committee, led by Senator Lamar Alexander, a Republican from Tennessee, also has been holding hearings as it prepares for reauthorization of the federal aid law. The Congressional Budget Office is planning to score the House bill this week.
Even so, experts said most of the meaningful action to renew the law won't begin for a couple months, if not further off. Alexander this week said his committee plans to begin marking up its proposals early next year. However, the House bill will lay out that chamber's priorities, many of which align with the stated goals of the Trump administration's Education Department.
Overhauling Student Aid
Foxx's committee wants to simplify various student aid options by creating "one grant program, one loan program and one work-study program," according to a summary document.
The loan-program proposal would include "reasonable" but unspecified limits for borrowing by graduate students and parents of college students. Such caps would please conservatives who have long argued that colleges jack up tuition rates to reel in as much federal aid as possible. And such a change likely would benefit the private sector, as some borrowers would turn to private lenders to fill the gap.
However, proposed changes to Parent PLUS loans will be controversial. Many private college leaders joined historically black colleges in criticizing a 2011 move by the Obama administration to tighten standards for the program, which resulted in thousands of loan denials.
In another shift, Foxx and her colleagues want to disburse federal grant and loan aid on a weekly or monthly basis, similar to a paycheck. And they will seek to prevent Pell Grant fraud by yanking aid for Pell recipients who have received the grant money for at least three payment periods but have yet to complete any college credits. (In a budget proposal last spring, the Trump administration proposed eliminating federal Supplemental Educational Opportunity Grants, which go to low-income college students.)
The Journal also reported that the bill would simplify the Free Application for Federal Student Aid. Such a move, which has broad bipartisan support, follows news this week that the administration will create a mobile phone application for the FAFSA. The bill would require that the form be available on such a mobile platform and make it easier for applicants to import income data from the Internal Revenue Service.
Repayment Plans
The bill would eliminate the department's public service loan forgiveness program, which allows borrowers who work for nonprofits or government agencies to have their remaining loan balances dropped after they make 10 years of payments.
Likewise, the committee plans to "scale back" benefits of income-based repayment plans, the Journal reported.
A summary document said the bill would create one standard, 10-year loan repayment plan and a single income-based repayment program.
However, participants in both the current public-service and income-based programs would be grandfathered in and not lose those benefits after a reauthorized law is passed.
Regulation of For-Profits and Vocational Training
Under the bill, for-profit colleges would enjoy a broad rollback of laws and regulations aimed at the sector, with proposals that will infuriate consumer groups and veterans of the Obama administration.
Yet it's unclear that the proposed deregulation, which expands on moves already made by the Trump administration, would help cure serious enrollment and revenue woes afflicting most for-profits. And some of the larger for-profit chains recently have moved to voluntarily go beyond some of the federal requirements they currently face.
The committee plans to drop the so-called 90-10 rule, which requires that for-profits get at least 10 percent of their revenue from sources other than federal aid (not including Post-9/11 GI Bill and military tuition benefit funds, which Democrats call a loophole in the current rule).
Even a right-leaning expert on Wednesday expressed reservations about allowing colleges to get all of their funding from the federal government.
The bill also would repeal federal gainful-employment regulations, which set a threshold for borrowers' ability to pay off loans for-profit programs and for vocational ones at community colleges and other public and private institutions. Betsy DeVos, the education secretary, already has delayed the department's implementation of the Obama-era rules, with a plan to revisit it in a negotiated rule-making process.
The Journal reported that the committee would seek to ban the department from trying to create gainful-employment regulations in the future. Federal courts have ruled that the department had the legal power to create the rule.
Likewise, a summary document said the proposed legislation would limit Washington's role in higher education by "repealing unfair requirements that limit low-income students' access to career-focused institutions and treating all institutions the same." It also said the bill would hold the secretary of education accountable by "explicitly prohibiting her from exceeding her authority, defining any terms inconsistent with the law or adding any requirements on institutions and states that are not explicitly authorized by law."
Accountability and Performance Funding
Some of the proposals hinted at Wednesday would tighten the screws on colleges and programs, even in some cases by tying federal money to graduation rates or other metrics.
The bill would seek to improve consumer information from the federal government on the performance of colleges and academic programs, using data on enrollment, completion rates, cost and financial aid. But it would keep in place a ban on the feds collecting student-level data that could be used to track employment and wages across state lines. Some committee members from both parties have backed a bill that would drop the ban. But Foxx, who championed the ban's passage in 2008, appears not to have budged.
However, the plan would create a form of institutional risk sharing, meaning that colleges would be on the hook for portions of federal loans that students do not repay. Likewise, it would move to a program-level repayment rate to help the department target aid to programs that generate a return on students' investment. And the bill would require program-level disclosure of the average debt of student borrowers at graduation as well as the average salary of borrowers five and 10 years after graduation.
"Institutions need to recognize they have a role to play in this process, and they need to have skin in the game when it comes to preparing students for success academically and financially," Foxx told the Journal.
One of the most noteworthy, and probably controversial, of the bill's ideas is to add completion-oriented performance-funding elements to federal grants for colleges that enroll large numbers of minority students.
This would be the first time that the federal government tied funding to graduation rates, a move that has become increasingly popular in state capitols.
The Journal reported that the bill would require historically black and Hispanic-serving institutions that receive targeted federal grants under Title III and Title IV of the Higher Education Act to graduate or transfer at least one-quarter of their students to remain eligible for the grant programs.
The committee also wants to encourage these minority-serving institutions to use grant money for "completion-focused initiatives such as pay for success, dual enrollment and the development of career-centered programs."
Work-Study and Work-Force Development
The bill would change the federal work-study program by ensuring that the money goes to institutions based on student need. The current system is weighted toward private colleges and, to some extent, to wealthier students. The committee also plans to double federal spending on work-study while eliminating a cap on students working at private-sector companies.
Summaries of the pending bill also described an emphasis on nontraditional academic programs that seek close ties with employers.
For example, it would allow unaccredited and new education providers to partner with traditional institutions for the entirety of a student's academic program -- dropping a federal rule that less than half of aid-eligible academic instruction can be outsourced to noncollege providers.
The proposed legislation also would seek to expand competency-based education, with clearer pathways to federal aid, and would encourage "industry-led earn-and-learn programs that lead to high-wage, high-skill and high-demand careers."
To that end, the Journal reported that the bill would steer $183 million toward apprenticeships that last two years or less. Most federally registered apprenticeships last at least two years and include instruction in traditional college settings.
In addition, the bill would repeal the "antiquated and rigid definition of distance education," a summary document said. Such a move would be designed to help encourage innovation. It would also eliminate a snag that Western Governors University, the largest of competency-based providers, is facing due to a critical audit from the department's inspector general. That, in turn, might encourage more colleges to develop their own competency-based programs.
Campus Sexual Assault and Free Speech
The first crack at reauthorizing the Higher Education Act includes a proposed mandate that colleges disclose policies that are designed to protect free speech on campus by limiting where and when speech may occur, the Journal reported. The goal of the proposal is to push back on restricted-speech zones, which the committee said conflict with the First Amendment.
On sexual assault, the Journal reported that the bill seeks to encourage more due process in how colleges treat both accusers and the accused. It apparently aligns with DeVos's recently rollback of Obama-era guidelines on investigating and adjudicating sexual assault cases.
The bill also would tweak the Clery Act, a federal law that governs how colleges report campus crimes. And it would allow colleges to suspend judiciary proceedings while criminal investigations are ongoing, the newspaper reported, while also letting colleges establish their own standards of evidence.