You have /5 articles left.
Sign up for a free account or log in.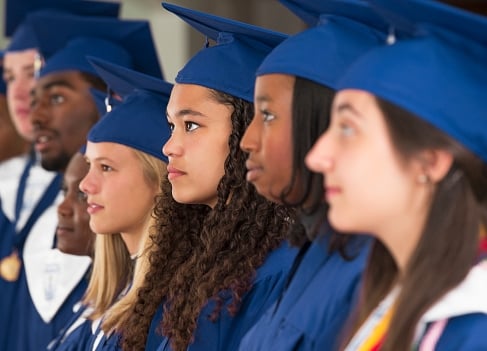 Nearly three-quarters of ninth graders tracked in a major federal study had received some kind of postsecondary education or training within seven years -- and nearly a quarter of them had left their programs without a credential of any sort.
Of the 28 percent of respondents to the survey who were ninth graders in 2009 but had not enrolled in any postsecondary program by February 2016, more than four in 10 cited financial factors as the reason, and roughly the same proportion earned $10,000 or less in 2015.
Those were among the findings of the second follow-up to the High School Longitudinal Study of 2009, released Thursday by the Education Department's National Center for Education Statistics. The study tracks a nationally representative sample of 20,000 students who were in ninth grade in 2009 through February 2016, offering a longitudinal look at how students flow through (and out of) the American education system.
Of the sample, 92 percent had received a high school diploma by February 2016. Additionally, 72 percent of the 2009 ninth graders had enrolled in some form of post-high school education by February 2016. Postsecondary attendance was defined as including enrollment in an undergraduate degree or certificate program, as well as taking classes outside such a program.
The study showed a strong link between privilege and education. Students who went to a private high school were much more likely to go to college. About 80 percent of private school graduates went on to college by 2016, while 48.7 percent of public school students were enrolled in postsecondary education.
The study broke the students' outcomes down by race, with clear trends (and advantages) emerging. Of the overall sample, 88.2 percent of those who identified as Asian went on to postsecondary education, compared to 75.7 percent of white ninth graders, 68 percent of Hispanic ninth graders and 64.7 percent of black ninth graders.
The type of institution students enrolled in also varied by demographic. Around a third of white, black and Asian students went on to a public two-year college, compared to just over 50 percent of Hispanic students. About 44 percent of white students enrolled at a public four-year college, compared to 42.1 percent of black students, 51.3 percent of Asian students and 26.7 percent of Hispanic students.
White students enrolled in private, four-year institutions in the largest numbers, at 19.4 percent. This compared to 14 percent of black students, 12 percent of Hispanic students and 16.7 percent of Asian students.
Dropout rates also differed by racial group. Among the sample of postsecondary enrollees, 65.9 percent of Asian students stayed at the same institution while 14.8 percent transferred and 13.6 percent withdrew altogether, and 54.2 percent of white students stayed at their initial postsecondary institution while 15.5 percent moved and 19.9 percent dropped out. Among Hispanic and black students, dropout rates were markedly higher -- about 30 percent of students who identified with either group withdrew from college and didn't return.
Women fared slightly better than men both in high school graduation and postsecondary enrollment rates -- 93.1 percent of women graduated from high school, compared to 90.4 percent of men. That gap widened in postsecondary education: 76.8 percent of women enrolled in a tertiary institution compared to 68 percent of men.
A minority of ninth graders in 2009 had gotten a post-high school credential by February 2016 -- 6 percent with an associate degree, and another 6 percent with an undergraduate certificate.
In addition, only a small minority of the overall sample -- 7 percent -- held a full-time job while enrolled post-high school. About one-quarter of college students were employed part-time.
Nearly one-quarter of the 2009 ninth graders who initially enrolled in a postsecondary degree had dropped out as of February 2016. The reasons varied: nearly half (48 percent) of respondents said they withdrew from university due to a family situation; 40 percent said they left due to financial constraints; 24 percent attributed academia and 22 percent said work stopped their education.
Those Who Had Not Enrolled
Those who had not enrolled at all in postsecondary education offered various reasons for this decision. The most common explanations -- about 80 percent -- were financial or personal. Nearly one-third of respondents said work prevented them from pursuing a tertiary degree, while 9 percent cited academics as a barrier.
Of the never-enrolled ninth graders, one-quarter were employed full-time, 11 percent had a part-time job, 8 percent were unemployed and another 6 percent were unemployed with no plans to find work.
Nearly one-third of respondents who hadn't pursued post-high school education said their job was closely or somewhat related to what they expected to do at age 30. Another quarter didn't think their job resembled their expected role at all.
A significant number of respondents without post-high school education reported experiencing issues to do with finances.
Three-fifths of the respondents worried about having enough money for day-to-day expenses like food, clothing, housing and transportation. This concern traversed race and ethnicity. Among those without college degrees who were employed, 39 percent had an income of $10,000 or less in 2015.