You have /5 articles left.
Sign up for a free account or log in.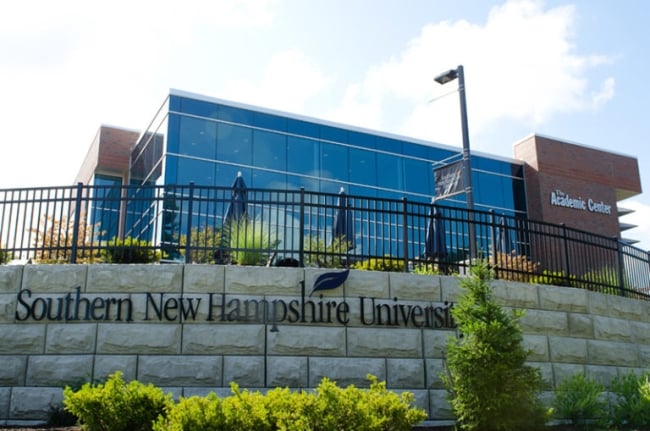 In higher education and nationally, support for Dreamers remains strong, despite the tenuous status of the Deferred Action for Childhood Arrivals programs.
That support is evident in a new $20 million initiative announced today by Southern New Hampshire University, the Shapiro Foundation and TheDream.US to provide free college educations for 1,000 DACA recipients over the next five years. The Dream.US, which is the country's largest college access scholarship program for Dreamers, was co-founded by Don Graham, the former Washington Post publisher and Kaplan University owner.
The full scholarships would help these undocumented young people pursue associate and bachelor's degrees through SNHU's College for America competency-based education program. College for America's tuition starts at $5,000 a year, however, DACA students aren't eligible for federal student aid, so tuition may be a hurdle for them.
"If you think about what immigrants and refugees have done for this country, [people] like Steve Jobs, the son of a Syrian immigrant… we're quite convinced that in the ranks of 1,000 Dreamers and in the larger pool of 650,000 DACA recipients, there are future scientists, community organizers, mayors, doctors and researchers," said Paul LeBlanc, president of Southern New Hampshire University. "We can't afford to squander that talent … no sane country walks away from that wellspring of talent."
The DACA recipients who would benefit from the scholarship aren't unlike many of the students who attend SNHU's programs. They include those who have been out of high school for some time, and they're overwhelmingly students of color who are low-income and have familial responsibilities, LeBlanc said, adding that many have children or are taking care of their parents. They may be their families' principal breadwinners, even though their incomes are modest, he said.
But that's where SNHU's program and partnerships with place-based nonprofits and institutions come in.
Match Beyond, which is based in Boston, has been working with SNHU since 2015 and has about 200 students enrolled in the metropolitan area.
"We coach students from start to finish," said Liz Mariano, chief of growth and strategy for Match Beyond. "What we've done is create a place-based relationship experience to help students leverage those degrees."
The organization provides student services that they wouldn't otherwise get, like free internet access, meals and full-time in-person coaches to help students stay on track, she said, adding that Match Beyond has experience working with Dreamers.
"They have done everything right on the education path," Mariano said. "It's heartbreaking to watch them get to the point of college and have absolutely no way to afford it or an inability to access financial aid."
LeBlanc said those organizing the program remain hopeful that Congress and President Trump will authorize a long-term fix for the DACA program, and he sees hope in two federal district judges recently issuing temporary injunctions barring the administration from ending the program March 5.
"If you imagine the unimaginable, given 75 percent of Americans support DACA, but if somehow, it's not renewed, and these students face deportation … our program is offered online, and they can continue to be enrolled with us from wherever they are sent," he said.
Regardless, SNHU and its partners will continue to serve those students, LeBlanc said.
"Dreamers came here through no choice of their own, and in many instances, they've known no other country," he said. "This is their home country for all intents and purposes, and it seems like abject cruelty to send them to a country they have never known."
The American Council on Education, policy groups and other associations estimate that there are about 350,000 students in the DACA program, said Ted Mitchell, president of the group and a former under secretary of education in the Obama administration. 
"The higher education community is really united around the need to provide a stable landing place for DACA recipients, not just the students, and a path to citizenship," Mitchell said, adding that more than 800 college presidents have urged Congress to enact a long-term solution that protects Dreamers. "We're seeing colleges and universities step forward independent of that to do all they can to provide predictable, stable opportunities for DACA students. The Southern New Hampshire, the Shapiro Foundation and the Dream commitment is a fabulous expression of that."
The initiative has been fast moving, so far. The discussion about creating the program only started two weeks ago, when the donors questioned why they could have a similar program for refugees but not DACA recipients, LeBlanc said.
"It was an amazing thing," he said. "Some funders and foundations can be measured in their pace. But we feel so passionate about students that we cut through the bureaucracy very quickly."
And in just that short time, the program has 11 students who have shown interest. The plan is for 10 of the SNHU place-based partners across the country to commit to offering the program to 100 DACA recipients by 2019.
SNHU is looking at areas where there are high concentrations of DACA students with few higher education options, LeBlanc said.
"Some in California do a great job with Dreamers," LeBlanc said. "Some other states like Georgia, North Carolina, Arizona, they do a terrible job, so we're quietly scouting for other partners. Chicago will almost certainly be an area where we'll open soon."
While the plan is to serve 1,000 Dreamers with the initiative, the donors and SNHU see the program growing beyond that.
"A thousand is our initial target," LeBlanc said. "But what we hope to do is build an evidence base for how to best serve the student population and scale well beyond that in 2019."