You have /5 articles left.
Sign up for a free account or log in.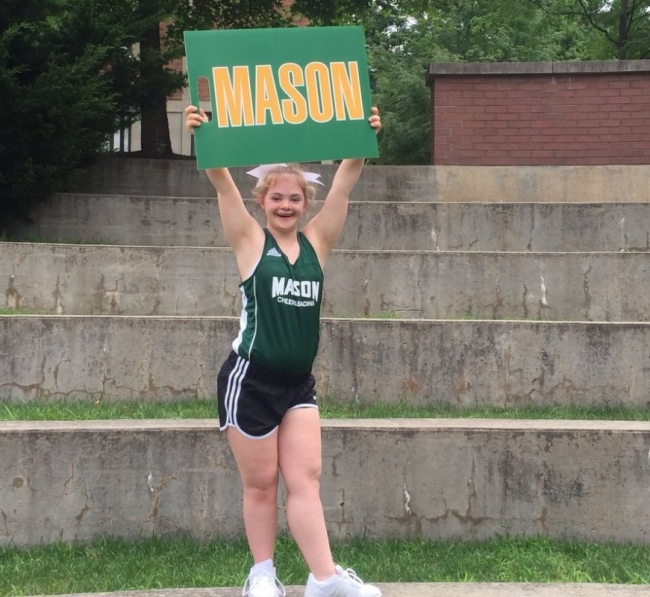 By all measures, AnnCatherine Heigl was an ideal candidate for a George Mason University sorority.
Her sister describes her as "intelligent, motivated, caring." She's a flier for the university's Division I cheerleading squad. She rounded out her high school résumé with French and Spanish clubs and a volunteer job as a teaching assistant.
But Heigl, a sophomore, has Down syndrome. Out of the almost 300 young women who tried to join one the university's sororities -- not a large number, given the campus enrolls more than 24,000 undergraduates -- she was rejected.
Both George Mason and the Panhellenic Council, the governing body of the eight sororities, posted statements after Heigl was turned down professing support for diversity and inclusion. But student affairs professionals and experts interviewed by Inside Higher Ed said that in this case -- and with higher education generally -- support for diversity doesn't always extend to students with disabilities.
"In a lot of ways, Greek life has been slow to adapt to changing demographic of students on campus," said Kevin Kruger, president of NASPA: Student Affairs Administrators in Higher Education. "It's a bit of a weakness in the Greek system."
Certainly, fraternities and sororities have long been criticized for excluding students who aren't white. Just five years ago, University of Alabama sororities were lambasted for denying membership to black students with exceptional academic and service records. But little has been reported about students with disabilities interacting with Greek life.
Heigl's sister Lillie last month published a letter on Twitter chastising the Panhellenic system for snubbing AnnCatherine, who was the first Indiana native to be accepted into prestigious Mason LIFE initiative, one of the country's only full-time programs for college students with disabilities.
"Accepting a woman with a disability to a chapter isn't an act of charity, it brings diversity and promotes inclusion," Lillie Heigl wrote.
The university said in a statement that it is "proud of its reputation as an inclusive community where we can all thrive" and that students with the LIFE program are currently part of both fraternities and sororities there. A spokesman declined to make President Ángel Cabrera available for an interview.
"Like most universities, student organizations at Mason, including the Panhellenic Council sororities, manage their own recruitment and determine their own membership," the statement reads.
The Panhellenic Council also responded, defending its efforts on diversity, writing that any student who identified as a woman was able to go through the rush process. In part, the council said, "We do not possess the ability to dictate our chapters' membership or the process of selecting new members. As a council promotes inclusivity, we recognize that people have been harmed by the decisions of our members and we are committed to engaging all communities in dialogue on the issues to do better in the future."
The council did not elaborate on what that "dialogue" might look like, and it did not respond to further request for comment.
For decades, people with disabilities were excluded from higher education entirely, said Cate Weir, program director for Think College, a group based at the University of Massachusetts Boston that is devoted to expanding options for students with disabilities in higher education. In the last decade or so, reinforced by changes to the federal Higher Education Act, students with disabilities have slowly begun finding spots on college campuses, largely through alternative admissions processes, Weir said. But institutions can't keep up with this "change in perspective," she said.
Weir applauded George Mason for even allowing students to pledge, when in the past colleges and universities have said students with disabilities should avoid college athletics or Greek life because of their differences.
But beyond simply allowing students with disabilities to rush, university and Greek leaders need to teach fraternities and sororities about them and halt "misinformation." Those uneducated about disabilities may think that these students would be disruptive or "wouldn't get anything out of this," Weir said.
A quick lesson seemed to work at Union University, in Tennessee, where four women with disabilities were recently accepted into two sororities -- a third sorority offered spots as well. All were part of the university's EDGE program, which is similar to George Mason's program for those with disabilities. Previously, Union's sororities hadn't extended offers to students with disabilities over concerns about their safety in unsupervised scenarios. But after meeting with EDGE officials, the chapters asked the students to be part of the pledge process.
Kruger, of NASPA, said Greek life organizations should analyze their promotional materials and campaigns and figure out if there is an "unintended message" coming through -- if all of the videos advertising for Greek life include only white, non-disabled people, that doesn't entice students from other backgrounds to apply, he said.
Traditionally, people with disabilities haven't been well represented in media or society, said Lennard J. Davis, a prominent disability studies scholar based at the University of Illinois at Chicago. While the cornerstone Americans With Disabilities Act protected against legal discrimination, it couldn't change how the public socializes, Davis said. Those who don't have family members with disabilities often don't know much about them -- and this extends into both the higher education and Greek landscape, he said.
On a recent trip to a seminary, Davis said he was impressed to learn that the school intentionally housed a student with a disability alongside neurotypical peers so they could learn from each other -- he called Greek leaders' pledge to diversity "hypocritical" when the institution ended up excluding Heigl, he said.
He posed a thought experiment: make this a racial issue. Make the student black and rewind several decades. While a black woman may have been allowed to rush a sorority, she likely would not have been accepted due to the discomfort of the existing members.
"As a group, sororities and fraternities try to feel comfortable with each other and they choose who they want," Davis said. "And for a person with Down syndrome, where a fraternity or sorority isn't going to be familiar, the circle will exclude them."