You have /5 articles left.
Sign up for a free account or log in.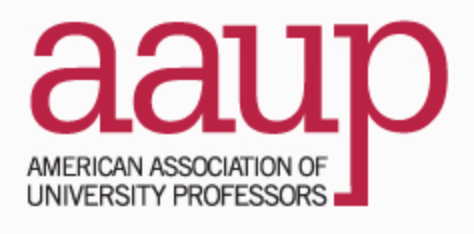 Some 73 percent of all faculty positions are off the tenure track, according to a new analysis of federal data by the American Association of University Professors.
"For the most part, these are insecure, unsupported positions with little job security and few protections for academic freedom," reads AAUP's "Data Snapshot: Contingent Faculty in U.S. Higher Ed." The report is based on the most recent data from the Integrated Postsecondary Education Data System, from 2016.
AAUP's report discusses long-standing concerns about the decline of tenure and what that means for academic freedom, as well as the "casualization" of academic labor and the unbundling of the traditional faculty role. But it also provides an up-to-date picture of who is teaching, under what conditions, where.
Breaking down non-tenure-track positions by institution type, it's clear that tenure and tenure-track positions are more represented at research-intensive and other four-year institutions, where they are about one-third of the faculty. Tenure-line jobs are about 20 percent of all faculty positions at two-year institutions.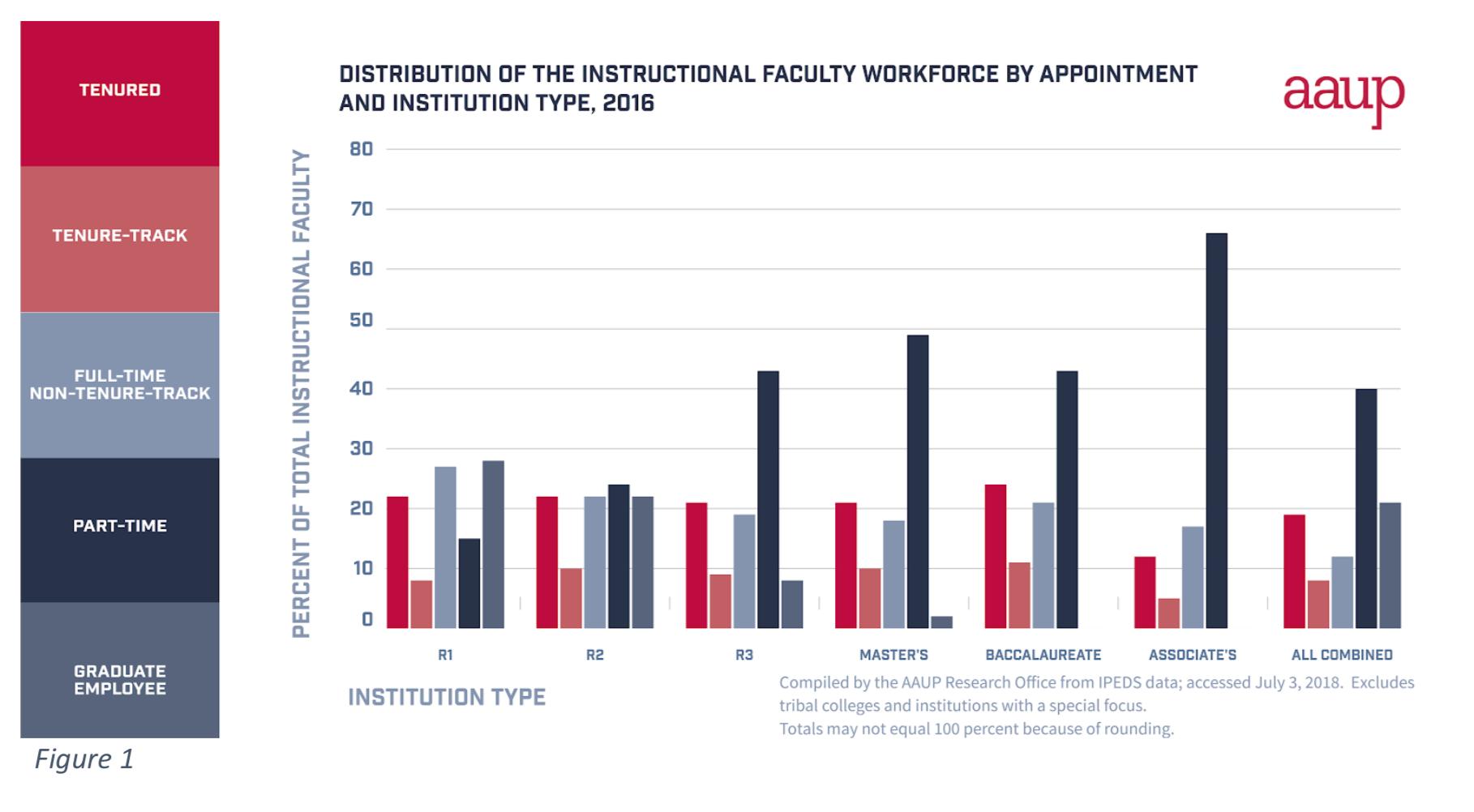 AAUP's attributes that difference, in part, to the fact that graduate assistants do some of the teaching on four-year campuses that part-time professors do elsewhere.
"This is often billed as 'professional apprenticeship' for graduate students," the report says. But many teaching assistantships come with "little or no training for the teaching profession," do not necessarily advance progress toward a degree and sometimes "hinder" that advancement.
"While teaching a few courses can be a valuable learning experience, many teaching assistants instead operate as a source of cheap labor for the academy, teaching section after section of introductory or developmental courses," the report says.
While about half of all faculty positions at master's and baccalaureate institutions are part-time, more than 65 percent of positions at two-year institutions are, according to the association.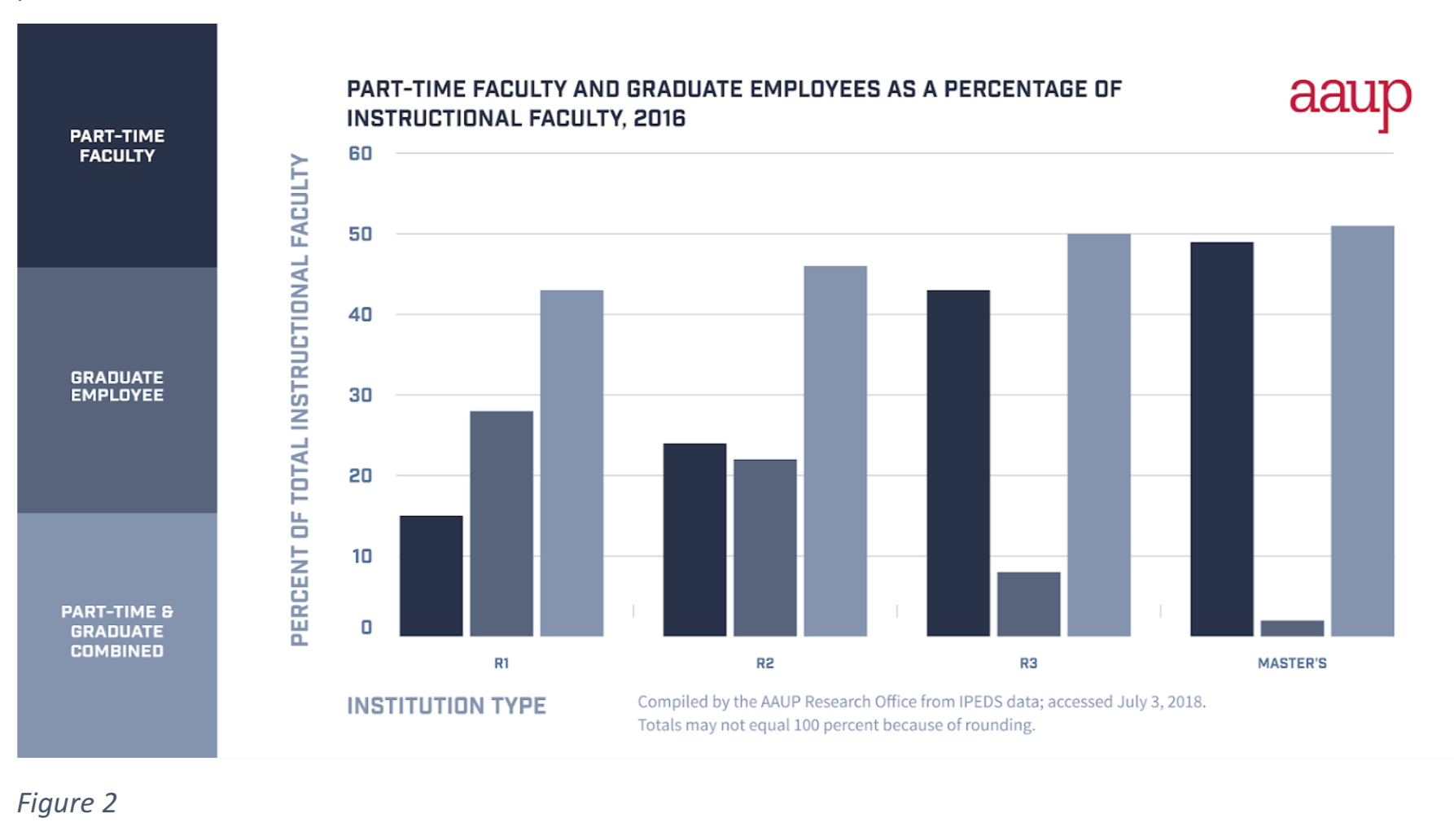 AAUP's analysis provides some new insight on contract length for full-time, non-tenure-track faculty members. At doctoral, master's and baccalaureate institutions, some 38 percent of these full-time instructors are on annual contracts. Some 58 percent are either on multiyear (20 percent) or indefinite or at-will contracts (38 percent). Just 4 percent work on contracts lasting less than a year.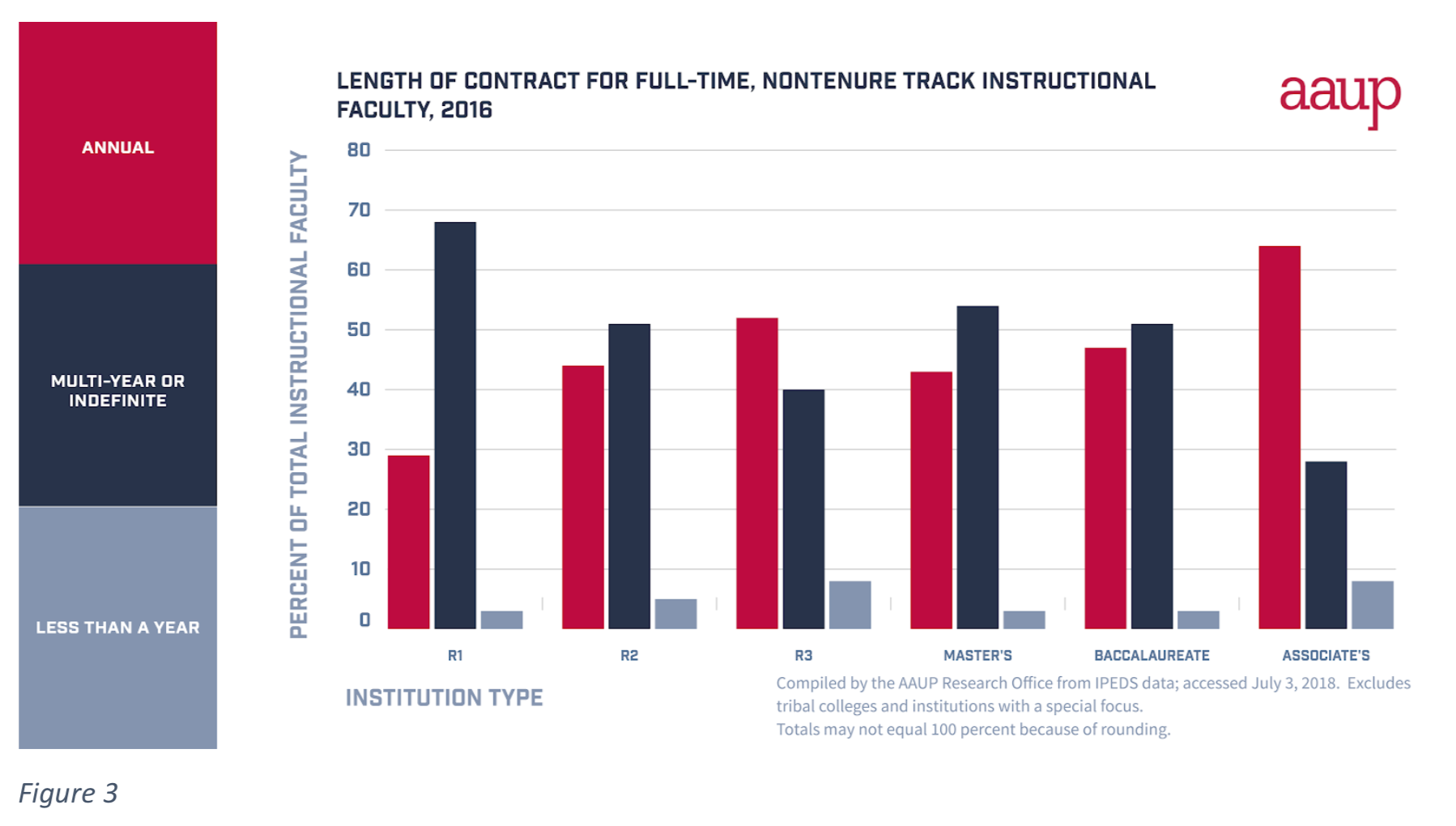 At community colleges, meanwhile, the majority of these full-timers, are on annual contracts (63 percent). Some 28 percent have multiyear or indefinite contracts, and 8 percent have contracts lasting less than a year, such as a semester.
AAUP notes that while faculty members with indefinite appointments have a "fairly good expectation of continued employment" -- a good thing -- they are not tenured appointments.
"Whereas tenure is an indefinite appointment that can be terminated only for cause or under extraordinary circumstances such as financial exigency and program discontinuation, indefinite contracts are effectively at-will in many states," the report says. So the institution can end the contract with no notice at any time for any reason.
The report also notes that while "many contingent faculty members may be excellent teachers, they are not given adequate institutional support to perform their jobs."
AAUP's analysis does not take a long-term look at trends away from tenure, but it notes that a 2017 report from the Government Accountability Office found between 2008 and 2012, the number of tenure-track faculty positions across academe increased by 1 percent, while the number of full-time contingent faculty positions increased by 11 percent. Part-time faculty positions increased by 18 percent in that time period alone.
In 2016, according to AAUP, postsecondary institutions hired 30,865 full-time, non-tenure-track instructional faculty members, compared to 21,511 full-time, tenure-track professors.
Rachel Larris, AAUP spokesperson, said the snapshot is part of an "ongoing mission to demonstrate with the most recent data the alarming erosion of tenure, as well as the problem of instability that contingent faculty have throughout all academic institutions."
Adrianna Kezar, professor and director of the Pullias Center for Higher Education at the University of Southern California, said Thursday that AAUP's analysis is "super important" because "people are definitely not getting that this means a huge decline in academic freedom and how this fundamentally reshifts the mission, goals and culture of academy."
She added, "I bring it up all the time, but people do not seem to see this connection."