You have /5 articles left.
Sign up for a free account or log in.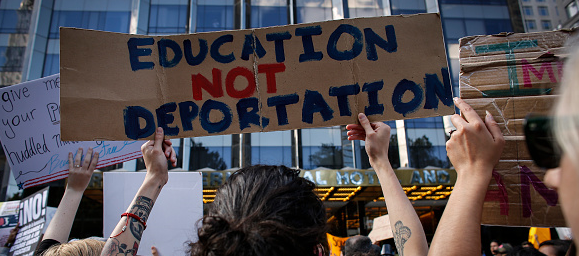 When Tennessee and Nevada started tuition-free community college programs several years ago, state lawmakers made no allowances for students who were undocumented immigrants. The two states were not alone. Among the approximately 15 states that now offer tuition-free programs, only a handful allow such students to participate.
That trend may be changing. Maryland, which is starting its Promise Scholarship program this year, and New York, which passed legislation in January to extend state aid to undocumented students, are the latest states to join California, Delaware, Oregon, Rhode Island and Washington in offering financial aid and grants or scholarships to students who live in those states but lack legal-immigrant status.
In a political climate where undocumented students are increasingly feeling unwelcome under the Trump administration's stated opposition to illegal immigration and risk deportation under its tough law enforcement policies, some states are openly promoting their tuition-free programs to those very students and encouraging them to apply.
"Folks who want to be hard on immigration will say these are people who came to this country illegally so they don't have the right to be here and shouldn't have the right to education extend beyond high school. Because basic education is a right but postsecondary education is not?" said Will Del Pilar, vice president of higher education policy and practice at the Education Trust, a nonprofit organization that advocates for low-income students and students of color. "It's purely political."
Ben Cannon, executive director of the Oregon Higher Education Coordinating Commission, said lawmakers there decided to include undocumented students when they adopted legislation to start the state's tuition-free program in 2015 because it was in keeping with state precedent allowing undocumented students to pay in-state resident tuition rates at public colleges and universities.
"This was about justice, fairness and keeping faith with students for whom we've provided a K-12 education," he said. "It's arbitrary and unfair to say that now you're 18, so public support for education disappears."
After the Trump administration announced two years ago that it would end the Deferred Action for Childhood Arrivals program, or DACA, which protected certain undocumented young people from deportation, California Student Aid Commission officials alerted administrators of the California Community Colleges system about a noticeable drop in the number of students submitting state financial aid applications, said Laura Metune, the system's vice chancellor for governmental relations. The state application is an alternative to the Free Application for Federal Student Aid, or FAFSA. Undocumented students are not eligible for federal student aid.
"There were worries because of the anti-immigration rhetoric at the federal level," Metune said. Undocumented students who were eligible for state financial aid were afraid to apply and provide personal information that would reveal their immigration status, she said. Some students worried doing so could put them at greater risk of deportation.
"So the community colleges joined the commission and many other systems in doing direct outreach to colleges and students so they understood their information is protected when they apply for financial aid," Metune said.
The California two-year system does not track undocumented students or ask them for their immigration status, but officials do track the number of students who receive the state's nonresident tuition exemption, which allows undocumented immigrants and a few other eligible students to pay in-state tuition rates and fees. From 2013 to 2016, the number of two-year students who received the exemption increased from about 55,000 to 63,000 students. But in 2017 the number of exempted students decreased to 60,500, according to state data.
Nationally, there are about 700,000 DACA students. In California, 200,150 such students were participating in the DACA program as of August 2018, according to the Migration Policy Institute.
The chancellor's office held a week of action event last October that featured a series of informational webinars to help undocumented students, faculty and staff at the community colleges understand the students' legal rights and explain the financial aid available to help them afford college, Metune said.
"For all intents and purposes, these are California students," she said. "Their legal residency shouldn't be a factor for whether they go to college."
Whether states with tuition-free programs allow undocumented students to participate is often related to whether the states also allow those students to pay in-state tuition rates.
About 20 states offer in-state tuition to undocumented students. But it took New York's Democratic-led Legislature passing the Dream Act in January for students in the state to qualify for state financial aid or scholarships, including the tuition-free program.
The New York Dream Act would affect about 146,000 undocumented state residents who entered the U.S. before age 16 and are under age 35, according to the New York State Youth Leadership Council and New York University Law School's Immigrant Rights Clinic. Governor Andrew Cuomo has indicated he will sign the measure into law.
"In the New York Dream Act, you see a state going against the national politics in creating access for undocumented students," said Del Pilar of the Education Trust.
Then there are states such as Texas, where there were unsuccessful efforts in 2017 to make undocumented students ineligible for in-state tuition, he said. Texas does not have a statewide tuition-free program.
The Heritage Foundation, a politically conservative organization, is against providing in-state tuition and scholarships to undocumented students. State policies that do provide these benefits encourage illegal immigration, are unfair to students who are U.S. citizens and pay out-of-state tuition, and use taxpayer dollars to subsidize educating undocumented students, according to a paper released by the foundation in 2011.
"Opening up free college and transferring it from hardworking, law-abiding Americans who have been saving for their child's college fund from the time of their birth to illegal, undocumented students in this country is something we don't support," said Mary Clare Amselem, a policy analyst at the foundation's Center for Education Policy.
The foundation is also opposed to tuition-free programs in general, she said.
Cannon, the executive director of the Oregon higher education commission, and a former member of the Oregon House of Representatives, remembers the legislative battles to allow undocumented students to pay in-state tuition and receive state grants and financial aid.
"It seemed like a real long shot back then and took several sessions for just in-state tuition," Cannon said. "This change and this culture and this approach to the policy didn't develop overnight. It has taken years of efforts and activism."
Oregon doesn't track the number of undocumented students participating in its tuition-free program. The state also uses a separate application for students who can't submit the FAFSA. About 160 students who filed using the state application for aid received more than $271,000 in Oregon Promise grants in 2017.
"There is a real concern to try and ensure there is a viable career path for residents of Oregon who, notwithstanding their immigration status, are very likely to remain residents of Oregon, and some of them for a good long time," Cannon said.
Del Pilar said he expects to see more states following New York and Maryland in allowing undocumented students to access tuition-free programs and other state grants and aid.
California has already moved in that direction in recent years by passing legislation to expand access to state grants and scholarships to undocumented students.
Metune noted how far the state community college system has come since 20 years ago, when state lawmakers clashed over whether to extend education benefits to undocumented students.
"The actions of our board and the actions of the Legislature and the governor have reinforced our support for this population," Metune said. "If anything, we see efforts to expand resources for undocumented students … California stands in solidarity with them."