You have /5 articles left.
Sign up for a free account or log in.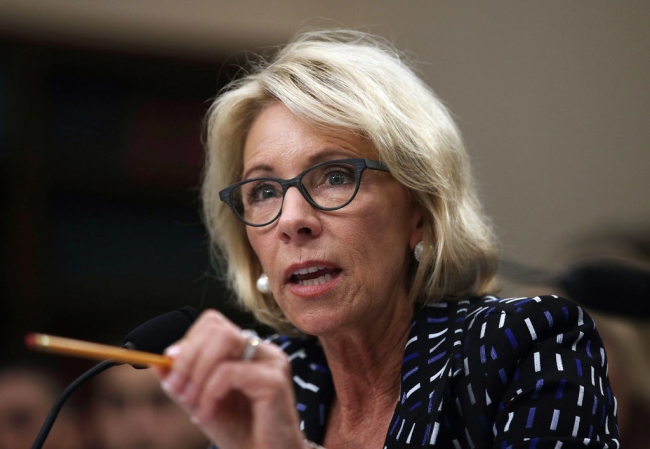 Whom President-elect Joe Biden will pick to put his aspirations for education in place is speculation, right now. But in interviews some of those seen by education policy experts as potential candidates to be the nation's next education secretary and the Biden administration's point person on higher education spoke of the need to help students, particularly those with low incomes, who are struggling during the recession to stay in or go to college, and avoid sticking them with massive student debt.
"The main thing we need to do is make colleges and universities promoters of economic mobility," said former Miami Dade College president Eduardo Padrón, one of those whose names were brought up in conversations with education advocates and lobbyists as a potential candidate for education secretary. "The way I think Biden understands things is the need for colleges to be equalizers in society instead of engines of inequality," Padrón said.
Education advocates, however, said they had no inside information on who is being considered. Padrón declined to comment on the speculation. But referring to Biden and the nation's next first lady, Jill Biden, he acknowledged, "I've known them for many years."
Speculation, though, has focused on the heads of national teachers' unions -- Randi Weingarten, president of the American Federation of Teachers, and Lily Eskelsen García, former president of the National Education Association. Both unions mainly represent elementary and secondary education employees but also represent higher education faculty.
While Weingarten did not close any doors during an interview Monday, she said, "I'm really happy doing what I'm doing. I'd be happy working with the Biden administration as president of the AFT."
The union has been critical of the problems that have resulted when virtually all of those who applied for the federal Public Service Loan Forgiveness Program were turned down. "[Education Secretary Betsy] DeVos should have solved that long ago, but she has made the student loan situation more of a mess than it was before," Weingarten said.
A high priority for the administration, she said, should be to protect students from being defrauded by some for-profit colleges, as they were during the last recession.
A number of progressive groups, and Democratic senators, including Massachusetts' Elizabeth Warren, have called on the Biden administration to take steps like canceling student debt unilaterally. And Weingarten noted, "There's a lot of work to be done, and it doesn't necessarily have to be done through legislation."
Organizations representing historically Black colleges and universities said Tuesday they will be suggesting someone with at least ties to the institutions be considered as education secretary.
And Lodriguez Murray, the United Negro College Fund's vice president of public policy and government affairs, said that if asked by the transition, he'd suggest Alma Adams, a Democratic congresswoman from North Carolina who was instrumental in pushing to make federal funding for HBCUs permanent and a former professor at Bennett College, a historically Black institution for women in Greensboro, N.C.
Murray said he didn't know if Adams would be interested but said she'd be "a very formidable secretary who has shown the ability to work across the aisle. At a time when African Americans are disproportionately affected by COVID and racial unrest, she'd provide a steady hand."
Harry Williams, president of the Thurgood Marshall College Fund, said on Tuesday the group, which advocates for public historically Black colleges and universities, would be raising the idea of naming a former or current HBCU president as the education secretary with members of Biden's transition team, building on the pride in the Black community over the election of Vice President-elect Kamala Harris, a graduate of Howard University.
"It would be an amazing choice," he said. "Historically we've never had anyone in that role from the HBCU community."
UNCF president Michael Lomax is drafting a letter to the Biden transition calling for the next administration, among other things, to double the size of Pell Grants and eliminate $1.25 billion in loans HBCUs owe the federal government for capital projects, Murray said.
But education experts generally expect the education secretary to come from K-12 education. Chalkbeat, an education news site, reported that the centrist Democrats for Education Reform is pushing the superintendents of major school districts: Sonja Brookins Santelises of Baltimore City Public Schools, Janice Jackson of Chicago Public Schools and William Hite, of the School District of Philadelphia. The Washington Post reported that Tony Thurmond, the California state superintendent of public instruction; Congresswoman Jahana Hayes, a Democrat from Connecticut and a former national teacher of the year; Betty Rosa, New York state's interim commissioner of education; and Seattle Public Schools superintendent Denise Juneau are under consideration.
"Typically, the secretary of education has a background in elementary and secondary education, even though the vast majority of the department's budget involves federal student aid," said Terry Hartle, top higher education lobbyist and senior vice president for government relations at the American Council on Education.
"Given the Biden campaign's initial focus on 'free community college' and Mrs. Biden's personal connection to community colleges, they might consider people with a background in two-year schools, which would be welcome and overdue," said Hartle, who declined to speculate about potential candidates. "But if past is prologue, they will look first at elementary/secondary schools."
The choice to fill cabinet positions, though, can be unpredictable. "I never expected to get a phone call from the Obama transition team," said former commerce secretary Gary Locke in an interview Tuesday.
Locke, who was then the Democratic governor of Washington State and is now interim president of Bellevue College, recalled, "I was the state co-chair of Hillary [Clinton]'s campaign."
Locke did campaign for Obama after the then Illinois senator won the Democratic nomination. "Right after the election, I got a call from one of the top people in the transition asking if I could take a quick trip to Chicago," Locke said.
Even then, Locke recalled only being told he was being considered for a range of positions.
"There's a variety of slots. They move around like musical chairs," he said, recalling that former Dallas mayor Ron Kirk had been rumored to be a candidate for transportation secretary. But the Obama administration, wanting to include Republicans in the cabinet, selected then Illinois congressman Ray LaHood to head the transportation agency and named Kirk the U.S. trade representative.
"There's all these different scenarios and objectives they consider, like fulfilling diversity, gender diversity, party diversity," Locke said.
Particularly if the next secretary's expertise is in K-12 education, the department's lead on higher education, who has at times been the education under secretary and, during other administrations, the assistant education secretary, will be key in shaping policy for the nation's colleges and universities.
"Whomever runs higher education policy is crucial to setting the tone for the department policy," said one policy expert.
Three people education advocates mentioned as potential candidates to head the Biden administration's higher education policies also spoke in interviews of the need to help students be able to afford higher education.
Like others interviewed, Michael Sorrell, president of Paul Quinn College, a historically Black Methodist institution in Dallas, whom some also see as a potential candidate for education secretary, didn't comment on the speculation.
Asked what he'd want to see from the Biden administration, Sorrell said the department should recognize more students are working while going to college, and many go to college but do not graduate for financial reasons.
A report by Georgetown University's Center on Education and the Workforce last year found that 70 percent of full-time college students are working.
Still, low-income working students are more likely to work full-time than those who are high income (26 percent versus 22 percent). The majority of students across income brackets are working 15 to 35 hours per week.
"I'm really hopeful the administration will really embrace policies addressing some of the economic issues students are facing," he said, including increasing the size of Pell Grants.
"I went to college for four years, and then a graduate degree and law school. I got three degrees in 10 years," he said. "But I have spent 14 years where that hasn't been the experience of my students."
Zakiya Smith Ellis, a former senior adviser in the Obama administration's Education Department who was also mentioned by education experts, said the first step is to undo the last four years.
"In order to sustain and build postsecondary education pathways that actually lead to the middle class, the administration will have to dismantle several of the policies that were implemented by the previous administration," said Ellis, who served as New Jersey's secretary of higher education before being named Democratic governor Phil Murphy's chief policy adviser, in a statement. "This ranges from protecting victims of sexual assault to creating welcoming spaces for our Dreamers to reprioritizing student debt forgiveness for borrowers. In light of the pandemic, it is also critical for the administration to act swiftly to ensure a sufficient relief package that helps states prevent major cuts in higher education funding as well as provide nationwide guidance tailored to colleges and universities on safe reopening."
Ellis, though, said, "I am happy to be in New Jersey serving as Governor Murphy's chief policy adviser and plan on continuing my role to build on the critical work we have achieved."
Another whose name has been raised by observers, Eloy Ortiz Oakley, chancellor of California Community Colleges, also emphasized helping students brought illegally to the U.S. as children.
Oakley sued U.S. Education Secretary Betsy DeVos over her decision to exclude students in the Deferred Action for Childhood Arrivals (DACA) program from receiving emergency aid Congress provided students during the pandemic in the CARES Act.
"The immediate need is financial," he said. "Low-income students have been so hard hit." The department should work with universities to make sure there's "broad access to support available for every student, including DACA and international students to publicly value every student," he said.
Oakley, in an interview, also emphasized the important role community colleges will play in retraining workers who've lost their jobs during the pandemic.
With colleges facing questions about their value, he said, the first step would be for the department "to stop attacking the value of colleges and universities."
"As a former soldier, if my country ever calls, I'd be happy to serve," said Oakley, an Army veteran.
The administration, the education experts said, will have a number of college and university presidents and former Obama administration officials to pick from to head higher education policy.
Though not a comprehensive list, others mentioned were James Kvaal, president of the Institute for College Access and Success and formerly deputy domestic policy adviser to Obama; Lomax, president and CEO of UNCF and former president of Dillard University in New Orleans; and Martha Kanter, under secretary of education in the Obama administration and now CEO of College Promise, a nonprofit that works on increasing access, affordability, quality and completion at colleges. (Biden's transition team announced Tuesday that Kvaal will be part of a 20-member agency review team to evaluate the Education Department's operations to ease the transition to a new administration.)
Education groups, meanwhile, say they are hoping for diversity and department officials who'd advance policy positions from regulating the for-profit industry to canceling student debt.
"We'd like to see someone who is focused on students, someone who can stand up to institutions that aren't serving students, and ideally, a woman and/or woman of color who can help create a diverse and representative cabinet for the Biden administration," said Tamara Hiler, director of education policy for the centrist think tank Third Way, reflecting the view of advocates at a number of policy groups. Hiler declined to speculate about potential candidates.
Jessica Thompson, TICAS's associate vice president, said, "The most important thing for the Biden administration to keep in mind in selecting the next secretary, under secretary and other senior staff at the Department of Education is to put forward only individuals who are free of a background as well as any conflict of interest with predatory industries." She said that "after meeting that bar, to focus on appointing trusted experts who have a proven track record of placing the interests of students front and center in their work."
Progressive groups pushing for canceling student debt are in favor of a secretary who will aggressively use the department's powers to cancel student debt. The National Student Legal Defense Network, headed by former Education Department lawyers in the Obama administration, for instance, has been calling for the administration to act aggressively, canceling student debt for borrowers with disabilities or those whose colleges close, as well as holding the owners of for-profits financially liable for their students' default on payments.
"After four years of neglect and mismanagement by Secretary DeVos, we have an exciting opportunity for real change at the Department of Education," said Student Defense president Aaron Ament, the Obama Education Department's former special counsel for higher education issues and chief of staff of the department's general counsel's office.
Natalia Abrams, executive director of Student Debt Crisis, which advocates for the large-scale cancellation of federal student debt, applauded the departure of DeVos. "We welcome the end of attacks against people with student loan debt, an end to the attempts to block borrowers from debt relief offered to them by law, and an end to policies that favor profiteers at student loan companies instead of everyday Americans.
"We are hopeful that the next secretary of education will act boldly to address the student debt crisis, to immediately use their powers to support Americans impacted by the COVID-19 pandemic, and to fulfill the promise of higher education as a means of addressing racial inequities," she said.
Kyle Southern, higher education policy and advocacy director for the millennial advocacy group Young Invincibles, echoed that. "Moving forward, we expect President-elect Biden to identify a secretary who will position the department as a front-line defense for students' and borrowers' rights," he said.