You have /5 articles left.
Sign up for a free account or log in.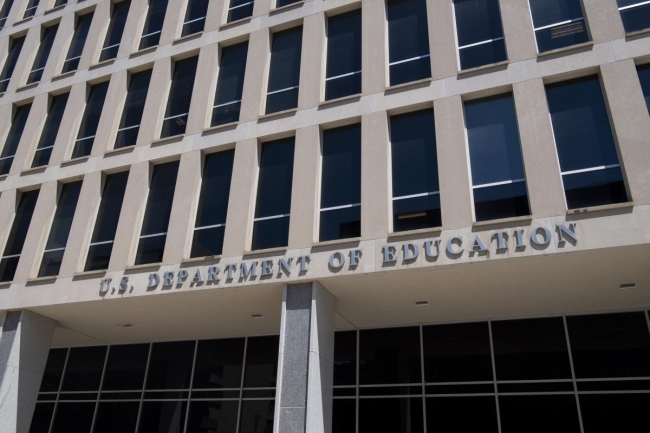 Caroline Brehman/CQ–Roll Call Inc. via Getty Images
The new version of the Free Application of Student Aid might not be ready by Oct. 1, Federal Student Aid officials said Tuesday, though the agency is planning to launch the application in the fourth quarter of this year.
Melanie Storey, deputy director of policy implementation and oversight for the Office of Federal Student Aid, told attendees at the National Association of Student Financial Aid Administrators' leadership conference that the agency wouldn't commit to a launch date this fall, though it is working aggressively toward an Oct. 1 launch. Tuesday's conference was the first time officials publicly disclosed that the application might not open Oct. 1, as it has since 2016. Legally, the agency has until Jan. 1 to release the application.
The conference was not open to the press, but NASFAA staff shared Storey's quotes with Inside Higher Ed and published a recap of the panel discussion.
Pushing back the FAFSA's launch could be "massively disruptive," NASFAA president Justin Draeger said.
The FAFSA is at the center of the college financial aid system. Students, high school counselors, state aid agencies and colleges and universities, among others, rely on the application, which is key to unlocking billions in federal financial aid for millions of students each year. A delay in the form could mean a delay in getting financial aid offers to students, and it could hamper students' college searches and affect state aid agencies that have earlier deadlines.
For example, students in Texas need to file the FAFSA by Jan. 15 in order to receive priority consideration for state aid. The deadline in Connecticut is Feb. 15. Many other states have similar deadlines, some of which are set by state statutes.
Frank Ballmann, the director of federal relations for the National Association of State Student Grant and Aid Programs, said changing those deadlines is not a "slam dunk" or "incredibly productive." He wants to see the application launch closer to Oct. 1 to stay in line with the current culture of filing the FAFSA in the fall as soon as possible.
"Well over half of all high school seniors file their FAFSAs in October, November, December," he said. "How many of those are going to melt away if the FAFSA is not available till January? If you lose 10 percent of those high school seniors, that's a disaster for the future of our country."
Ballmann's hopeful that the department will pull off an Oct. 1 launch, adding that the office has a lot going on. The Biden administration did request more money for Federal Student Aid this fiscal year, but Congress kept the agency's funding flat.
At the direction of Congress, the Education Department is overhauling the financial aid system, an undertaking includes changing the formula that determines how much money a student gets, updates to eligibility criteria for the Pell Grant and simplifying the form itself. Implementation of the FAFSA Simplification Act, which passed in 2020, has already been delayed a year.
"I know there's been a lot of … angst around the fact that we have not affirmatively said Oct. 1," Storey said at the conference. "And this is exactly why. We are working aggressively towards that development date, but we want to be confident that we deliver a stable and secure FAFSA to you, and we want to do it in a way that is predictable and with everything that we can share with you because we know we don't implement this alone."
Storey said at the conference that she hoped that FSA would be able to share a more concrete launch date in the next couple of months.
"It is our intention to tell you as soon as we are confident on a launch date that we will hit with a complete, secure FAFSA," she said.
Federal Student Aid is making progress on the overhaul, those interviewed said. The agency is collecting feedback on the list of FAFSA data elements and providing previews of the new system as well as sharing updates on the timeline with state agencies and colleges and universities. Technical specifications and guidance will be released as they become available.
"FSA has been moving full speed ahead to develop the new FAFSA form and the FAFSA Processing System, which will launch in the fourth quarter of 2023 and will result in unprecedented improvements to how students and families apply for student aid and how eligibility is determined," Education Department spokesman Roy Loewenstein said in a statement. "The department continues to prioritize ensuring that the millions of students who use the form have a better, simpler experience that will help them apply for aid and get a college education."
Helping to Plan
Draeger said knowing that Oct. 1 isn't locked in helps colleges and universities plan for the 2024–25 award year.
"Knowing now that there is going to be a potential delay is more helpful than knowing in September, and now we just need the federal partners to really zero in on what is the precise date that the FAFSA will be launching," Draeger said. "Even though we received some disappointing news today at our conference, I think most people were leaving with some relief that they are starting to finally have some basic questions answered."
He and Kim Cook, executive director of the National College Attainment Network, have previously asked the Education Department to confirm whether the 2024–25 FAFSA will be ready Oct. 1 and heard back that the department wouldn't commit to the Oct. 1 launch.
"Systems have been built around these calendars," said Cook. "Today was the first time that we heard on the record, this Q4 release, as they call it, which does include Oct. 1, but it includes a whole lot of days that are after that."
Cook has been telling NCAN members since December to prepare contingency plans in the absence of FSA committing to Oct. 1 launch.
"I hope that those practitioners and users of FAFSA data are really hearing the need to develop contingency plans for potential delay, and to think about what that would mean to their systems and their timelines and start exploring what they'd have to do," she said.
Cook said that a delay would mean less time to work with students before the admissions process and that students might not know how much aid they could expect before starting their college search.
"They know they're eligible for Pell Grants or they're eligible for a subsidized loan, and in that way, the college search becomes real," Cook said. "You have real money committed to this. It's not just looking at the cost of attendance and thinking, 'I don't know how I would come up with that.' In some ways, it will change our messaging. In some ways, it will change our workload."
Cook said that counselors and college access professionals will still be able to talk with students about federal student aid and the application in the event of a delay.
"We can't talk about timelines but can talk about the steps you'll take," she said.
For Cook, the best-case scenario—other than an Oct. 1 launch—would be that practitioners and aid administrators are well prepared for the new application and financial aid system and "we'll be ready on whatever that launch date is."
Draeger and Cook said Tuesday that they want to see a successful and secure launch of the new FAFSA, even if that means a slight delay.
"We are making changes to the FAFSA, so that will allow people to have direct access to their IRS data, so making sure that this can launch successfully and securely is the most important thing," Draeger said.
Cook said it would be disappointing if the application didn't launch Oct. 1.
"This is something that was passed in 2020, and we had hoped that there was enough time to fully develop the system; however, we want to get this right."
Cook said her organization and NASFAA have been working with Federal Student Aid on the overhaul.
"We've been very vocal about asking for materials, flowcharts, screenshots, the handbooks and all the guidance to be updated, and I think we are making good progress on that work," Cook said. "The final piece of the puzzle really is the timing and some ability to be up front about when to expect it."