You have /5 articles left.
Sign up for a free account or log in.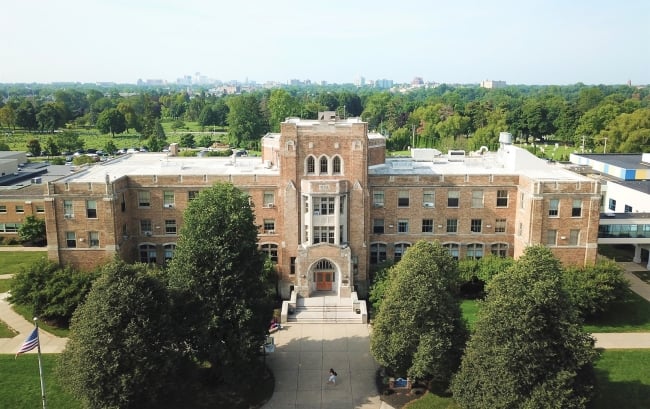 Trocaire College's planned acquisition of Medaille University has been called off a little over a month after the two private institutions in Buffalo, N.Y., announced a deal.
Discussions between the two have been ongoing since October 2021. Trocaire, a Roman Catholic institution, purchased six properties from Medaille in late 2022. But Trocaire's plans to acquire Medaille have been reversed, according to a college statement announcing the deal was off.
The reasons for terminating the deal were not fully explained in the statement from Trocaire College president Bassam Deeb on Thursday.
"This is not the outcome we strived for as significant human and financial resources have been invested by both institutions in the attempt to consummate the proposed transaction," Deeb said.
He also referenced "the complexities of the acquisition" without going into further detail.
"These are extremely challenging times for the higher education sector given shrinking demographics, especially in Western New York, fewer eligible students opting to go to college, and the lingering effects of COVID among others," Deeb's statement continued. "While this is an extremely disappointing announcement, it was a goal worth pursuing."
The acquisition—which officials noted was not a merger—was set to close on July 31, pending approval from accreditors.
Medaille University also released a statement confirming the deal has been called off. Medaille interim president Lori V. Quigley expressed disappointment in the outcome but indicated that she could not "disclose specific details of the termination" due to confidentiality.
"We will provide more information about our next steps as it becomes available," Quigley said.
The statement also noted that Medaille's Board of Trustees will meet today. It seems likely that any decision about Medaille's future will be made at that meeting.
Ongoing Enrollment Struggles
Following the dissolution of the deal, it is unclear what will happen to Medaille. With enrollment declining, the financially struggling Medaille laid off employees earlier this year and was poised to shed multiple jobs when it joined Trocaire. Questions about the future of Medaille's workforce were prompted by a WARN Notice filed with the New York State Department of Labor earlier this month, which indicated that as many as 419 employees could be laid off when the university was integrated into Trocaire. 
Medaille reported 469 employees in fall 2021, according to the most recent federal data.
Data also show slumping enrollment. Medaille reported 1,814 students in fall 2021, the most recent year for which data are available through the Department of Education's Integrated Postsecondary Education Data System. In fall 2019—the year before the coronavirus hit, slowing enrollment nationwide—Medaille reported more than 2,000 students. And back in fall 2013, it enrolled 2,390.
Medaille University reported a $2.3 million endowment at the end of fiscal year 2021.
Trocaire, the smaller of the two institutions in terms of enrollment, reported 1,101 students in fall 2021, per IPEDS data—down from 1,322 in fall 2019 and nearly 1,500 a decade ago in 2013.
But despite its smaller head count, Trocaire College boasted a bigger endowment than Medaille: $33 million at the end of fiscal year 2021.
The Big Picture
If Medaille's Board of Trustees votes to keep the university open, they will do so under scrutiny from the Middle States Commission on Higher Education, which requested last year that Medaille provide evidence of "adequate fiscal and human resources, including physical and technical infrastructure, to support operation."
Medaille was founded as a Catholic institution but is now nonsectarian. If Medaille closes, it will be one of several universities with an affiliation or historic ties to the Catholic church to make that decision in recent months, largely over enrollment and financial concerns. Cardinal Stritch University, Presentation College and Holy Names University, all Catholic institutions, announced closures recently.
DePaul University, the largest Catholic institution in the country in terms of enrollment, has also faced challenges, with a $56 million budget gap projected for fiscal year 2024. But given the strength of both its enrollment and endowment, DePaul does not face an existential threat.
Other religious but not Catholic colleges that have announced closures recently include Iowa Wesleyan University and Finlandia University. Additionally, The King's College has set a May 31 deadline for its newly reconstituted Board of Trustees to make a decision on whether it will close.
Enrollment challenges prompted by the coronavirus and coupled with the declining number of high school graduates pursuing higher education have been a common theme in closure announcements this year. Likewise, many colleges have cited inflationary pressures that have driven up the cost of doing business and the end of federal coronavirus relief funds.