Admissions
Surveys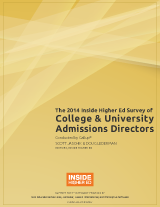 Sept. 18, 2014: Inside Higher Ed's 2014 2014 Survey of College and University Admissions Officers explored the perspectives and opinions of campus admissions and enrollment leaders on a range of pressing issues. Download a copy of the survey report here.
The survey was conducted in conjunction with researchers from Gallup. Inside Higher Ed regularly surveys key higher ed professionals on a range of topics.
On Oct. 8 at 2 p.m. Eastern, Inside Higher Ed will present a free webinar to discuss the results of the survey. Sign up here.
The Inside Higher Ed survey of admissions directors was made possible in part by advertising from ELS Educational Services, Jenzabar, Liaison International, and Perceptive Software.
Booklets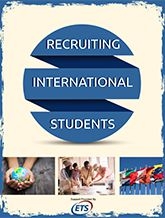 "Recruiting International Students" is Inside Higher Ed's new print-on-demand compilation of articles.
The booklet features articles about trends, debates and strategies of a range of institutions.
The compilation is free and you may download a copy here.
Inside Higher Ed will present a free webinar on Thursday, August 27, at 2 p.m. Eastern, about the themes of the booklet.
Please click here here to register or find out more.
The publication of this booklet was made possible in part by the advertising support of ETS.
Topics
Section Topics
Related Jobs
Established in 1830 as LaGrange College, the University of North Alabama has a rich history including the distinction of being the first state-...
NTC is a customer-focused, accessible provider of innovative lifelong learning that builds a globally competitive workforce. The College's 5,900...
Most
Past:
Day
Week
Month
Year