Admissions
New graduate school enrollments continue to fall among international students, but underrepresented U.S. minority enrollments are way up.
Recent Articles
Surveys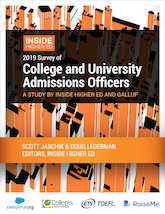 What admissions directors think of the environment for recruiting students, the scandal, affirmative action, waiting lists and more.
Booklets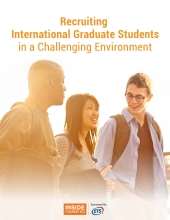 "Recruiting International Graduate Students in a Challenging Environment" is the new print-on-demand compilation of articles from Inside Higher Ed.
You may download a copy of the booklet here, free.
And we invite to sign up here for a free webcast on the themes of the booklet on Thursday, July 18, at 2 p.m. Eastern.
The collection of news and opinion articles was made possible in part by the support of ETS.