Global
Anthropology professors vote overwhelmingly to back boycott of Israeli universities. Issue now goes to their association membership.
Surveys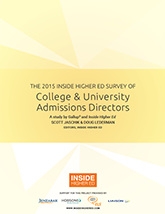 Oct. 1, 2015 -- Inside Higher Ed's 2015 Survey of College and University Admissions Directors examined the views of enrollment officials on topics such as meddling from higher-ups, the pressure to build a class, affirmative action, debt, out-of-state recruiting, viewing applicants' disciplinary records and more.
Like Inside Higher Ed's other surveys, this study was conducted in conjunction with researchers from Gallup.
Inside Higher Ed regularly surveys key higher ed professionals on a range of topics.
On Thursday, Oct. 15, Inside Higher Ed presented a free webinar to discuss the results of the survey. A copy of the webinar can be viewed here. 
The Inside Higher Ed survey of admissions directors was made possible in part by advertising from ELS Educational Services, Hobsons, Jenzabar and Liaison International.
Booklets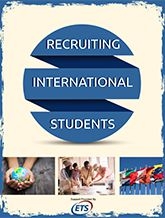 "Recruiting International Students" is Inside Higher Ed's new print-on-demand compilation of articles.
The booklet features articles about trends, debates and strategies of a range of institutions.
The compilation is free and you may download a copy here.
Inside Higher Ed will present a free webinar on Thursday, August 27, at 2 p.m. Eastern, about the themes of the booklet.
Please click here here to register or find out more.
The publication of this booklet was made possible in part by the advertising support of ETS.
Blogs
The World View
November 29, 2015 - 5:01pm
Arab universities, regardless of their resources, are no longer interested in being cash cows in exchange only for the privilege of being associated with a prestigious foreign university.
The World View
November 22, 2015 - 4:57pm
Nearly one million (974,926) international students are studying in the U.S., an increase of 10% over last year, and 304.467 American students are going abroad. But some perspective on these data is required.
University of Venus
November 18, 2015 - 7:52pm
Topics
Section Topics
Related Jobs
Founded in 1927, Pitt-Johnstown is located in the Laurel Highlands of Western Pennsylvania and is the first and largest regional campus of the...
From the day we were founded in 1789 as the nation's first state university, UNC-Chapel Hill has helped people reach their potential. Today, we're...
Most
Past:
Day
Week
Month
Year