Global
After U of Oxford rejects student demands to remove a statue of Cecil John Rhodes, protesters issue a new set of demands related to racial issues on campus.
Surveys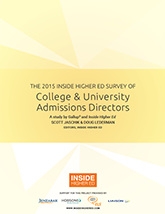 Oct. 1, 2015 -- Inside Higher Ed's 2015 Survey of College and University Admissions Directors examined the views of enrollment officials on topics such as meddling from higher-ups, the pressure to build a class, affirmative action, debt, out-of-state recruiting, viewing applicants' disciplinary records and more.
Like Inside Higher Ed's other surveys, this study was conducted in conjunction with researchers from Gallup.
Inside Higher Ed regularly surveys key higher ed professionals on a range of topics.
On Thursday, Oct. 15, Inside Higher Ed presented a free webinar to discuss the results of the survey. A copy of the webinar can be viewed here. 
The Inside Higher Ed survey of admissions directors was made possible in part by advertising from ELS Educational Services, Hobsons, Jenzabar and Liaison International.
Booklets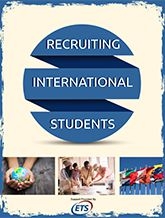 "Recruiting International Students" is Inside Higher Ed's new print-on-demand compilation of articles.
The booklet features articles about trends, debates and strategies of a range of institutions.
The compilation is free and you may download a copy here.
Inside Higher Ed will present a free webinar on Thursday, August 27, at 2 p.m. Eastern, about the themes of the booklet.
Please click here here to register or find out more.
The publication of this booklet was made possible in part by the advertising support of ETS.
Blogs
University of Venus
February 9, 2016 - 3:30am
My Journey from English Professor to Tech CEO
The World View
February 8, 2016 - 7:58pm
There are some who insist that the university is constantly in a state of crisis, aggravated perhaps by political crisis.  I do not agree. 
GlobalHigherEd
February 5, 2016 - 1:54am
What are the implications for universities, and their governing boards/trustees/councils, of becoming increasingly embedded in global networks?
Topics
Section Topics
Related Jobs
The Contra Costa Community College District (District) is looking for community college leaders who thrive on the pursuit of academic excellence and...
Success by Degrees GSU is an "island of excellence," according to Dr. Martha J. Kanter, Under Secretary of the United States Department of Education...
Most
Past:
Day
Week
Month
Year