You have /5 articles left.
Sign up for a free account or log in.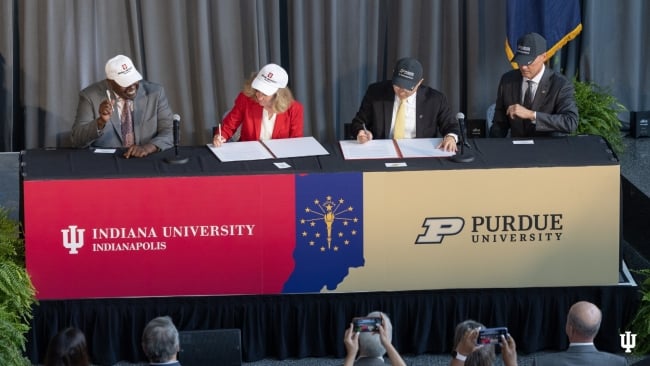 Indiana University–Purdue University Indianapolis/Facebook
With college mergers on the rise, Indiana University and Purdue University bucked the trend last fall by announcing an amicable dissolution of their 53-year-old joint venture, agreeing to break apart Indiana University–Purdue University Indianapolis by fall 2024.
The mutually agreed-upon divorce would make both institutions stronger, officials proclaimed, and IUPUI faculty leaders believed at the time that jobs would be preserved amid the split.
Now, with the official uncoupling still a year away, faculty members tell Inside Higher Ed that many are at risk of losing their positions or tenure in what Phillip Goff, professor of American studies and president of the IUPUI Faculty Council, called an "academic bloodbath." Goff believes dozens of faculty members face the prospect of job or tenure losses amid the breakup as Purdue absorbs certain departments that are currently staffed by IUPUI employees.
The unique structure of IUPUI means that Indiana faculty members teach Purdue students. In certain programs, students can earn a degree from either institution on the shared campus, or both if they double major in one program from each. Historically, Indiana has had a greater presence on the shared campus than Purdue.
According to a Purdue spokesperson, 74 employees who currently work for Indiana will be affected by the realignment process. But the spokesperson stressed that no job cuts are on the table and tenure will be extended to all faculty who move over from Indiana.
Both universities said that in the end, they will be adding—not cutting—jobs. Many current IUPUI faculty members, however, are unnerved by what they see as unattractive and career-damaging options that will force them to surrender tenure or accept an undefined role at Purdue with no home department and unclear responsibilities.
Faculty Options
IUPUI was formed In 1969, when Indiana and Purdue merged a number of programs to create a research institution in Indianapolis. By last year, leaders of both institutions felt that it had run its course, and the governing boards of IU and Purdue voted to break apart the endeavor, splitting it into two separate universities on a single campus that IU will own and manage, providing some shared services.
According to the terms of separation, IUPUI will essentially become two individual entities, known respectively as Indiana University Indianapolis and Purdue University in Indianapolis. As part of the realignment process, some IUPUI faculty members are set to migrate across institutional lines, particularly in areas such as engineering, where IUPUI professors will become Purdue employees. (In the current configuration, those professors work for IUPUI but teach courses in Purdue degree programs, including engineering.)
Purdue will absorb IUPUI's Department of Computer Science and the School of Engineering and Technology—minus the Music and Arts Technology Department—according to a program transfer agreement approved by the boards of both universities last month. The agreement states that "to the greatest extent practicable, Purdue will offer, honor and provide the same faculty appointment classification (e.g., clinical, research, tenured or tenure-track), academic rank designation, current tenure probationary period credit, and tenure and promotion status" to faculty who move from Indiana to Purdue. The agreement notes "that the tenure home of any tenure or tenure-track" faculty "will be determined by Purdue in its sole discretion."
As part of the realignment, Goff said, faculty in departments to be absorbed by Purdue submitted portfolios as applications for tenure, though the materials required in those portfolios kept changing ahead of the deadline in early March. Decisions were initially supposed to be made in May, but Goff said by email that the process was delayed until "the divorce papers were signed in June."
Goff said that the rehoming process, as it's being called internally, also comes with threats to tenure that were not delineated last year as part of the institutional divorce. According to multiple sources who spoke with Inside Higher Ed, faculty members are now faced with three options: taking early retirement, relinquishing tenure for a contract position or retaining tenure under the authority of the provost's office with no departmental home and undefined parameters.
Multiple IUPUI faculty members, speaking on condition of anonymity, raised concerns about a process that they believe is unfair and nontransparent. Some suggested possible age or gender discrimination, arguing that older and female professors are underrepresented among those being offered departmental tenure in the transition to Purdue.
(A Purdue spokesperson told Inside Higher Ed by email that "any accusation of discrimination at departmental votes is ridiculous and patently false.")
Faculty members also worry about what moving to Purdue without a departmental home or clear tenure option might mean for access to lab space and research grants.
"Retaining lab space is a huge question mark," one faculty member said. Likewise, some fear being at a disadvantage when applying for research grants, which may require them to explain how their employment is categorized outside an academic department.
Several professors raised concerns about the potential impact on students and on teaching and mentoring if multiple faculty members choose to leave rather than accept the options put forth by Purdue. They also worry that Purdue will raise the bar for admissions, undercutting inroads they've made in enrolling local students with socioeconomic challenges.
Beyond their displeasure with the options, faculty members are also frustrated with the realignment process itself, which one professor called "unfair, subjective and nontransparent." Faculty members argue they are being evaluated for departmental tenure based on unclear criteria, with no explanation for denials and no opportunity to appeal Purdue's decisions.
The Realignment Process
An Indiana University spokesperson told Inside Higher Ed there is little change on their end amid the breakup.
Of the multiple faculty complaints about the realignment process, all were aimed at Purdue. But despite the complaints, Purdue has defended its approach.
In an internal email, Purdue administrators sought to reassure those affected by the program changes, emphasizing that job and tenure losses were not part of the overall plan.
"In short, there will be (1) no reduction of workforce, (2) no change for current tenured and tenure-track faculty to rank, compensation, or the location and type of research and teaching, and (3) even though the tenure cases were voted by IU, Purdue has nonetheless elected, as part of its agreement with IU to facilitate a transition to a new university, to provide tenure to those currently with IU tenure, and tenure-track assistant professor positions to those currently on tenure-track," Senior Vice Provost David Umulis wrote to affected faculty members this week.
That email, which Purdue shared with Inside Higher Ed, noted, "This is an anxious time" and that additional information on "faculty placement opportunities" will be made available in August.
Purdue has, in recent years, announced efforts to grow its faculty numbers. But faculty members faced with moving to a contract role or accepting nondepartmental tenure worry about where they fit into the vision for Purdue University in Indianapolis when it officially opens in the fall of 2024.
"Yes, they are adding jobs, but in the meantime they're destroying careers," one professor said.
For now, many faculty members are mulling their options. Several told Inside Higher Ed they are undecided and considering early retirement or seeking positions elsewhere.
One faculty member said they felt "abandoned by Indiana and rejected by Purdue."
Even as faculty members meet with senior administrators this week to learn their fate, it remains unclear how many have been rejected for departmental tenure at Purdue. While officials have indicated that the realignment process will become clear following the conclusion of those meetings, many faculty members still don't know where they'll be when fall 2024 arrives.
"We're completely in the dark about what is going on, what has gone on, what is going to be the future. We're the people that are most affected, and yet none of our input has been taken," said one faculty member who has been looking for a new job since the IUPUI split was announced.