You have /5 articles left.
Sign up for a free account or log in.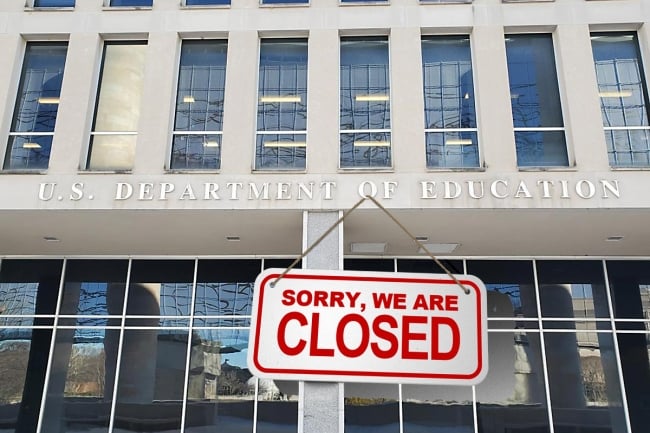 Photo illustration by Justin Morrison/Inside Higher Ed | Getty Images
The looming government shutdown could wreak havoc on the U.S. Education Department's jam-packed fall plans.
Student loan payments resume Sunday—the day after funding for the government will run out unless Congress acts this week—and the agency is set to start negotiations over a new plan for student loan forgiveness in a few weeks. Department staff members are also working to issue final rules on Title IX and gainful employment. Plus, a new version of the Free Application for Federal Student Aid is set to launch in December.
All this means that an October shutdown could cause a mess for the agency, depending on how long the funding lapse persists, though student loan payments will restart regardless of whether the government stays open. Higher education industry groups and think tanks are expecting the department to issue the gainful-employment rule this week to beat the shutdown, though the negotiated rule-making sessions and some planned regulatory actions would likely be put on hold.
The department also is planning to designate more employees as critical to ensure that work on overhauling the FAFSA continues ahead of the December launch. The new FAFSA already has been delayed from its scheduled Oct. 1 debut but is expected before the end of the year.
"They recognize the importance of hitting their current December deadline," said Jon Fansmith, senior vice president of government relations at the American Council on Education. "My understanding is that they will have the right staff deemed essential so that work will not be suspended by a shutdown."
The specifics of the shutdown contingency plan haven't been released, but under the department's recent shutdown plan from September 2021, about 90 percent of its staff would have been furloughed. A skeleton crew would remain to maintain the student loan program. Meanwhile, the Office for Civil Rights would pause its investigations and the department would stop developing guidance, technical assistance and regulatory actions. A shutdown does create some additional challenges for colleges and universities, depending on how long it lasts.
"Just the ability of the department to effectively function is going to be limited, and while short term that might not be noticeable outside the building, the longer it goes, it's going to really have an impact," Fansmith said.
Student Loan Disruptions
Consumer protection advocates are particularly worried about how a shutdown could affect borrowers who are set to make payments next month for the first time in more than three years because of a pandemic pause. Federal loan servicers have already cut staff and call center hours because of a funding shortfall at the department, and advocates are worried that a shutdown could make the return to repayment more chaotic and difficult for borrowers to navigate.
"As we approach a potential partial government shutdown, we urge the Department of Education to be as transparent as possible concerning any looming impacts on the Office of Federal Student Aid and the repayment system," said Regan Fitzgerald, manager of the Pew Charitable Trusts' student loan initiative. "The possible shutdown coincides with a pivotal and difficult time for borrowers and the repayment system as the transition back into repayment begins in earnest. Clear communication from the department is key."
Scott Buchanan, executive director of the Student Loan Servicing Alliance, said that a shutdown lasting longer than two weeks will likely affect the companies and nonprofit organizations that manage student loan payments on the government's behalf and that the department likely doesn't have cash in reserve to pay servicers beyond a few weeks.
"Servicers cannot float the government," he said. "[The department] needs to pay its bills and must pay for the staff it wants."
White House press secretary Karine Jean-Pierre said at a briefing Monday that key activities at Federal Student Aid, the arm of the Education Department that manages the financial aid programs, will continue for a couple of weeks.
"However, if it is a prolonged shutdown, lasting more than a few weeks, [it] could substantially disrupt the return-to-repayment effort and long-term servicing support for borrowers," Jean-Pierre said. "The Department of Education will do its best to support borrowers as they return to repayment—as we have been saying for the past several months—but an extreme Republican shutdown, if this occurs, could be disruptive."
Jean-Pierre said a shutdown doesn't have to happen.
"These are political games that we see from the other side of Pennsylvania Avenue, and it does not have to happen," she said.
The Education Department referred a request for comment on its shutdown plans to the Office of Management and Budget.
As of Tuesday evening, it was unclear how exactly Congress could reach a spending deal by the end of the week to avert a shutdown. Fansmith said a shutdown "feels much more inevitable" at this point.
Senate leaders reached an agreement Tuesday on a continuing resolution that would keep spending at current levels through Nov. 17 to give lawmakers more time to pass a budget for fiscal year 2024. However, some House Republicans have said they want spending cuts and border security measures in any continuing resolution to fund the government. Meanwhile, late Tuesday, House leaders moved forward with votes on four appropriations bills that have little chance of passing the Senate. (The federal budget is made up of 12 appropriations bills.)
Fansmith said he's not seeing a sense of urgency among lawmakers to avoid a shutdown, which makes such an event more likely.
"It definitely doesn't feel like people have the same concern about avoiding one that we normally have," he said.
Regulatory Delays
A fall shutdown also will make it more difficult for Congress to legislate and for the Biden administration to make plans for the next year, he added.
"The chaos factor shouldn't be discounted," Fansmith said.
Additionally, October is a bad month for the Education Department to lose most of its staff, Fansmith said. Regulations have to be finalized by Nov. 1 in order to take effect July 1, 2024. With the presidential election next fall, a year's delay could mean the rules never take effect, depending on the outcome of the vote.
"If your staff are not able to work, that may delay the ability to finalize some of these regulations, and if that deadline is then missed, you're talking about a year's delay before implementation," Fansmith said.
The department has been planning to finalize a sweeping set of regulations that would once again define what it means to prepare graduates for gainful employment, require institutions to meet new conditions to access federal financial aid, and make it easier for the agency to take action against institutions.
The Office of Management and Budget finished its review of the gainful-employment rule earlier this month, which would allow the department to issue it this week. The other rules in the set were sent to OMB last week, so they could be delayed if there's a shutdown. Some higher ed groups have been urging the department to delay its proposed changes that would affect programs leading to professional licensure and state authorization reciprocity.
"Their ability to really manage all of the elements of the process of implementing a final rule and finalizing it and handling it will be severely limited," Fansmith said of the political appointees and other staff who aren't furloughed.