You have /5 articles left.
Sign up for a free account or log in.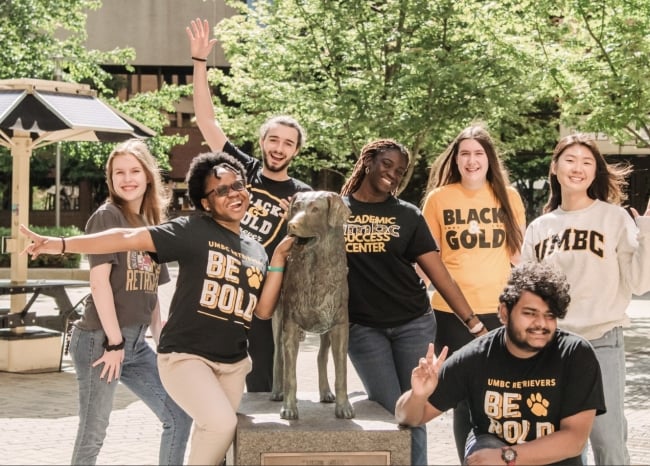 Marlayna Demond for the University of Maryland Baltimore County
When asked to rate satisfaction with their overall orientation experience, students entering college during COVID-19 had more negative perspectives than those who began college before and after reopenings. That's according to data from the newest Student Voice survey on the college experience from Inside Higher Ed and College Pulse, with 3,000 respondents.
Four-year college students in the survey were particularly dissatisfied with virtual orientations, which predominated early the pandemic, and this certainly explains part of why the Class of 2024 (many of whom started college in 2020 and whose orientations were thus disrupted by COVID-19) rate their orientation experiences more poorly than the Class of 2023 (many of whom started college in 2019, prior to COVID-19).
But what explains orientation satisfaction rates for the Class of 2026, many of whom started college in 2022, significantly exceeding those for the Class of 2023 (81 percent versus 71 percent, respectively)?
One possibility: the newest college students in the survey are responding to changes institutions are making to orientation to best serve what's been called "Gen P."
What, or who, is Gen P? In a recent report, the consulting firm EAB defines them as "students whose college-going behaviors have been influenced by their experiences during the pandemic." The report describes Gen P as "under-socialized," academically underprepared and more concerned about not being "mentally ready" for college than earlier waves of prospective college students. And while all students have been impacted by COVID-19, Gen P is generally understood to mean traditional-age pre- and early-college students whose adolescence the pandemic disrupted.
What does Gen P need? In terms of college recruitment strategies, EAB says these students are at once eager for in-person events and experiences and possessing of high standards for digital experiences.
When it comes to orientation, though, numerous first-year experience leaders say that Gen P requires a less-is-more approach, one in which connection and community norms and values are stressed over quantities of information that could easily overwhelm.
Less Is More
Take the University of Maryland Baltimore County, for example. One-day, on-campus orientation sessions held throughout the summer used to run from 8 a.m. to 5 p.m. Now they run from 9 a.m. to 3:30 p.m. These shortened sessions prioritize community-building, including through an inclusive excellence workshop run by i3b (Initiatives for Identity, Inclusion and Belonging) and the Center for Democracy and Civic Life, called "I Am, We Are, I Will."
Students aren't just informed of support services, either. They now complete a scavenger hunt activity called "Retriever Rush" that requires them to visit various offices based on clues such as, "You've just failed your first exam and you think you could have done better. You really could use tutoring. Where do you go?" (Answer: the Academic Success Center, where the next clue awaits.)
What isn't covered on orientation day is addressed in online modules that students complete prior to arriving on campus. And academic advising, which used to be part of the campus program, now happens virtually within days of the campus experience.
Gina King, director of undergraduate admissions and orientation at UMBC, says that during the pandemic, "We saw that folks were having a hard time adjusting to the community life. They were not joining student clubs and orgs at the same rate. They just weren't engaging outside of their class time as much as they used to."
King says these students need the "organic activity" that they've missed out on since 2020, and "we're going to need to be proactive and strategic as to how we're going to deliver that to them on top of everything else."
In redesigning orientation for Gen P, King recalls that she and her staff asked, "What if we could have the best of both worlds?" This meant reserving some pandemic-era asynchronous elements of information-sharing while making connection—with peers and with campus values and resources—the focus of the in-person orientation. "So that's what we tried in the summer of 2022, and assessment data look like it went really well."
At Towson University, also in Maryland, Katie Murray, director of new student and family programs, says that orientation has always been about what information students need and how the institution is delivering it. But these questions are especially critical since COVID-19, she adds.
Murray, president of NODA, the Association for Orientation, Transition and Retention in Higher Education, says that more colleges have folded mental health topics into their programs, including current students sharing their experiences so that such conversations are normalized. Diversity, equity and inclusion are other big topics.
Peer-to-peer interaction is another priority.
Just-in-Time Information
"We really focus on connection during our summer program," Murray says of one-day orientation sessions that different groups of incoming Towson students complete throughout the summer. Then, when students arrive on for the fall term's welcome program, "that's when we're giving more of those specific resources, in a just-in-time model. They're getting the campus safety information. They're getting the Title IX information, our conduct policies—things that are more relevant to them now that it's real and they're here on campus."
What do Student Voice respondents think is important to cover in orientation? These are the top seven priorities of 12 options, with about half of respondents saying that each of the following should be included:
54 percent: Information about academic support (tutoring, writing center, etc.)
54 percent: Social events to meet other students
49 percent: Community-building efforts (i.e., meeting other students in your degree program, residence hall)
49 percent: Information about academic expectations (policies, GPA requirements, etc.)
48 percent: Information about extracurricular opportunities
47 percent: Opportunities to connect with and ask questions of current students
47 percent: Mental health awareness
For reference, 2,400 Student Voice respondents attend or graduated this year from four-year colleges, and 600 are community college students or recent graduates. The majority of respondents are traditional-age students 23 and under. Nationally, about two-thirds of college students are 24 and under.
Ellen Awad, associate dean for student life at Hope College, a Christian liberal arts school in Michigan, says that Hope, too, has taken a "back-to-basics" approach to orientation. "We've seen a need to help students with more basic skills that maybe they would have acquired or been equipped with in their high school years leading up to college."
Incoming students need help with social skills, she explains: "How do you meet someone and interact with them face-to-face as opposed to being on a screen or on some social media account?"
Hope leans on its student orientation leaders to model and assist new students in building these skills during orientation, which happens during the first weekend on campus. The college also shares five foundational messages with students throughout the program:
Mind-set matters
Believe in yourself
Ask for help
Value differences
Be a good human
"We feel like we're planting seeds for their future at Hope," Awad says.
Karnell McConnell-Black, vice president for student life at Reed College in Oregon and a past president of NODA, says he was focused on the following upon arriving at Reed in 2020: "We've got too much stuff going on and we'd like to pare it down because students don't need that right now … What are the basic needs for our students to be able to thrive in the first six weeks of the first year?"
Students don't need to be thinking about, say, their career plans during orientation, McConnell-Black continues. But they should be encouraged to start thinking about their passions and their purpose, about their mental health and physical wellness, and about community norms and values. Reed's on-campus orientation program takes place just prior to the start of fall classes and includes two to three required sessions a day for five days. Topics include community norms and conduct and related rights and responsibilities, DEI, Title IX, campus engagement, and academic support.
Similar to UMBC, Reed has created online modules for key information that can't be covered in the reimagined orientation program. Students complete these prior to coming to campus and may revisit them at any time.
McConnell-Black stresses that orientation is "just one element" of a larger first-year experience and an even broader student life curriculum, throughout which the student experience must be scaffolded.
He adds that his recent external reviews of other colleges' orientation programs have all involved comments to this effect: "We can't continue to overdump information."
Tell us about a new way your institution helped connect first-year or transfer students to each other this year.