You have /5 articles left.
Sign up for a free account or log in.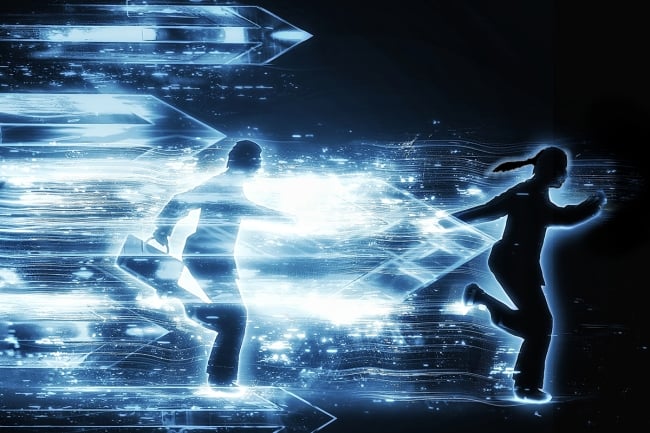 Photo illustration by Justin Morrison/Inside Higher Ed | Getty Images
Faculty members have been slower than students to adopt artificial intelligence tools in the last year, despite the buzz across academia about ChatGPT and other generative AI tools, according to a new report released today.
Nearly half of college students are using AI tools this fall, but fewer than a quarter (22 percent) of faculty members use them, the report from Tyton Partners finds. The study, sponsored by Turnitin, was conducted in September and included roughly 1,600 students and 1,000 faculty members across more than 600 institutions.
On AI, "students seem to be more curious about it than instructors, and those using it daily are using it in and out of schools; that made us think it might be ubiquitous moving forward," said Cathy Shaw, a director at Tyton. "The differential between student use and instructor use will be one to watch."
Faculty members who are familiar with AI acknowledge the importance of the technology: 75 percent of those regular AI users said they believe students will need to know how to use generative AI in a professional setting in order to succeed.
Despite that, the faculty is taking its time with both adoption and setting policy, the report found.
"I read it less as, 'I'm resistant, this isn't my job,' and I interpret it as, 'I'm still learning how to use the tool,'" Shaw said.
Generative AI was just inching into academic conversations following the release of ChatGPT in November 2022. Tyton, an advising firm focused on the "global knowledge sector," initially polled faculty and students about the technology in March. The study released today provides an update on the fast-changing landscape of AI in academia. Tyton plans to release another update on generative AI usage in spring 2024.
Student and Faculty AI Use
Generative AI use, however low, increased by both students and faculty over the last year, the study found. This spring, just 9 percent of faculty members used AI writing tools, but by this fall that had risen to 22 percent.
Students had a higher adoption rate from the start, and that has increased over time. In spring 2023, 27 percent of students were using AI writing tools, and by the fall, that had jumped to 49 percent. The study defined "adoption" as daily, weekly or monthly usage of generative AI products.
For students, the applications for generative AI writing tools varied depending on how often they used the technology. Daily users' top use of AI was summarizing or paraphrasing text, followed by organizing their schedule and answering homework questions. For nondaily users (using it weekly or monthly), the top use was understanding difficult concepts, followed by summarizing or paraphrasing text and assisting with writing assignments.
For the faculty members who do use AI, the top use (43 percent) was running prompts through an AI tool to "see" what their students see, with faculty assuming students are running their own prompts. More than a third (35 percent) of faculty members use the tools to teach students how to effectively use generative AI writing tools, and nearly one-third (29 percent) are using the tools to create more engaging, in-class activities.
While other experts have called for policies, or, at the very least, AI advisory boards, to set standards, the study found that students would keep using ChatGPT or other generative AI tools even if they were banned.
According to the study, the majority of students that identify as AI "users" (75 percent) said if their instructor or institution banned generative AI writing tools, they would be at least "somewhat likely" to continue using the tools. Half of students that were "non-users" also stated they would be somewhat likely to use the AI tools if they were banned.
Impact on the Workforce
The disconnect of faculty members believing AI will be important in the job market, while they themselves rarely use it in the classroom, was a standout finding of the report, according to Shaw. She said that next year, the spring study will most likely seek further details on why the faculty is hesitant to adopt generative AI writing tools.
The October report found that 75 percent of faculty members who use AI regularly say they believe students will need to know how to use the technology in a professional setting to succeed in the workforce. Nearly half of faculty members who are "non-regular" AI users, meaning they've only experimented with generative AI once or twice, reported a similar belief.
Students had less enthusiasm on AI's impact at work. The study found that roughly one-third of "non-user" students believe they will need to know how to use the tools to succeed. More than half of students (55 percent) who use generative AI at least monthly believe they will need to know how to use these tools in future workplaces.
"There's a popular quote: 'It's not AI that will take my job, it's someone who knows how to use AI,'" Shaw said.
Attitudes and Policies
Initial faculty attitudes on the impact of generative AI on work and academic performance have become more positive over the last six months. In the spring of 2023, half of faculty members said they believed generative AI writing tools would have a negative impact on student learning, with that number dropping to 39 percent in fall 2023.
Student opinions on AI's impact on learning remained largely the same from the spring to this fall. About 26 percent of students said generative AI would have a negative impact on learning, up from 22 percent in the spring.
Despite the increased use among faculty and students, institutions varied on implementing systemwide policies.
About a third (32 percent) of private, four-year institutions rely on instructors to set their own policy, although more than a quarter (26 percent) have institutionwide policies. Public four-year institutions are split on policies: 28 percent say policies at the institution have been set, 25 percent say they do not know if there are any policies and 21 percent said no policies were made at their institution.
Meanwhile, public two-year institutions have the lowest rate of policy adoption: 52 percent said they do not have a policy or do not know if they have a policy.
"It's concerning, especially since community college is all about access and equity and often preparing students for work," Shaw said. "[Policy] needs to be more front and center, which is where institution leaders and technology providers can have an opportunity to be the bridge."