You have /5 articles left.
Sign up for a free account or log in.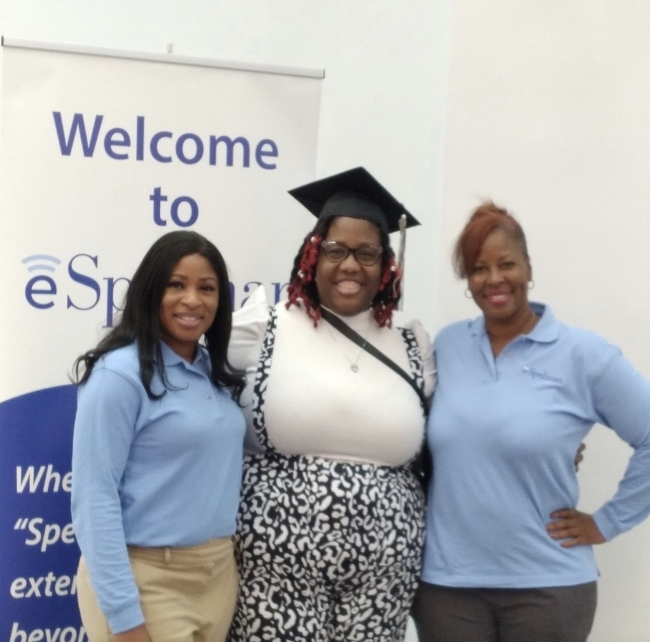 Tracy Lindstrom, a 44-year-old mother of six, was enrolled part-time at Arkansas State University and working full-time at a Fortune 50 company when she began pondering a future in project management.
But she knew she had to find a more flexible option. Her husband had just become certified as a project manager professional, which took 36 hours of training and six months to prepare for the certification exam.
Lindstrom ultimately landed on Spelman College's newly launched online learning program.
"This is something I can put on my résumé, saying, 'I have the education,' without jumping through the hoops," she said.
The eSpelman program started out in the fall 2022, covering three certificate programs with a total of 49 learners. It served as an experiment of sorts for the historically Black women's college to dip its toe into online education.
But a deluge of interest followed, pushing Spelman to increase its program to 150 students—including Lindstrom—the following term. That jumped to 250 the term after and now sits at roughly 410 students in the current term. The program has also expanded to seven certificates, with an additional two in the works.
"Not only was it surprising in a happy way, it was a little shocking because we had to ramp up internal resources very quickly," said Tiffany Watson, associate vice president for eSpelman operations.
The university saw more than just an increase in student interest. As it hits its one-year mark for its online programming, eSpelman has raised close to $4 million in revenue.
"The goal was to break even," Watson said. "But to have such a profit was a dream."
Building the Foundation
This was not an overnight success. Conversations around the potential of entering the online space began as early as 2010, Watson estimated. Spelman launched an online summer program to try to retain current undergraduate students and, after it successfully helped more students enroll and complete their courses, administrators begin to consider expanding on a larger scale.
"It made leadership and the board circle back, saying, 'Maybe there is a space for us to do this,'" Watson said.
In 2019, the college began exploring its options, ultimately landing on launching eSpelman in 2021. It offered three certificate programs: project management, business essentials and a leadership certificate called Leading Self, Leading Others.
But rather than outsource a technology overhaul, Spelman used its existing technology infrastructure, revamping it to build a platform for the program.
"It's all homegrown," Watson said, adding with a laugh, "It's a herculean effort."
The total investment to launch was roughly $755,000, which covered hiring about 10 new employees, as well as course design, market research and marketing and consulting efforts. The latter two were provided by Kennedy and Company, which began consulting on the project in 2019. The program grossed a little over $4 million. After expenses, Watson anticipates roughly $1.5 million to $2 million in net revenue.
Raking in money was never the goal, she said. "The goal was to see if we could do it. And if we made a profit, that would be great, but we wanted to build something meaningful and valuable."
The program first has to be self-sustaining, which Watson estimates will happen in its third year, which would be 2024. After it achieves that, she said she hopes to fund scholarships for undergraduate students and expand the eSpelman program.
Each certificate is $3,600 and credit bearing, which could be used as a general elective if the student wishes to pursue a full degree at Spelman. There is an option for self-paid learners, but Guild works with companies to manage education assistance benefits, enabling the workplaces to cover the tuition fees for employees. It connects Spelman with Fortune 1000 companies including Walmart, Target and Hilton. The firm also provides one-on-one coaching, if needed, and additional educational resources.
"What we know for certain is that there is a large and growing population of working adults that are hungry to learn and who need new skills to take the next steps in their career," Mark Rudnick, Guild VP, said in an email. "Higher ed institutions have the opportunity to be a part of a really impactful solution."
The Guild partnership is how Adelle LeCroy came across the program. While she now serves as a technical support specialist at St. Petersburg College, she heard of eSpelman when she was a Walmart employee. LeCroy has now completed two certificates—one in Leading Self, Leading Others and one in project management—in 2022 and 2023, respectively.
She initially applied to Southern New Hampshire University, which is well-known for its online offerings.
"But then I saw Spelman, and oh my gosh," LeCroy, a 44-year-old mother of three, said, adding that its reputation as an HBCU was the biggest factor in her decision. "It gave me that backbone of knowing about my culture … It was the way to go for me."
Just the Beginning
While some of the certificate offerings are based on feedback from Guild, the majority are market driven, Watson said. The university is thinking "a lot" about offerings in health care and cybersecurity and around diversity, equity and inclusion.
"I think it's important for institutions to offer credentials that are going to give students a competitive edge," she said.
But Watson was adamant the eSpelman program will never expand to the point of taking over, or competing with, Spelman's degree offerings.
"You will never see eSpelman transition to a Southern New Hampshire [model]," she said. "We're sticking within what we do well, but creating an extension to another population."
While Rudnick did not say whether Guild is seeing an increased interest about launching similar programs, he pointed to the uptick in innovation in the space.
"I think this is a 'yes and' proposition," he said. "Supporting working adult learners does not mean turning attention away from students who are attending college right out of high school. However, we need to meet learners where they are."
Watson had some advice for other institutions that want to launch their own programs: think of what your institution does well, which can serve as a unique value proposition, and conduct an audit of the current technology in place. She also advised campus leaders to think of what will be needed and review the "people resources," meaning if there are already subject matter experts on campus—and how much bandwidth they have to contribute to an e-learning program.
"Ask yourself if you're asking them to do more, how reasonable is that and do we need to bring on more people," she said, adding to also consider a vendor or consultant to support the work. "These types of initiatives and models don't fit nicely into the traditional shared governance framework, so we want senior leaders to think about those things."