You have /5 articles left.
Sign up for a free account or log in.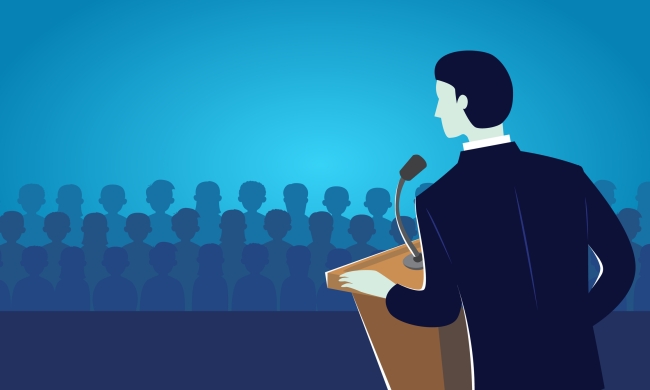 Many experts on the current state of higher education, including several in these pages, have called on the senior leadership of colleges and universities to break their collective silence and speak out on important issues of the day. In the late spring, a group of former presidents and chancellors joined forces with PEN America "to fight political interference and government overreach on campus." Currently, more than 200 of my colleagues have signed on to the Champions of Higher Education initiative.
We are surely an important voice, but in our retired status, we do not speak with the same immediacy as those who continue to hold such top positions. Some of us believe strongly that to speak publicly about issues central to free speech and higher education autonomy is a responsibility of everyone in current leadership positions on college and university campuses and system offices. The very future of higher education and, by extension, democracy is at stake.
This call to arms is similar to the recent demands from news professionals for those in their ranks to speak out against trends that are detrimental to the mission of good journalism. For instance, in an opinion piece in May in The Washington Post, Jennifer Rubin commended Christiane Amanpour's commencement address at the Graduate School of Journalism at Columbia in which she took her employer, CNN, to task for inviting former president Trump to appear as he did in a televised town hall. Rubin concluded that "CNN—and all news outlets—should be run by a player-turned-coach, someone who played the 'game' at a high level and understands truth is the objective of journalism, first and foremost." To my mind, Amanpour is a great candidate for this position not so much because she is a "player-turned-coach," but because she advocates for the founding principles of her field.
Journalism is under attack—audiences are becoming more and more polarized, business models are being questioned, the line between entertainment and news is increasingly blurring. Higher education is facing just as many—and, in fact, somewhat similar—existential crises: demographics (both the decline in the number of people interested in going to college and the change in the ethnic and racial profile of those who are choosing to attend), deep skepticism by the public about the return on the investment of time and money in attaining a degree, perceptions of political and social narrowness in academe among the general public, and resistance from some campus stakeholders to change anything—whether it be curriculum, financial models or governance.
Those are clear and present dangers for the enterprise, but the real threat lies elsewhere. Similar to Rubin's call for leaders like Amanpour, higher education also needs a reinvigoration of responsible and accountable executive leadership. Leaders have remained singularly passive and silent in the wake of cataclysmic changes in the higher education environment in the last few years.
Many will first point the finger at boards and emphasize the political nature of the appointment process for trustees and the consequent partisan attitudes of board members, particularly in the public sector. Surely, misconceptions by board members that their allegiance is to the appointing or electing authority—a governor, an electorate, a faculty senate or an alumni board—rather than to the institution at large has had a destructive impact on American higher education.
But as damaging as the actions or inactions of board members based on such misconceptions can be, the greatest failure of leadership in higher education lies with top administrators—the presidents and chancellors. Unlike the leadership of news media companies, the ranks of presidents and chancellors continue to be composed, in fact, of players turned coaches—former faculty members or former senior academic administrators. But today, those players seem to have lost their voices and, in so doing, their calling. They do not fully appreciate their responsibilities as advocates for and protectors of the mission and special purpose of higher education. This trajectory did not happen overnight, but it has accelerated in recent years.
I can hear sitting presidents responding to my criticism: "But you do not know how hot the political rhetoric is these days. You do not know how rapidly a political leader can decide to attack your campus, reduce your budget, threaten your institutional autonomy. You do not know how intrusive the board can be. You do not know how quick the faculty is to call for a no-confidence vote."
The landscape for higher education has indeed changed a lot in the five years that have passed since I sat in the executive seat of an institution of higher education, the College of New Jersey. The pandemic changed the way such institutions deliver education, the relationship between boards and presidents, and the connections between faculty and students. Meanwhile, partisan politics have become increasingly mean-spirited, and much of what is said on the right or left is unmoored from what we used to accept as shared facts. But we as leaders need to own that we are partly responsible for such changes. We have been entirely too passive and too silent for too long.
When I was president, I did not speak out on every single political issue that struck me as problematic, but I did so when the issues were core to the mission of the institution or when a precipitating event made the topic visceral for the students, faculty and staff. For instance, I spoke out on the positive power of diversity on several occasions: after Sept. 11, after a series of racist and antisemitic graffiti and threats on the campus, and after the 2016 Muslim ban. I also publicly advocated for sensible gun legislation after Sandy Hook and about the importance of freedom of speech and open inquiry after a racist, antisemitic and homophobic preacher came to campus and people called for banning such speakers.
Of course, not everyone liked what I said—including certain faculty members, students, board members and lots of alumni. Surely, some state senators and assemblymen would have preferred that I'd kept silent. But, in all those cases, I believed that silence was assent, and that my responsibility to the mission of the college and the purpose of higher education required me to say something.
During my 19 years as president, I learned some important lessons for when and how to speak out. They include the following:
Contextualize your comments in response to your institutional mission and your major stakeholder groups, like the students and faculty.
Lead the campus, including the board, in thinking about important issues.
Be aware that board members will often disagree, and then accept the consequences of such disagreement.
Let the board leadership know that you are thinking about making a statement before you make it. Don't ask permission to do so, but listen to reasoned input and make appropriate modifications.
Give the full board a preview of the statement before it is published—not for editorial input, but to keep the trustees informed.
Consult widely with campus leaders, including those in senior administration and among faculty, staff and students. Do not ask permission to make a statement but, as with board leadership, listen to reasoned input.
Avoid specifically partisan language.
Be circumspect in making such statements. Not every crisis requires a comment, but some do if, by not speaking, you'd actually be taking a stance.
All that said, however, I could not have had a positive impact by speaking out without a supportive board, as well. I've learned what constitutes such support and recommend that boards:
Appoint and support a strong leader as president.
Expect that leader to be out front on issues central to the mission of the institution.
Provide advice, but embrace the notion of a strong leader with principled opinions—recognizing that means board members won't always be unanimous in their opinions and board members and the president won't always agree.
Maintain civility and commitment to the larger framework of the institutional mission.
While this nuanced approach sometimes results in conflict, it reinforces the separate but equally important governance responsibilities of the president and the board and protects the institution in fulfilling its mission.
I hope that the PEN initiative will be only one among many that encourages higher education leaders to move beyond reticence and speak out for democracy and reason. I hope that more and more of us who are fortunate enough to be appointed to these positions will recognize that, along with great joys, they bring tremendous responsibilities—and the need to engage sometimes in difficult but essential fights.
Concerns regarding presidential reticence to speak up is not new. I remember during my years as president, periodically there would be a flurry of opinion pieces asking where are the Ted Hesburghs or the Clark Kerrs of the day? Where are those speaking for the centrality of higher education in America's civic life? In point of fact, many of us were speaking out during those times, but we were not the leaders of flagship or top research institutions; we were largely female and/or people of color. Our comments were often simply overlooked.
But this time is different. Not only is there silence from almost all sectors of higher education, but also the stakes and the risks are so much higher.
The academic community seems to accept now that a no-confidence vote by a recalcitrant faculty does not necessarily signal that a president or chancellor has failed. Equally important, our community needs to accept that a fight with a board that does not understand its fiduciary duties to the institution and higher education, or with a political leader who believes partisan politics should determine governance and curriculum on the campus, doesn't mean the president has failed. And that even if the result is a pink slip, it may very well be a badge of honor.