You have /5 articles left.
Sign up for a free account or log in.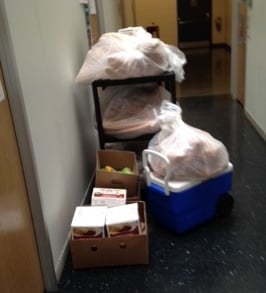 One morning this fall, I found a student in a lounge writing a sign on a piece of a brown cardboard box. One side of the cardboard box already said, "I NEED -- SOME MONEY. A SANDWICH*." At the bottom, it said, "*a graphing calculator." The student had an overstuffed backpack and a couple of also-stuffed plastic bags.
Professional development applied: the overstuffed backpack and the plastic bags were a signal to ask, "Do you have anywhere to stay tonight?"
She did not. She was registered for fall courses and had a work-study job ready. I took her to the office for these situations. A colleague starting calling shelters. We gave her some food and offered a graphing calculator from the Textbook Assistance Program. She went off to the library to fill out more financial aid applications.
Hunger and food stamps, not sentence fragments, not thesis statements. Hunger and food stamps have been my major professional development since I started teaching College Writing I and doing other odd jobs at Bunker Hill Community College, in Boston. Some weeks, I have spent more time helping students sign up for food stamps than I have correcting essays. Same for many colleagues.
Professional development? Well, no one says "food stamps" anymore. SNAP -- Supplemental Nutritional Assistance Program -- is the bloodless euphemism for federal food stamps for the hungry. But SNAP is not for the hungry. No -- SNAP is for people suffering from "food insecurity." This term encompasses both an aching stomach and having no idea where the next meal is coming from.
More professional development: What is hungry? This is from the SNAP application:
You may get SNAP benefits within seven days if one of the following is true:
Does your income and money in the bank add up to less than your monthly housing expenses? __ Yes __ No
Is your monthly income less than $150 and your money in the bank $100 or less? __ Yes __ No
Are you a migrant worker and is your money in the bank less than $100? __ Yes __ No
Every day, students at Bunker Hill Community College are filling out or renewing SNAP applications.
Wednesdays at the end of each month, the Greater Boston Food Bank delivers 5,000 pounds of groceries. An orderly line of sometimes hundreds of students cleans the food off the tables and packs their groceries for home in an hour. Faculty and staff volunteer to set up, hand out the food and clean up.
Why the end of the month? Professional development: the food-insecure students and the food bank know the monthly SNAP benefits buy about three weeks of food.
Professional development: learn best practices for campus food banks from CUFBA, the College and University Food Bank Alliance. As of December 2015, CUFBA has 248 active member institutions.
There's one data point that almost no one in higher education wants to hear: the local percentage of K-12 students eligible for federal free and reduced-price lunch.
Why the aversion? Knowing means asking the obvious follow-up question: How will these same students, going on to college or a trade school, have lunch?
Boston: 80%
Chicago: 85%
Los Angeles Unified School District: 59%
Miami Dade: 73%
New York City: 67%
Washington, D.C.: 53%
(Source: Wisconsin HOPE Lab and federal Common Core.)
These numbers scare me, too. With actual hungry students often at my office door, I can't look away. Let me try here again with my crazy, fuse-blown policy syllogism that sends educations officials and leaders into hiding:
(1) Eighty percent of the Boston K-12 students are on federal free and reduced lunch. Eighty. Eighty. Eighty percent.
(2) National and local policies urge these young people to continue for a postsecondary credential.
(3) And yet we make no provision for lunch when these students go on to Boston's Roxbury and Bunker Hill Community Colleges?
When I first wrote about hunger and college students in 2012 (click here for the column), two public radio hosts admitted when interviewing me that they had thought I was making up the story. Those who don't want to know are a distinguished group -- former U.S. Secretary of Education Arne Duncan, and the president of the American Association of Community Colleges. I've contacted both often, politely, on- and off-line. I choose to retain my unbridled optimism that one day soon the most recent commissioner of higher education in Massachusetts will agree to a meeting on hunger.
One summer Friday, a student who said he was homeless asked me how he could register for classes without an address. "Have you had anything to eat today?" I asked. This is a question many colleagues ask all the time. He had not. I gave him money to go to the cafeteria, and I told him to buy two sandwiches. What would he eat for the weekend?
Professional development: you have to ask, "Have you had anything to eat today?" Students dissemble if the question is, "Are you hungry?"
Professional development: food-insecure students will often not take as much food as they need. The aforementioned student brought me one of the two sandwiches. I gave that back to him.
Another student who had told me, "I guess you could tell that I haven't eaten since yesterday," had taken only a small bottle of orange juice. With a nudge, she accepted a hot dog, which she ate, and three sandwiches that she said she would take home to her children.
Professional development? That feeding students is routine?
Weekdays, volunteers from FoodLink deliver cases of leftover bread from Panera -- I calculate 31,200 loaves since the deliveries began in 2012. A private donor provides about 80 $25 Stop & Shop food cards each month -- $1,900 with Stop & Shop discount.
These, like the food bank, began after my public radio interviews. The bread and the cards and the food bank operate through Single Stop, a nonprofit that helps community college students in eight states sign up for food stamps and other social services.
Text messages announce the daily bread and food deliveries.
"Bananas and bread arriving in ten min."
"Be there in one hour with salad, sandwiches, strawberries, tomatoes and bread. And bananas."
"Delivering now!"
Sara Goldrick-Rab, a professor at the University of Wisconsin and an advocate for helping low-income students complete college, is the inspiring lead in trying to gather data on the amount of hunger on college campuses. The Wisconsin Hope Lab, which she founded, joined the American Council on Education, the largest higher education lobby, in asking the U.S. Department of Education to gather information on hunger in college. That ACE has acknowledged the issue is a leap forward in this sad campaign.
A bit of progress is the brief squall of press before Christmas, when The New York Times published an op-ed by Goldrick-Rab and Katharine M. Broton, "Hungry, Homeless and in College." The essay reported the new Hope Lab survey of 4,000 students at 10 community colleges -- more than half the students reported struggles with hunger and housing. (Click here to download the full report.)
A bit of hope yesterday, Wednesday morning. A group of friends gathered to consider a pilot lunch program for the poorest college students.
Some readers, I know, still won't believe me. Listen to this testimony by a student working with the Hope Lab:
"My name is Brooke Evans. I am a senior at the University of Wisconsin-Madison studying philosophy. From 2010 to 2015, I was homeless and I did not know where my next meal was coming from.
"Without a home, without meals, I felt like a shameless impostor among my brilliant peers. I was shamefully worrying about food, and shamefully staring at the clock to make it out of class in time to get in line for the local shelter, when I should have been giving my undivided attention to the lecturer."
Me? I am sticking with my proposal (click here) of one peanut butter sandwich per school day for each of the nine million students on a federal Pell Grant, the aid for low-income students in college. Why not, then, 45 million peanut butter sandwiches at colleges each week? Until we come up with a better idea.
I saw the sign-writing student the other day. She's still in school.
Text message just now: "Be there in ten min. with bread, sandwiches and salads."