You have /5 articles left.
Sign up for a free account or log in.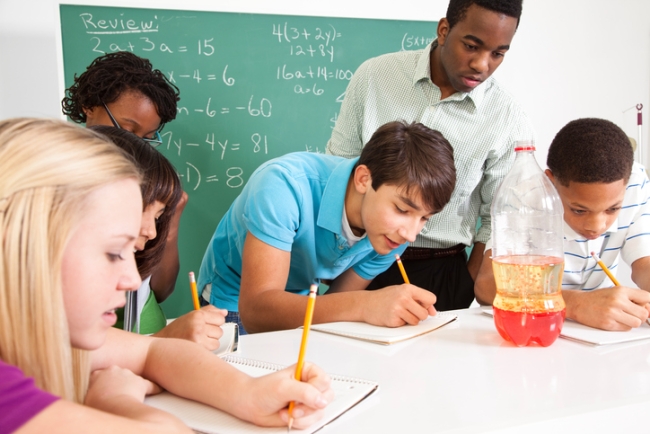 Great teachers are vital to the success of our nation's students. Teaching also happens to be one of the most rewarding vocations a person can pursue -- one that directly affects the next generation, fuels our economy and changes lives.
I've been thinking about this a lot as thousands of students and teachers have returned to school. Just before the summer break, I visited North Elementary School in Morgantown, W.Va., where I observed students from West Virginia University teaching math to a class of bright fifth graders. Coincidentally, my daughter was enrolled in the first class attending North Elementary several decades ago, so the visit was especially personal to me.
During this lesson, students traced prisms to create sets of rectangles and then measured to find the total surface area. I joined student groups as they worked together as a class, with the teachers' assistance, to find patterns in those calculations, which helped them derive the general formula to find the surface area. What stood out to me was how by coming to the formula on their own, the students helped solidify their understanding of the concept. That's the kind of pre-algebra learning that happens when instructors bring passion and expertise to the classroom.
Research affirms that teachers who are knowledgeable about their content area -- particularly in science, technology, engineering and math -- are better able to instruct and inspire students. But too few of our nation's STEM experts choose to apply their talents to this important career path. According to Change the Equation's analysis of data from the U.S. Department of Education, only 30 percent of eighth graders are taught math by teachers with an undergraduate degree in mathematics, and only 48 percent of eighth graders have science teachers who majored in science. This is a big loss. Excellent math and science teachers inspire and prepare students to become tomorrow's technology innovators, enhancing our national security and burgeoning STEM industries.
The UTeach program, which began 20 years ago at the University of Texas at Austin, brings together universities, nonprofit organizations and private foundations to address the need for excellent teachers in STEM subject areas. UTeach encourages STEM majors to combine their degrees with secondary school teaching certification without adding time or cost. This removes a major barrier that keeps STEM majors out of the classroom.
UTeach helps students obtain both their STEM and teaching degrees as efficiently as possible. The program offers tailored course work, early classroom experiences and mentors to develop qualified teachers with deep content knowledge in science or math. STEM majors take classes such as Inquiry Approaches to Teaching, Classroom Interactions in Mathematics and Science and Apprentice Teaching, all of which prepare students to become better teachers and help ensure they are investing their efforts in a career that is right for them. And various program partners -- schools of science and education, as well as local school districts -- work together to ensure graduates are ready to meet the needs of their future students.
Today, with the help of organizations such as ExxonMobil, the National Math and Science Initiative, and the Howard Hughes Medical Institute, UTeach is flourishing at 46 universities across 22 states, with more than 6,500 students enrolled. I'm proud to count West Virginia University among that group.
WVU established WVUteach in 2014, thanks to a five-year grant from National Math and Science Initiative, via the Howard Hughes Medical Institute. Housed in the WVU Center for Excellence in STEM Education, WVUteach is a robust partnership between the Eberly College of Arts and Sciences and the College of Education and Human Services. Students can also enter the program through the Statler College of Engineering and Mineral Resources and the Davis College of Agriculture, Natural Resources and Design.
Since its inception in 2015, the program has enrolled 143 students, and we look forward to graduating our first class in 2018. Those graduates, and those who will follow, cannot arrive soon enough -- West Virginia currently has 92 vacancies in K-12 math teacher positions alone.
Beyond filling those crucial positions with content experts, West Virginia has so much to gain in inspiring and preparing the next generation of STEM talent. With the average STEM salary in West Virginia paying $62,940, nearly double the state average for non-STEM careers, the potential returns are huge: if each graduate from WVUteach inspires even one student to pursue a STEM career, the increased revenue to the state will pay for the program many times over.
The UTeach Institute has been an effective partner in helping WVU implement our program. For universities interested in establishing a program on their campus, the UTeach Institute can help assess the institution's capacity to implement the program and offer advice on funding it.
In that fifth-grade classroom at North Elementary, I saw our future innovators and teachers, and I take seriously our responsibility to prepare them today for tomorrow's careers.
Now is the time to prepare every teacher and every student in every classroom with the math and science education they need and deserve. By 2022, almost 7,700 UTeach graduates will have taught more than four million students nationwide. WVU is proud to champion this proven teacher preparation model, and I urge fellow education leaders, policy makers and scholars to support programs like UTeach at every public and private university across our nation. The future is now, and our students need high-quality STEM teachers to lead the way.