You have /5 articles left.
Sign up for a free account or log in.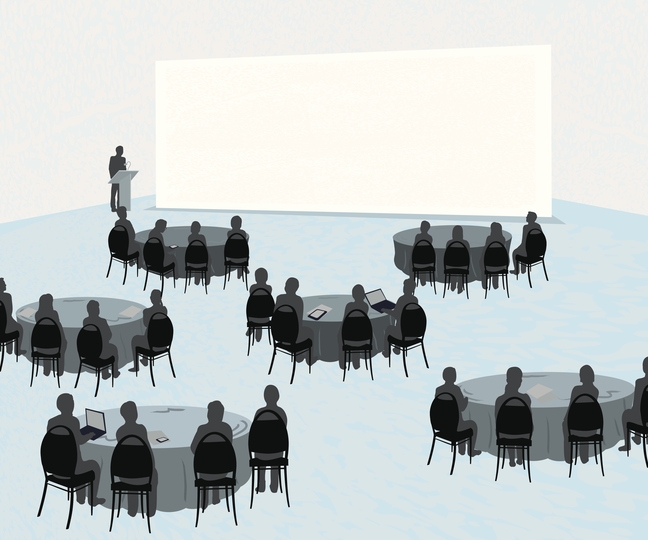 Why did you go to your last conference?
When I ask graduate students that question, their initial answers tend to be pretty general: they were curious and wanted to learn, their adviser told them to go, it just seems like the sort of thing a graduate student in their department does.
"Because it seemed interesting" and "Because I was supposed to" can be perfectly good reasons to do something. But going to a conference with only those reasons in mind can make it difficult for you to take control of the experience and get everything you can out of it.
Conferences have the potential to be great for your career, no matter what career path you choose. They are excellent venues for bringing new people into your network, learning more about fields you may want to move into, establishing yourself as an influential voice and more -- but only if you approach them with focus and intentionality. With that in mind, I will offer some strategies for going to a conference on purpose -- and for making it an impactful, career-building experience.
Determine What You Want to Get Out of the Conference
A cool-sounding call for proposals or a firm nudge from your adviser might have been the original reason you chose to go to a conference. But once you've decided to attend, it's worth reframing your motivations for going. Rather than concentrating on that initial prompt, focus on your ultimate purpose: What do you want to get out of the conference? How will attending it help you make progress toward your medium- and long-term career goals?
This particular conference might, for example, be the perfect place to learn more about a professional field you are currently exploring. It may let you make a name for yourself as an expert in your topic. It might be a great venue to connect with publishers or funders who could make an impact on your future. It could be a place to learn concrete strategies to help you do your work more effectively.
Different conferences are useful in different ways at different stages in your career. So in order to dig deep and really figure out why you are attending a conference -- and what you can get out of it -- you should consider three things.
What kind of conference is it? Is it a huge conference where thousands of people from an entire field converge (like American Historical Association or American Chemical Society meetings)? Or it more of a niche conference for people who share a relatively narrow academic or a professional focus (like Theorizing the Web or the Graduate Career Consortium annual conference)? Is it an academic conference, a professional conference or something in between?
Who will be there? Will this conference be primarily people you know or mostly strangers? Will it be mostly grad students or a mix of grad students and faculty members? What kind of representation from industry or government will be there, particularly from career paths you are interested in exploring? Will vendors, publishers or agencies you've been meaning to talk to be participating?
At what stage are you in your career? Are you finishing up your program and looking for work? Are you still pretty early and wanting to get a broad view of your field? Are you looking for collaborators for your research or ideas for internships? Are you working on your thesis and eager to make a name for yourself as an expert in your subfield?
Thinking through such questions will help you clarify what you could get out of the conference.
Also, spend some time with the conference program the week before you leave. It will give you a lot of information about what this conference is all about, which is especially useful if you're new to this particular one. You can also use it to figure out what combination of sessions will best fit your career-related goals for the conference. And the list of speakers gives you a head start on deciding who to seek out while there.
Set Productive but Manageable Goals
Now that you've figured out what you want to get out of the conference, you need to set goals to help you actually get it. Grand plans are great, but if you try to do too much at a conference, you can become overwhelmed. And then you might suddenly find yourself hiding in your hotel room eating room service and binge-watching Chopped instead of actually attending the conference.
Which is why you need to establish bite-size goals that won't overwhelm or paralyze but will help you get from A to B. Think about your big-picture motivations at the conference (building a stronger network in your field, sharing your research and establishing authority, and so on), then break them down into steps: What smaller things have to happen in order to fulfill those larger ambitions? Those are your goals.
Let's say you want to expand your network at the conference, but you don't know where to start. "Talk to everyone you possibly can" is an ambitious goal, but also one that's likely to trip you up with its grandiosity, especially if networking doesn't come easily to you. Instead, consider smaller, more manageable goals, like these:
I will strike up two random conversations a day while waiting for sessions to start.
I will meet three new people at a networking event.
I will ask one question at a session.
I will live-tweet one session during the conference.
If you exceed your goals, that's great! If you only just meet them, that's also great -- you're still making progress. Celebrate and reward yourself (maybe with a single episode of Chopped). You're on your way to getting a lot out of the conference.
Be Open to Surprise
Planning and goal setting are absolutely crucial to getting the most out of a conference, but make sure you stay open to being surprised as you pursue your goals.
Conferences are a perfect opportunity to embrace what career theorists call "planned happenstance," because they bring people together from different institutions, fields, backgrounds and career paths. Don't only do what's expected or spend time only with the most obvious people. Instead, plan to be surprised by going to a networking event only tangentially related (if related at all) to your specific purposes for attending the conference. Or sit in on a session in a field far from yours and approach one of the speakers afterward to discuss how your disciplines might intersect. Be curious, even as you stay focused.
In the end, remember that a conference can be a great place to build a career, especially if you attend it on purpose.