You have /5 articles left.
Sign up for a free account or log in.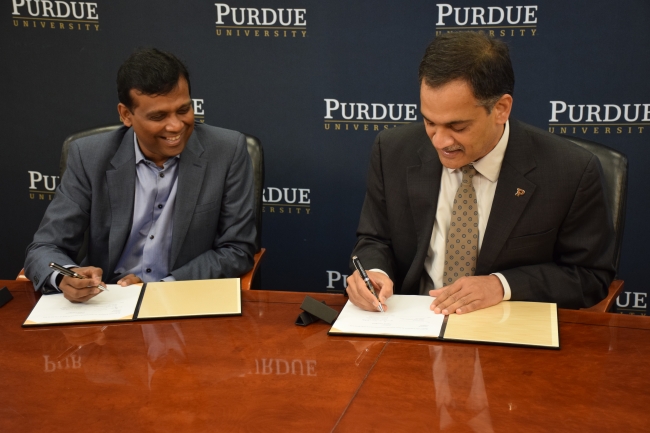 Megan Huckaby, Purdue News Service
Purdue University unveiled another outside-the-box move Thursday, announcing a five-year deal with one of India's largest technology outsourcing firms, Infosys, under which the university will perform joint research and provide training and classes for the company's employees.
The two parties cast the deal as a significant step in work-force development in both Indiana and the U.S. Given Purdue's high profile as a public research university, it could also prove to be a notable step for higher education, moving four-year institutions further into job training more typically performed by community colleges and for-profits.
Purdue administrators hope the partnership addresses a feared talent gap in Indiana between the state's available workers and the technically skilled candidates employers are seeking. Leaders at Infosys, which has traditionally relied heavily on importing foreign workers on visas to meet U.S. labor market needs, see the agreement as a linchpin in an effort to hire 10,000 American employees across the country over the next several years.
Leaders at Purdue are signing on to the agreement with Infosys just months after announcing the controversial acquisition of the online Kaplan University in April. The fruits of that pending acquisition, which will have Purdue taking the for-profit chain's academic operations and turning it into a Purdue-branded nonprofit online university, could potentially be used for Infosys training.
Some Purdue faculty members are already unhappy with the new partnership, because they were not consulted about it beforehand. They were previously unsettled by not being brought to the table as the Kaplan acquisition was being formulated, and they see the Infosys deal as another infringement on their role of controlling curriculum.
But outside experts found a lot to like. They note that the agreement between Purdue and Infosys appears to approximate practices already in place at many community colleges and employers across the United States. Infosys also follows a similar training model in India, they said.
Purdue announced the partnership Thursday after Infosys earlier this year said it would locate a significant portion of its U.S. expansion efforts in Indianapolis. The company generates $9.5 billion in annual revenue and employs about 200,000 people worldwide, including a reported 27,000 in the United States.
It has said it could hire as many as 2,000 people in Indianapolis by 2021, spending millions to create what would essentially be a U.S. headquarters. State officials lured the company with an incentives package that could be worth as much as $31 million in training grants and conditional tax credits. The company plans to hire 10,000 American workers over two years at four U.S. hubs.
The U.S. hiring was seen as a concession to both changing demand for skilled workers and political realities in the United States. Infosys is one of the largest petitioners for H-1B visas for skilled workers in the country, hiring engineers from India and then outsourcing them to a wide range of companies in the United States for services like engineering and programming. That practice has sometimes been criticized as using foreign workers to undercut U.S. workers' wages. President Trump has criticized the H-1B program, and his administration has said it will take measures against fraud and abuse in the system.
Infosys leaders have also said their U.S. clients want more locally based employees. Skilled labor is reportedly becoming harder to find in India.
"We have to create, organically, talent for the future," said Ravi Kumar S., Infosys's president and deputy chief operating officer, in a telephone interview. "The company's core DNA and culture is focused on training and learning and education."
Infosys will be hiring employees who graduate from Purdue, so it made sense to work with the university for training, he said. The university's Kaplan acquisition could also help it craft online training for employees.
Purdue released few details of its agreement with the company Thursday. The university will provide classes and training for "many" of the 10,000 American employees that the company plans to hire over the next two years. New employees will receive much of the training at the university's campus in West Lafayette. "Lifelong learning" opportunities for existing Infosys employees will also become available online.
The university and company also plan to perform joint research and development of course materials. Those efforts will be focused on areas of strength at Purdue, like artificial intelligence, autonomous vehicles, biopharma analytics, digital agriculture and data analytics. A center is also planned at Purdue that will seek interdisciplinary ways to solve problems faced by Infosys clients.
Financial terms of the agreement were not disclosed. The partnership could mean "millions of dollars in joint research," according to a press release.
Training of Infosys employees at Purdue has already started, according to Suresh Garimella, the university's executive vice president for research and partnerships and a professor of mechanical engineering. About 75 employees began training last month under a program that is about eight weeks long.
Purdue is merely hosting the training right now -- Purdue faculty members are not teaching the courses, Garimella added. As the partnership evolves, the university will likely enrich training offerings and provide some training itself, potentially with faculty members. Infosys will pay Purdue for services the university provides.
"There is new employee training, but also, one of the exciting things is they would like us to co-develop training or lifelong continued education for their employees in specialist courses," Garimella said. "Those would be both online and on-site. We're planning them right now, and those would be in computer science and engineering management and so on."
Garimella hopes Purdue can develop course materials to be used for Infosys across the U.S. and in India. The company plans three U.S. hubs outside Indiana in its U.S. hiring push where training will likely be required.
Infosys has already announced one of those hubs as being in North Carolina. It plans to hire 2,000 in Wake County over five years under a plan that includes state incentives of as much as $22.4 million. The company's state incentives package in North Carolina also includes job training from the North Carolina Community College System.
The 58-college system does not yet have a concrete plan for Infosys, said Maureen Little, vice president of economic development. Because of the number of jobs involved, the effort will be a major project for the system. But much of the system's activity is customized training for employers. It was founded around the concept of work-force development, she said.
"That's how we got brought to the table," she said. "Being able to work with a company, develop, design and deliver a training plan that is specific to that company's needs."
The Research University Role
The type of arrangements Infosys is setting up are more common at the community college level in the United States. But even elite four-year institutions have some element of work-force development.
"It does occur in research universities, it's just more upscale," said Anthony Carnevale, director of Georgetown's Center on Education and the Workforce and a research professor at the university.
The term "training" can sound too vocational for many in higher education, he said. But many programs in science, technology, engineering, mathematics and health care have elements of employer training. They just often have more highbrow names, like "internships."
What's different about Purdue is that the university appears to be publicly contracting out the relationship and casting it as work-force development.
"It is a well-established market," Carnevale said. "The question is, will this market spread at four-year institutions?"
Another unanswered question is on the financial end. Training can be a cash cow. And that can be helpful for universities like Purdue, which are operating in an environment of constrained state funding -- providing contract terms are generous enough.
"I think it's smart," Carnevale said. "I don't know what comes of it. Clearly it's a good contract to get. The question is, do you get full overhead? That's always the issue, at least in my experience."
Left Out
Some Purdue faculty members do not like the deal, however. They raised questions about the arrangement almost as soon as it was announced. Will Purdue be hiring new instructors? If so, where? Will some professors receive extra compensation?
The overriding issue is that faculty members cherish their traditional role as stewards of the curriculum. But the faculty's governance body was not consulted about the deal, according to David Sanders, the immediate past chair of Purdue's University Senate and an associate professor in its department of biological sciences.
"It seems that we're going to be negotiating with an outside source about what is our curriculum," he said. "The Senate leadership was not, a far as I know, involved."
Faculty with relevant expertise took part in discussions with Infosys, said Garimella, Purdue's executive vice president for research and partnerships. Many were excited about the coming possibilities, he said.
But for Sanders, the Infosys deal is one more blow against faculty governance at Purdue. He was unhappy when the university moved on the Kaplan acquisition without consulting the Faculty Senate.
Moreover, more and more Purdue research seems to be funded by corporations, Sanders said.
"I have long been concerned about the direction that our president and Board of Trustees are taking the university," he said. "I believe they are just trying to make us a corporate training ground. That, I do not think, is the role of a place like Purdue University."
Purdue's president, Mitch Daniels, is a Republican former governor of Indiana. He has been willing to try out new strategies since taking over at Purdue, not only with the Kaplan acquisition and the Infosys deal, but with income-sharing agreements and competency-based education. Daniels has also taken to speaking in soaring rhetoric about Purdue's mission as a land-grant university for many state residents.
A partnership between Purdue and Infosys seems sensible, said Peter Cappelli, a professor of management and the director of the Center for Human Resources at the University of Pennsylvania. Cappelli has researched skills gaps and shortages in the United States and is familiar with Infosys and other business services outsourcing companies based in India.
Infosys mainly operates by hiring people in India and training them in information technology, Cappelli said. There, they tend to be aggressive about rolling out curricula and bringing in teachers.
"They're pretty used to this," Cappelli said. "The interesting question is, why don't U.S. companies do this?"