You have /5 articles left.
Sign up for a free account or log in.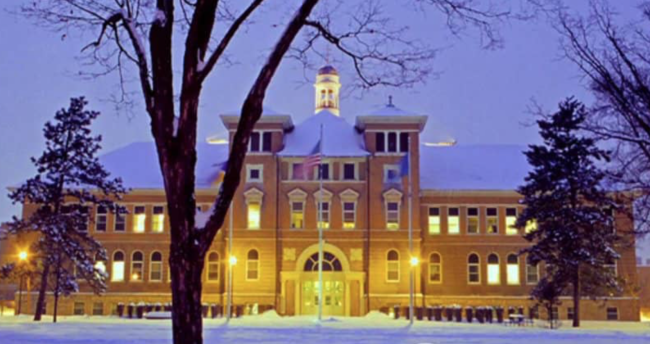 Many professors in Wisconsin saw their fears of a 2015 change to state tenure law realized last week. That's when the University of Wisconsin at Stevens Point announced its plan to cut 13 majors -- including those in anchor humanities departments such as English and history and all three of the foreign languages offered -- and, with them, faculty jobs. Tenured professors may well lose their positions.
The plan is part of the campus's Point Forward initiative to stabilize enrollment by investing scarce resources into programs Stevens Point sees as distinctive and in demand. Those include business, chemical engineering, computer information systems, conservation law enforcement, fire science and graphic design.
"Well, you can imagine the mood in the College of Letters and Science, which houses the humanities," said Michael Williams, chair of English at Stevens Point. Guessing that professors in the fine arts and communications are feeling similarly "grim," Williams said he and his colleagues feel "dismayed, shocked and angry."
Those in disciplines "directly affected are also apprehensive," he added, "across all ranks, tenured and untenured, since most are able to see it as a clear opportunity for the administration to test the application of [University of Wisconsin System Board of Regents Policy Document] 20-24, the new rules governing tenure."
A bit of history: before 2015, tenure was more protected on University of Wisconsin campuses than it was pretty much anywhere else in the U.S. -- tenured faculty members only could be laid off in cases of true financial emergency. But with the legal weakening of tenure at the hands of the state's Republican-controlled Legislature came the rewriting of related Board of Regents policies on tenure and program discontinuance.
Those new policies, namely Document 20-24, lumped educational concerns together with financial ones in how public universities may target academic programs for closure and lay off tenured professors. They allow administrators -- in the words of several regents -- to run institutions more like businesses.
"Welcome to the 21st century," Regent Margaret Farrow said during a board vote on the policies, two years ago this week.
The cynical view of the new Stevens Point plan, held by many faculty members on that campus and off, is that it's exactly the kind of thing the Legislature, regents and administrators who supported those changes had in mind all along.
The less cynical view shared by others, including Provost Greg Summers, is that the changes present an opportunity for Stevens Point to fight for its future as enrollment declines and state funding dwindles. The campus faces a $4.5 million deficit over two years.
"There's absolutely some truth in there -- this new [tenure] policy provides us an avenue that would perhaps not be possible otherwise," Summers said in an interview. "But there is absolutely no truth to the idea there was a purposeful agenda. Higher education institutions, no matter where they are, need to be more nimble, and we've been urging redirection for a long time."
Summers added, "We've struggled to do that in other ways because some of these decisions are gut-wrenching and difficult. But to be successful in a competitive environment, we've got to make them."
A spokesperson for the university system said the Stevens Point plan is not related to the new tenure policies.
Lots of Lead-Up, Little Warning
Either way, last week's announcement came as a shock to the Stevens Point faculty.
Mark Tolstedt, professor of media studies and Faculty Council chair, said, "The administration has been forecasting this kind of move -- although nothing this extreme -- since maybe 2012-13, and so periodically we've been asked to do more strategic planning and consider realignment, and we certainly did." (Note: This sentence has been updated from an earlier version to reflect the new name of the faculty governance body.)
But last Monday's news was "a significant surprise to us, to put it mildly," he added.
Mary Bowman, a professor of English and chair of the council's General Education Committee, said faculty members were asked for their input, but only in part. For example, she said, professors were surveyed about which criteria should be used for eliminating programs, but not on the new plan's "underlying premise" that cutting some programs to expand others is a good idea.
Essentially, she said, "no formally constituted committee or working group was involved in producing the plan released Monday," and to what degree any faculty recommendations were incorporated is unclear.
The English department, for example, drafted a revision to its major to highlight career applications and transferrable skills, Bowman said. Only later did it hear that the administration "was considering eliminating the English major and replacing it with an English education major, which is what appears in the proposal."
The shock was part size, part substance. Cutting 13 majors -- in any disciplinary area -- is significant. But the cuts are concentrated in the humanities and social sciences, raising serious doubts about the institution's ability to deliver on its liberal arts mission. Here is the full list of nixed majors: American studies, art (excluding graphic design), English (excluding English for teacher certification), French, geography, geoscience, German, history (excluding social science for teacher certification), music literature, philosophy, political science, sociology and Spanish.
Planned areas for reinvestment, by contrast, bend toward the natural resources and more job-oriented fields. Additional growth programs, according to Stevens Point's plan, are aquaculture, captive wildlife, ecosystem design and remediation, environmental engineering, geographic information science, master of business administration, master of natural resources, and doctor of physical therapy.
Summers said the university based its assessment on what Stevens Point is already known for within the state and nationally and on what incoming students declare as their intended majors. Stevens Point, like many other institutions, is facing a shortage of graduating high school seniors, with another projected population cliff on the horizon. The institution now receives just 13 percent of its funding from the state and has significantly increased its graduation rate in recent years.
While enrollments are somewhat steady right now, Summers said, all those factors will make Stevens Point's target enrollment of about 8,000 difficult to maintain.
Predictably, many professors have asked why Stevens Point's plan relies so heavily on what incoming students think they want to study before they even arrive on campus. Critics like Williams note that most of the programs seeing cuts are revenue positive, in part due to their relatively low cost of instructional delivery. Moreover, Williams said, "Eighteen-year-olds are pretty changeable and discover their passion in the first 18 months or so of college -- and that is often when many of them discover history or philosophy or even English literature."
Yet under the plan, he said, they'll "no longer have that option. Odds are, they will go to another school in the [Wisconsin] system." And while "fire science" may entice students, he said, it's not a field that employs large numbers of experts.
Bowman said that English has, for the past five years, seen an average of 22 first-time students and 15 transfer students declare it as an intended major, according to data from the Office of Institutional Research. Currently, the department has 169 majors. Such students "are unlikely to choose any of the new or expanded programs in large numbers," Bowman said. "Other students come for one of the more professionally oriented programs and then change their plans for one reason or another, often ending up in one of the programs slated for elimination."
If all the majors up for elimination go, she said she wondered, will the latter group of students have enough options to "fall back" on?
Questions on the Liberal Arts
John Blakeman, chair of political science, said his department expects to continue to offer a "relatively wide range of courses," even if they're oriented toward outcomes in other degree programs and the general education program. The "fear," however, he said, "is what happens to our placements in professional and graduate programs? In poli-sci we have an excellent track record of students enrolling in law school, public policy, public administration and even human resources graduate programs, and we'd hate for that to diminish."
Mary Beth Norton, president of the American Historical Association and Mary Donlon Alger Professor of American History at Cornell University, said something similar in a letter she sent to Summers and Eric Yonke, dean of letters and science, last week. Referring to the university's stated ongoing commitment to the liberal arts, the letter says in part that it "seems odd -- if not self-defeating -- to deny students the opportunity to major in a field that would supply them with precisely the proficiencies the university quite rightly aims to engender in its students."
While it might be argued that "abandoning a traditional history major is not the same as abandoning all courses in history, especially because of the necessary retention of classes for teacher certification," Norton said, "I infer from the reference to cost reduction that fewer history courses will be offered if the major is eliminated, thereby reducing the likelihood of non-majors to find courses consonant with their interests."
Norton also noted a recent national upswing in history enrollments.
Summers, a historian by training who started out on Stevens Point's faculty, said he knew better than most what eliminating major-level course opportunities for students means. Yet he said he's become something of a historian of higher education via his role as provost, and that he's found that the era of the 1950s-'60s -- when state funding was high and large shares of students began to obtain liberal arts degrees -- was an "aberration." Now, he said, the tides are turning back to more "applied programs with a professional bent," underpinned by strong general education programs.
Of students who are paying more and more for tuition, he said, "It's really no surprise that they want to prioritize the career pathways they are likely to get into with a particular credential. And we're seeing that reflected in our recruitment numbers."
There's a little more to the story in Wisconsin, where a merger of two-year institutions with regional four-year universities is under way. So beyond "pivoting" toward professionally oriented programs, to use a term Stevens Point has employed of late, all public comprehensives are about to absorb the missions and students of Wisconsin's fundamentally more job-oriented community colleges.
Blakeman said state comprehensives "always have to factor in work-force needs, so to an extent [Stevens Point] has historically been somewhat job-oriented." That said, he added, "there has also been a vibrant and deep liberal arts component on this campus, and that will be overshadowed to an uncertain degree by more professionally-oriented programs."
Asked if he thought Stevens Point would continue to be a university under the plan, Tolstedt said yes -- but "a different kind of university."
"We're a tenured campus and I worry that we're not going to be able to recruit new faculty, who are such a vital part of any university setting," he said. "And I worry about the depth of the liberal arts orientation … It's going to be very, very uncomfortable here for a while. Can it work? I hope so for the sake of the people of Wisconsin."
Tolstedt credited Stevens Point with sharing its plan earlier than it had to. So the faculty does have some time to consider the university's recommendations and make counterproposals before a formal review process kicks in this summer. The plans will be reviewed by a campus governance committee, Stevens Point's chancellor and, ultimately, the board, as outlined in the new regents policy.
Summers stressed that the current list of program recommendations may change in the months ahead. English could re-emerge, for example, as a technically oriented writing major, he said. But he can't spread the "false hope that we can do nothing," he added.
Both Summers and Tolstedt said it's therefore too soon to say how many faculty jobs, tenured or otherwise, are on the line. Tolstedt guessed that any layoffs would initially target untenured faculty members, given that it's an easier administrative process.
Blakeman said that is the concern right now, but he noted that the university's official notice only mentions the possibility of tenured faculty layoffs. If it comes to that, "it might be the first use of the new regents policy."