You have /5 articles left.
Sign up for a free account or log in.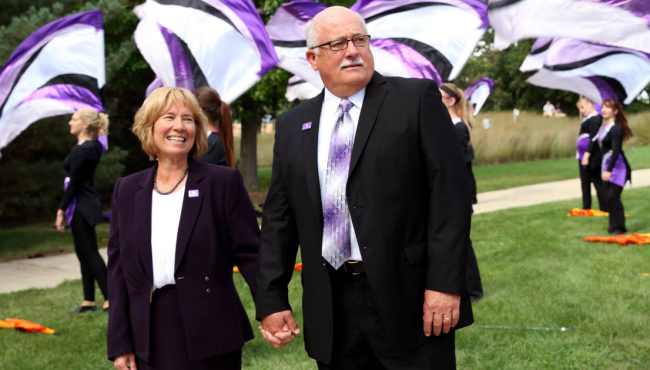 When the husband of the chancellor of the University of Wisconsin at Whitewater was banned from campus events last month because of sexual harassment allegations against him, the unenviable task of informing the campus fell to his wife.
"As you can imagine, this is a challenging and unique set of circumstances for me as a wife, as a woman, and as your chancellor," Beverly Kopper wrote in a message to the campus after the allegations were deemed credible.
That Kopper's husband, Pete Hill, had put her in such an uncomfortable position made the admission all the more embarrassing and, unfortunately for the university, more newsworthy. The investigation and subsequent dismissal of Hill from an advisory position on campus made local and national headlines.
While having to publicly address such a sensitive and highly personal incident is relatively rare for a leader of a college or university, Kopper is not alone in being thrust into the media spotlight because of the behavior of a spouse. Other university presidents and chancellors have also been the subject of past news reports because of the serious actions, or eyebrow-raising antics, of their husbands or wives.
Spousal misbehavior reflects badly not only on the president but on the institution itself and can have far-reaching implications in terms of potential donors and students. At a time of declining enrollment and increasing reliance on wealthy benefactors, trustees and governing boards are more image conscious than ever.
Troublesome spouses of executives obviously exist in many professions. But employees or stockholders of a Fortune 500 company would likely not have any idea who is the spouse of the CEO. In higher education, the social missteps, indiscretions and lapses in judgment of spouses of college presidents are getting more attention than in past decades, said Susan Resneck Pierce, a former college president and now a consultant to colleges and universities. (She occasionally writes columns for Inside Higher Ed.)
"Twenty years ago, it would have been a problem for the institution and only known about in the local community or the narrow region," said Resneck Pierce, president emerita of the University of Puget Sound, where she served from 1992 to 2003. "What was previously just considered a local problem has become more national because social media has really put a spotlight on the problems. The more intense the spotlight and public attention, the more the board will worry and try to address it, depending on the circumstances."
With confidence in higher ed falling and growing numbers of politicians and pundits questioning the need for a college education, the last thing university administrators want is for someone closely associated with their institution to be in the wrong, or for negative news about a president's spouse or domestic partner to go viral and become the butt of Twitter jokes and ridicule or the subject of less-than-flattering memes.
Nevertheless, the reach and influence of social media has, at times, raised public interest in college presidents and their spouses to a level usually reserved for scandal-prone celebrities. As a result, college governing boards and presidential couples are figuring out how to negotiate this new terrain.
"I think the important point here is that when one of the spouses or partners becomes the president, it's simply a given that both individuals are going to be in a public role. It just comes with the territory," said Elaine Maimon, the longtime president of Governors State University, a public institution in University Park, Illinois. "You just have to be prepared for that and to just keep in mind that you're always, to some degree or other, going to be representing the university. It just means the president lives and breathes that every day and can never forget it."
Modern presidential spouses or partners are also individuals, however, and don't necessarily want to be seen as mere appendages of the president to whom they happen to be married. The spouses and partners often have their own careers and interests that don't revolve around the job of the president. Being mindful of how their actions or statements may be viewed on and off campus is one thing; being focused on this full-time is another.
"Sometimes they can forget that simply by virtue of the partnership, there's going to be a level of public scrutiny that just comes with it," Maimon said.
Prior to becoming president of Governors State in 2007, Maimon was chancellor of the University of Alaska at Anchorage and a vice president at Arizona State University, where she led a campus. Her husband, Mort Maimon (who has also written for Inside Higher Ed), moved with her from job to job over the last two decades.
Before he settled into his current role, he worked as the head of the English department at a Philadelphia high school. He then taught education as an adjunct lecturer at the University of Pennsylvania, and English at Arcadia University.
"It's not a kind of carefree enjoyment," he said of being a presidential spouse. "It's a conscious enjoyment. You don't take things for granted; you have to be observant and understand the culture you're living in and the impression you give others."
He said every campus has its own unique culture, and spouses or partners that take the time to understand it tend to fare better.
"I'm not a naturally sociable guy," he said. "I've gained sociability in the 22 years I've been doing this. I tend to be reticent, which might be deemed as antisocial or as not being forthcoming. This may not be true, but the truth can become the impression some people might have of you."
"I've learned a lot. I think there's a distinct difference between the kind of person I am at this point than when I first started. I hadn't thought about what kind of community I was entering, what my role will be."
According to a 2016 survey of presidential partners, transitioning into the role is a "major life event" that can be "especially problematic."
The survey, "The Lives of Presidential Partners in Higher Education Institutions," was conducted by University of Minnesota researchers under the direction of Karen Kaler, wife of university president Eric Kaler. Some 461 spouses and partners of college and university presidents and chancellors participated.
Although 84 percent of those surveyed said being the spouse or partner of a college president was "satisfying, very satisfying or extremely satisfying," many also said they struggled with defining their roles "and the stresses of a very public existence."
"According to survey respondents, the role is seldom made clear before presidents accept their positions, few institutions have written partner policies, and presidential contracts rarely mention the partner role," the study authors wrote in the summary of their findings.
David A. Williams, author of Caesar's Wife, The College President's Spouse: Minister without Portfolio or the President's Conscience?, wrote about these challenges in a 2013 article for Trusteeship Magazine, a bimonthly publication of the Association of Governing Boards of Universities and Colleges.
He described attending conferences sponsored by various presidential associations, specifically the sessions for spouses, where "the common complaints of presidential spouses were aired -- frankly, and, at times, emotionally."
"This is where the truth is told -- where presidential spouses let their hair down and tell each other how they feel about their lives. A majority are not happy. Many feel they are not respected. Some feel they are hated," he wrote.
Williams, who is married to Peggy R. Williams, president emerita of Ithaca College in New York and former president of Lyndon State College in Vermont, implied that husbands and wives of college presidents are held to a high standard with little margin for error.
"So long as the presidential spouse can keep the rank and file (and the broader community) happy, all is well," he wrote. But if the spouse makes a questionable decision not supported by trustees, "There will be hell to pay."
Mort Maimon plans to attend the annual meeting of the American Association of State Colleges and Universities this month in Washington. He is scheduled to lead a session for the organization's spouse and partner group on balancing how they're perceived on campus with the image they want to create.
"This doesn't mean being phony," he said. "It's about how to go beyond who you think you are, and how your manner and demeanor defines who you are to other people. It doesn't come automatically, it requires thought; you have to be flexible and adaptable."
The role of the presidential spouse has evolved as the ranks of presidents have diversified and more women, and to a lesser extent, partners in same-sex couples have become college presidents.
"My sense is that the role of the partner or spouse of a college president has been challenging for most of the past 50 years, especially as there has been greater diversity in terms of the gender of the president," said Jay Lemons, president of Academic Search, an executive search firm.
Lemons, who was president of Susquehanna University for 16 years and also served as chancellor of the University of Virginia's College at Wise, said there have increasingly been two-career couples attached to the presidency and that this development "has complicated the waters."
"I don't know that anything has changed other than there are more media outlets and more opportunity for events or instances to be more widely known," he said.
"In the vast majority of cases, the partners have been remarkable and made great contributions to the health and wealth of countless colleges and universities," he said. "There are to my mind, a remarkably small number of cases where these incidents have revealed themselves in public ways."
When that happens, things can get ugly. The board of the University of Tennessee once banned the wife of the system's then president from having any contact with university donors or staff members after she allegedly berated a donor and reduced her to tears. The ban was lifted only after the president, John Petersen, wrote the board and pledged that his wife, Carol Petersen, would conduct herself appropriately.
E. Gordon Gee left Vanderbilt University in 2007 after six years as chancellor, during which his then wife, Constance Bumgarner Gee, had a rocky tenure as "first lady."
Outspoken and politically liberal, she pushed back against the university's social conventions and the expectations of trustees.
She lowered the American flag at the presidential mansion to half-staff after President George W. Bush was re-elected in 2004. She signed a letter of protest against the university giving Condoleezza Rice, the former secretary of state under Bush, a medal for distinguished public service. She smoked marijuana in the presidential mansion, which she said was to ward off violent episodes of nausea caused by Meniere's disease, but trustees were unimpressed and particularly displeased that The Wall Street Journal chronicled her actions in a front-page article.
Now divorced from Gordon Gee, Bumgarner Gee said she made some mistakes and has some regrets. But she noted that she came into the role at a disadvantage after moving with her husband from Brown University, and before that, Ohio State University, and having to adjust and adapt to a new campus culture each time. She said there were no guidelines or discussions about what would be expected of her in the role.
Bumgarner Gee, who wrote a memoir about being married to a three-time college president, has plenty of advice for would-be presidential spouses.
"I would encourage them to sit down with the board and to have early conversations about what is really expected of them and what they're willing to do and what they're not willing to do. And to be very up front about what kinds of events they'll attend and how much time they want to put into it. If you are politically engaged, perhaps you should talk about that, ask if that's a problem. Be very open. And also have a heart-to-heart with your husband. I would also counsel other first ladies to keep their own counsel, and as much as you'd like to be seen as very approachable and open, don't be. You can be friendly, but don't give anything up. The people around you, the staff and faculty, are not your chums. People will want to be close to you only because of who you are and to whom you are married. They're not your friends. I wish I had understood that better."
Lemons, a married father of four during his years as a president, noted that when a university hires a president, the president's spouse or partner -- and extended family members -- are effectively hired, too, even if they're not on the payroll.
"There is the occupant of that office, be it a person who is male or female, and if they are partnered, that partner becomes a significant strand of that presidency," he said. "The children are part of that, and even aging parents are part of the picture."
Lemons believes families -- spouses and partners in particular -- provide added and invaluable service to the presidency.
"I think about the 25 years I spent in the presidency and the incredible asset my partner was in those 25 years. She made me a better president and provided unsung and extraordinarily generous service. We held about 100 annual events. She was one my most important counselors. So my experience was enhanced, made extraordinarily better by the role my wife played."
He noted that official residences of presidents are essentially "part home, part museum, part event center. The very existence of them gives kind of royal-like quality to the American university president," and magnifies controversies or scandals that take place in or involve official residences.
"The voyeurism is that much more connected to them when things don't run normally or smoothly," he said.
"There have been in my career, a handful of cases where, very sadly, lives are examined very publicly. My sense is that when these things have exploded and captured public interest, it is just a process of living through them … Those are just never good events and they damage institutions and people, more reputational for the institution and more damaging to the individual."
Lemons said he couldn't think of any controversial incident involving a spouse or partner that was more than just a temporary dent to a university's reputation, "but certainly for the individuals who find themselves in these circumstances they're probably longer lasting."
To be sure, the problems don't always originate with the spouses or partners. Sometimes they get into trouble when their personalities clash with the egos of trustees or other administrators on campus. Wives of male presidents complain of being held to standards that husbands of female presidents are not. Even when they have outside careers, they say, some university administrators, faculty members and benefactors have outdated notions of the role of presidents' wives and think they should serve as social secretaries and dinner party hosts for their husbands.
Spouses can alienate or offend top administrators and trustees by not attending events for rich donors or taking active part in the ingratiating schmoozing expected of presidents and their partners. Or by seeming too assertive. Same-sex partners of presidents have sometimes had to contend with subtle and even blatant homophobia on campus, especially campuses located far from urban centers. Sometimes the spouse or partner of the president is simply not a good match with a particular campus.
Elaine and Mort Maimon have had no such run-ins or culture clashes -- and they hope things stay that way.
Looking back at the years gone by, Mort Maimon says he would have relished teaching a literature course as a member of the faculty, but he worried an official position would be seen as his wife favoring him over other job candidates.
"I would be an easy target for charges of nepotism," he said. "I never wanted that."
Instead, he settled for volunteer positions on each campus where his wife worked. He tutored undergraduates and worked with them on reading assignments and discussions, he helped prep graduate students to apply for competitive scholarships and fellowships. At Governors State, he's helping students improve their writing.
"I love to work with students, to see what you start out with and what you end up with," he said.
At this point, he's just as much a pro at being the official spouse as his wife is at being president. Just don't call him the first gentleman.
"I'm not the first gentleman or any other official designation, absolutely not," he said. "I'm just the husband trying to make things as easy for my wife as possible and not be an impediment, obstacle or any kind of thing she has to overcome."