You have /5 articles left.
Sign up for a free account or log in.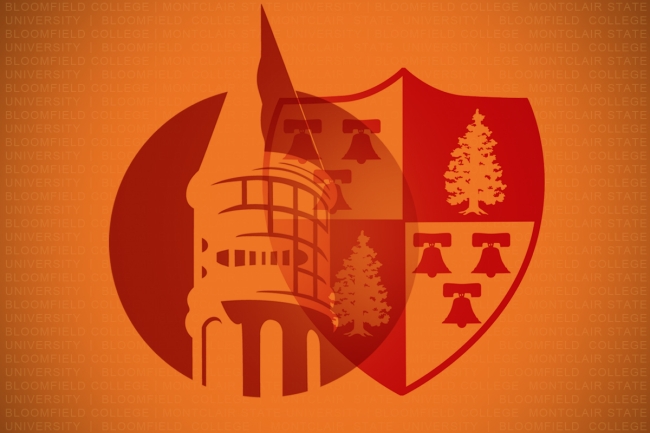 Photo illustration by Justin Morrison/Inside Higher Ed | Bloomfield College | Montclair State University
Nearly two years ago, Bloomfield College president Marcheta Evans put out a call for help.
Her college—a minority-serving institution in New Jersey founded in 1868—faced serious financial issues. Without philanthropic support or a strategic alliance, Bloomfield College was in danger of closing. So Evans, only two years into the job, went public with her plea for a partner.
"If we don't succeed, so much will be lost. And I'm going to start first off with my students; the biggest casualty will be our students' dreams and their aspirations," Evans told Inside Higher Ed in late 2021.
Montclair State University, just a few miles away, ultimately answered the call.
Now, almost two years after Evans first went looking for a partner, she serves as chancellor of the newly formed Bloomfield College of Montclair State University, which began its first semester last month. During a Zoom conversation with Inside Higher Ed, she and Montclair State president Jonathan Koppell reflected on the series of events that led to the unusual marriage between a public institution and a private one.
Bloomfield's Struggles
Like many small colleges in the U.S., Bloomfield struggled in recent years as enrollment declined and faculty and staff numbers dwindled in the face of economic hardship.
In fall 2021, Bloomfield College enrolled 1,300 students—down from 1,628 in fall 2019, according to the Department of Education's Integrated Postsecondary Education Data System. And as recently as fall 2016, roughly 2,000 students attended Bloomfield before enrollment began a steady decline.
With an endowment valued at $14.2 million at the end of fiscal year 2021, the tuition-dependent college lacked the deep pockets necessary to offset the continued enrollment losses. It also operated at a deficit in recent years, according to figures from the college's most recent audit. Most of the funds from Bloomfield's meager endowment—about $12.9 million—came with donor restrictions attached, leaving little to draw on as college leaders felt increasingly squeezed.
Before Evans went public, she addressed Bloomfield's fate with the campus community. In meetings with faculty and staff, she presented data showing how dire the situation was. She also challenged faculty members to come forward with their own financial solutions; she felt it was important to build trust as they walked an uncertain path together, she told Inside Higher Ed.
"We had several options—everything from shared services to complete acquisition," Evans said, noting that she simultaneously pursued parallel paths, unsure whether Bloomfield would find a strategic partner or be forced to close.
As proposals landed on her desk, one name rose to the top: Montclair State University.
Proximity was an obvious benefit for the two institutions, which are located about 10 miles apart. But Evans and Koppell point to similar missions—rather than geography—as the key to the partnership that brought them together.
"We were a private institution with a public mission," Evans said.
Bloomfield was the closest thing New Jersey had to a historically Black college; HBCUs tend to be concentrated in the South. In fall 2021, 49 percent of Bloomfield's students were Black and 33 percent were Hispanic or Latino, according to federal data. Most were also low income.
Montclair State University is also a minority-serving institution; 36 percent of its student body is Hispanic or Latino, 13 percent is Black or African American, and 7 percent is Asian, according to data from the university website. And as closure loomed for Bloomfield, Montclair officials saw an opportunity to extend the university's mission.
"The board of Montclair State, in assessing the wisdom of taking this risk, thought mission alignment was absolutely critical," Koppell said.
There were, of course, other benefits to consider—including expanding Montclair's campus by adding Bloomfield to its footprint. Given the high cost of real estate in that part of New Jersey, the deal—in which Montclair assumed Bloomfield's liabilities and assets—made business sense, essentially giving the university two distinct campuses.
(Bloomfield's liabilities from fiscal year 2022 were assessed at $35.7 million, and its assets "totaled $93.9 million, including $62.5 million in property and equipment and $31.3 million in non-property assets," according to a report from the New Jersey Office of Legislative Services.)
Conversations began in earnest in late 2021, and the two institutions struck a deal in October 2022.
Navigating Obstacles
In the world of higher education mergers and acquisitions, colleges typically stick to their sector. Private universities buy one another out or join forces; public institutions are often consolidated, as has recently occurred in Connecticut, Pennsylvania and Vermont.
But the public absorption of a private college is unusual. And it wasn't without obstacles; in addition to requiring approval from accreditors and the state, the arrangement also depended on the intervention of New Jersey lawmakers.
"We had to go to the Legislature and change the law. And it passed just in the nick of time," Koppell said.
Specifically, state legislators passed a bill that expanded "the powers and property" of Montclair State University, enabling a path forward for the two institutions to become one. The state also provided Bloomfield with $12.5 million worth of runway as it moved toward the merger.
"I am a firm believer that access to high quality education can change the trajectory and outcomes of everyone's life," bill author M. Teresa Ruiz, a Democratic state senator, said in a news release announcing the merger. "With the coming together of these two national leaders in driving social mobility for the students they serve, they stand as a beacon of hope, offering more than just an education but becoming a sanctuary where dreams take flight and futures are rewritten."
The bill was signed into law on June 30, and the merger became official on July 1.
"This merger will allow an institution that has served countless individuals from a diverse array of backgrounds to continue offering a distinctive and transformative educational experience to its students. I commend and congratulate Montclair State University and Bloomfield College on the completion of their historic merger," Democratic governor Phil Murphy said in the news release.
The U.S. Department of Education also had to sign off on the plan.
A Shared Future
The new entity has suffered its share of growing pains.
As with any institutional marriage, bringing together two sets of employees naturally creates redundancies, which has meant eliminating some positions at Bloomfield. Though 22 jobs were cut earlier this year, officials said most of the workforce will remain intact.
Now Koppell hopes the Montclair-Bloomfield merger can provide a national model for other embattled institutions facing the prospect of closure in a sector strained by market headwinds. He credits Evans with giving Bloomfield a second chance, noting her openness in acknowledging the college's struggles and her willingness to explore the merger option.
"Unfortunately, most institutions that are in jeopardy don't get to that possible outcome," he said.
Often, Koppell suggested, colleges wait until it's too late to seek a merger and exhaust their financial resources while trying to maintain independence. By the time many institutions are open to a potential merger, closure is almost inevitable because officials waited too long, he said.
Already this year, numerous colleges have announced or enacted closures. They include: Alderson Broaddus University, Alliance University, Cabrini University, Cardinal Stritch University, Finlandia University, Hodges University, Holy Names University, Iowa Wesleyan University, Medaille University and Presentation College. And some, like the King's College in New York, are holding out hope, despite being in such bad financial shape it is not even offering classes this fall. Similarly, struggling Union Institute & University has delayed the start of its fall semester twice.
While mergers will likely help stave off some college closures in the future, new federal rules and regulations are expected to complicate such deals. Experts told Inside Higher Ed last month that increased bureaucracy could mean more closures.
With the Montclair-Bloomfield merger complete, officials note there's still more work to be done. The sudden addition of Bloomfield to Montclair's portfolio means more students and facilities to take care of, though that has not been reflected in increased state appropriations to offset those costs. After taking a moment to celebrate, officials are now moving on to the next challenge.