You have /5 articles left.
Sign up for a free account or log in.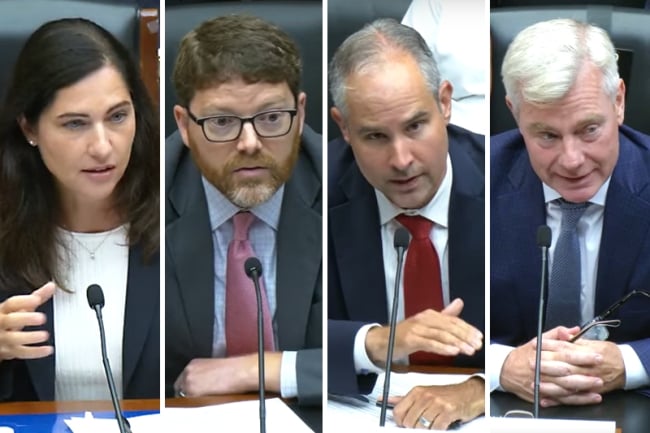 Justin Morrison/Inside Higher Ed/YouTube
Higher education is in need of innovation, better data for students and new systems to better hold colleges and universities accountable, a panel of witnesses told a House subcommittee Thursday, though they differed on specific solutions.
The hearing focused on the cost of higher education and the value it provides to students and taxpayers. The Republicans on the House higher education subcommittee used the opportunity to criticize the growth of nonteaching staff positions on campuses, increasing tuition costs and their general dissatisfaction with the state of American higher education. Democrats pointed to the need to hold bad actors accountable with a focus on for-profit institutions and voiced concern about the Republicans' vision of higher education.
"Stronger accountability regulations in higher education also save taxpayers money and prevents federal aid from going to predatory programs," said Florida representative Frederica Wilson, the top Democrat on the subcommittee. "Far too many tax dollars have gone to dishonest for-profit colleges that heavily rely on federal student aid funding and then they target underrepresented students."
Utah representative Burgess Owens, the Republican who chairs the higher education subcommittee, said in his opening remarks that the idea of colleges and universities offering a pathway to the American dream is embedded in the country's psyche.
"Before college became a universal mandate thrust upon unwitting 17-year-olds, this ideal was perhaps accurate," he said. "College was cheap. Jobs were being filled. And students and taxpayers were all but guaranteed a return on investment. That is not the case today. Outdated measures of quality, coupled with virtually zero transparency of value, have distorted the postsecondary education marketplace."
Thursday's hearing offered yet another glimpse at Republicans' priorities as they gear up to reauthorize the Higher Education Act of 1965, which hasn't been updated since 2007. Those priorities include expanding the Pell Grant to short-term programs, accountability metrics that will apply to all institutions regardless of sector, rethinking accreditation and reforming the student loan system to eliminate Grad PLUS loans, among other changes.
One popular concept was the idea of risk sharing, in which universities and colleges would have to cosign student loans, which would put them on the hook if students couldn't pay.
Andrew Gillen, senior policy analyst at Texas Public Policy Foundation, said risk sharing could take several different forms but would align the incentives of students, institutions and taxpayers.
"I feel confident in saying that a large group of us on this committee agree with what you said today," said Oregon representative Lori Chavez-DeRemer, a Republican.
Ostensibly, the hearing was focused on how a market-based approach could lower college costs and hold institutions accountable.
"If higher education was a well-functioning competitive market, poor-performing institutions and programs would be forced to close as students discover the program's low value," said Stephanie Cellini, a professor of public policy, public administration and economics at George Washington University. "But the reality is that the market for higher education does not operate like other markets."
Cellini, the witness invited by the committee's Democrats, said students have little way of knowing how well a program will meet their needs until after they enroll and take on debt. That's one of several ways that she said the higher education market isn't like other markets.
"Imperfect information is a problem in this market," Cellini said. "We know that just providing information is not getting to the students who need it the most. The federal government has data that it can use on student outcomes to at least set a bar."
Cellini and other Democrats on the subcommittee repeatedly voiced support for the Biden administration's proposed gainful-employment rule as a way to give students more information and assurance about the quality of the programs. The administration's plan to create a list of programs that provide a low financial value to students didn't receive as much traction.
Gillen said the value of higher education is viewed more skeptically now than any other time in his life.
"Stagnant benefits and rising prices have slowly eroded the value of higher education," he said.
Lower costs for students and increased accountability via market and outcomes-driven performance metrics could reverse that trend, he said. Those metrics include some form of risk sharing on student loans and measuring the return of investment of a program.
Michael Horn, a co-founder of the Clayton Christensen Institute for Disruptive Innovation, and several lawmakers said there needs to be more transparency up front about the cost of college. The Government Accountability Office recently criticized institutions' financial aid offers for failing to tell students how much their education would cost.
"The opacity works in favor of the colleges in many cases," Horn said. "It obscures and creates a social-emotional feeling of 'Oh I got a scholarship' when in fact they're net tuition discounting … I would argue it's a shortsighted part of the model as well, because it undermines trust in the institutions as the price tag has gone up over time."
North Carolina representative Virginia Foxx, the Republican who chairs the full House education committee, said the postsecondary market is poorly functioning and that the rise of strategic tuition discounting has distorted the connection between quality and price.
"If we can learn anything from this hearing, it's that institutions can change for the betterment of themselves, students and taxpayers," Foxx said.
Other lawmakers delved into why the cost of college is increasing. Cellini said declines in state support of higher education have led to institutions balancing their budgets on the backs of students.
Gillen said state investment has actually increased since 1980 to present when adjusted for inflation.
"Colleges will raise and spend as much as they can because they are a never-ending goal to pursue educational excellence, prestige and influence," he said. "As a result of that, whatever revenue source they can grab revenue from, they are going to."
North Carolina representative Kathy Manning, a Democrat, said later in the hearing that she was concerned that the idea of limiting what students can borrow based on their future earnings could devalue a liberal arts education. She then asked each panelist where they went to college. Most had liberal arts degrees.
"Don't we want good students from poor families to have the same kind of liberal arts education that each of you got?" she asked the panelists.