You have /5 articles left.
Sign up for a free account or log in.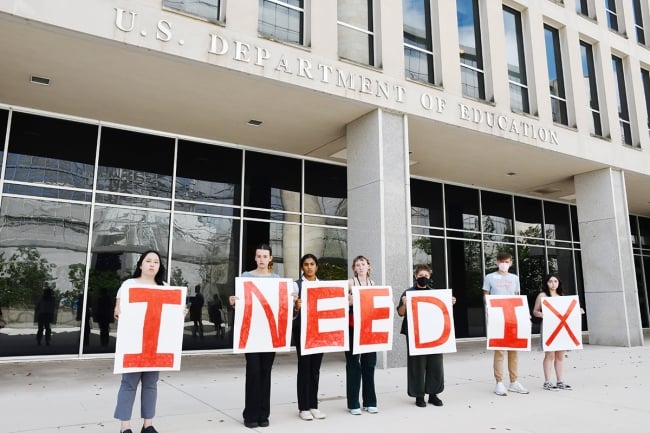 Courtesy of Joi Dean/Advocates for Youth
When he ran for president in 2020, Joe Biden pledged to take bold action to strengthen Title IX of the Education Amendments of 1972, the federal gender-equity law that prohibits sex discrimination at federally funded colleges and universities and provides guidance for their handling of student reports of sexual misconduct.
Biden said he would "immediately" overturn changes to Title IX made by the Trump administration, which narrowed the definition of sexual harassment and added new measures to ensure the due process rights of students accused of misconduct, among other changes. Biden also said his administration would reinstate 2011 guidance that instructed institutions to investigate and adjudicate all student reports of sexual misconduct.
But more than two and a half years after Biden took office, advocates for survivors of sexual violence and other students are waiting for the president to keep his promises.
"Promises were made, and promises have been broken repeatedly," said Andrew Davis, a graduate student at Brown University.
Davis was one of seven student organizers with Know Your IX, a survivor- and youth-led project of Advocates for Youth, a nonprofit, who made the journey to Washington, D.C., for a five-day Youth Activism Institute that culminated with students meeting with lawmakers and Biden administration officials.
At the Education Department, Davis and the other organizers met with Sam Ames, chief of staff at the Office for Civil Rights, for about 30 minutes on Monday. Following the meeting, they said they felt heard and appreciated the chance to share their frustrations with the process of issuing new Title IX regulations.
Even so, Davis and other advocates say they didn't get any more clarity about when the new rules will be released, and they remain concerned that the Trump-era rules will be in effect for at least another academic year while the Biden administration works through the regulatory process to issue final Title IX regulations.
"The current rules aren't accessible and make it really impossible for us to get the support we need," Davis said, echoing concerns that the regulations are difficult to navigate and aren't friendly to students with disabilities. "We need a rule that's accessible and affirming."
The Trump administration rescinded a set of guidance issued by the Obama administration in 2011, putting in place a swath of new regulations that took effect in May 2020. The new regulations created more stringent procedures for investigating cases of sexual harassment. Critics of the Obama administration's Title IX approach had argued that its guidance was unfair to students accused of misconduct.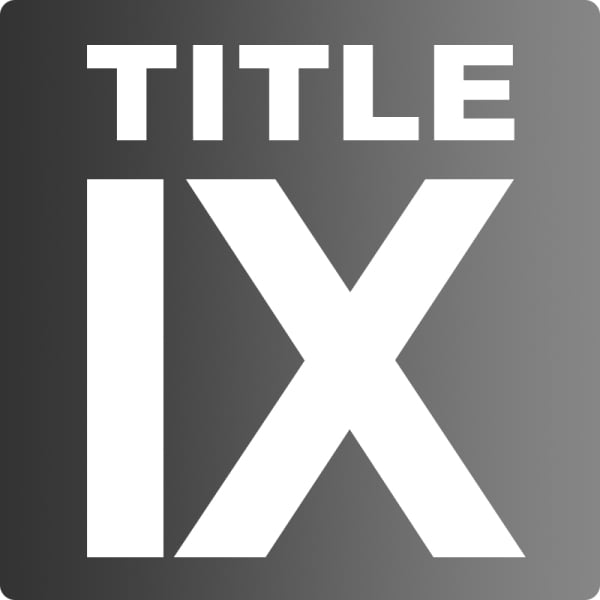 The Trump rules narrowed the definition of what constituted sexual harassment or sexual misconduct under Title IX and required live hearings with an opportunity for cross-examination, allowing the accused to confront their accusers. Live hearings weren't required under the Obama-era guidance.
The Biden administration, in turn, proposed new Title IX rules last year that undid most of the Trump regulations and sought to find a balance between the rights of survivors and the accused.
The proposed rules also expand protections for LGBTQ+ students and make it easier for victims to report sexual harassment by lowering the standard from unwelcome conduct that's "severe, pervasive and objectively offensive" to conduct that's "sufficiently severe or pervasive." Davis and other advocates say that the current sexual harassment standard is nearly impossible to meet.
The Biden administration's final rules were supposed to be issued in May, but the department delayed them until October, another deadline the department doesn't appear likely to hit. That's partly because staff members have to review and respond to nearly 250,000 comments submitted in response to the draft rule. Advocates are urging the department to adhere to its October deadline, but they acknowledge that could be a challenge for an understaffed and underfunded agency.
If Congress fails to reach a budget agreement before the fiscal year ends Sept. 30 and the government shuts down, that could also further delay the department's work to issue a final rule, said Emma Grasso Levine, manager of Know Your IX.
"If they do get to a point of a government shutdown, we're hoping that Department of Education folks who are working on getting this rule out will be classified as essential workers so that they can continue to work on that process," she said. (Secretary Miguel Cardona would decide who is essential in the event of a shutdown.)
Earlier this year, the Biden administration also proposed updating Title IX to prohibit blanket bans that bar transgender students from participating in the sports teams consistent with their gender identity. The rule received more than 156,000 comments. Department officials have said they plan to issue the broader Title IX rule and the rule about athletes at the same time.
As of Monday, the department hadn't sent either rule to the Office of Management and Budget, which reviews any rule before it's published. That review, which can take up to 90 days, includes meeting with stakeholders and other affected parties. Rules typically take effect 60 to 90 days after they are issued; colleges and universities have asked for at least eight months to implement the changes.
A department spokesperson, when asked if the agency still planned to release the new rules in October, wrote in an email that staff members are "working overtime to ensure that each [comment] is thoroughly read and carefully considered."
"We are utilizing every resource at our disposal to complete this rulemaking process as soon as is practicable," the spokesperson wrote. "In the meantime, we continue to enforce Title IX consistent with existing law that protects students on the basis of sex, including LGBTQI+ students."
If the rule will in fact be delayed for another academic year, Levine wants the department to move forward on interim solutions such as releasing guidance on how institutions can comply with Title IX and also "offer care and support to students."
Levine also wants the department to release more guidance on supporting LGBTQ+ students at religious institutions and using restorative justice or mediation.
"Those are options that are extra important in this moment for survivors to have access to in the context of the Trump administration's rules around the investigative process," Levine said.
The Urgency of Change
KT Fitzgerald, a senior at State University of New York at Binghamton who came to Washington for the day of action, said they were lucky that when they experienced sexual violence as a college freshman, the Obama-era guidance was in effect.
Still, even with that luck, "I still felt like, as a survivor, I had to fight to be believed by my school," they said. "I had to fight to be taken seriously by my school."
Fitzgerald noted that the Trump-era regulations exclude sexual misconduct that occurs off campus from Title IX oversight, which they said is "particularly harmful."
"If you experience violence or harassment that's gender- or sex-based off campus, there's really nothing that your school can do unless your school has a particular policy that they have chosen to implement to protect you," they said. "But, federally under Title IX, you're no longer protected if something happens to you off campus."
Fitzgerald would like Biden to take more immediate action if the new rules are going to continue to be delayed.
"Those could all be sort of rolled back with an executive order, and it's frustrating for us as advocates when it feels like the hesitation on the part of the Biden administration is all legal related," they said. "The fear of litigation seems to be a really huge barrier for getting these regulations out."
Ravina Nath, a high school senior from the Bay Area, said a further delay in issuing the final rule would harm future students who need support, including pregnant and parenting students, LGBTQ+ students, and students of color. The proposed Title IX rules would require protections for pregnant students and employees.
As a senior applying for college, Nath said she's considering religious institutions. However, she's worried that those colleges will claim religious exemptions that could leave some student groups less protected. Religious colleges and universities can seek an exemption from Title IX rules if the requirements aren't consistent with the religious tenets of the organization that controls the institution.
Nath and other student activists pointed to Baylor University's recent claim that it was exempt from Title IX provisions relating to the harassment of LGBTQ+ students as cause for concern. The Education Department affirmed that claim in a letter made public last month.
"As an LGBTQ student, it's scary," said Kayla Hernandez, a senior at a private school in New York City and advocate with Know Your IX. "I want to end up somewhere where I feel safe."