You have /5 articles left.
Sign up for a free account or log in.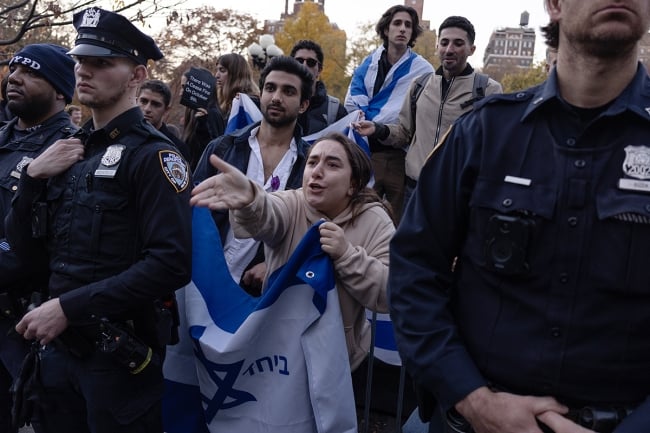 Andrew Lichtenstein/Corbis/Getty Images
Amid the protests and incidents that have rocked college campuses since the start of the Israel-Hamas war, a cry has gone up from conservative politicians and groups for the federal government to pull federal funding from colleges and universities if they fail to quell antisemitism and protect their Jewish students.
Republican presidential candidates and members of Congress have been especially vocal in calling for such punishment. "We're not in the business of using taxpayer dollars to provide and nourish hate," said Utah Representative Burgess Owens, a Republican who chairs the House subcommittee on higher education, at the end of a hearing last week on campus antisemitism. "That is not the American way."
But stripping colleges of their access to federal funds would be an unprecedented step for the Education Department to take. It's possible under the law, legal experts say, but it would only happen after a long and complex investigative process. However, Biden administration officials have said that they agree more action is needed to counter the recent rise in both antisemitism and Islamophobia on college campuses. And they have moved quickly to respond.
Last week, the department's Office for Civil Rights opened six investigations into complaints alleging antisemitic or anti-Muslim harassment on college campuses. Based on past precedent, those investigations will likely result in a settlement or resolution agreement, not a loss of funding.
If the OCR finds a college has violated federal civil rights law, it has the authority to yank federal funding, which would include the financial aid students use to pay tuition. Under Title VI of the Civil Rights Act of 1964, colleges and universities that receive federal money must protect students from discrimination based on race, color or national origin. The Education Department has said this includes Jews, Muslims and other ethnic or religious groups with "shared ancestry."
Lawmakers, along with some Jewish groups and Jewish and Muslim students, say stepped-up enforcement of Title VI is needed to address the current crisis. Hillel International has tracked more than 375 antisemitic incidents on campuses since Oct. 7. Incidents against Arab, Palestinian and Muslim students have spiked as well.
So far, Columbia University, the Cooper Union for the Advancement of Science and Art, Cornell University, Lafayette College, the University of Pennsylvania, and Wellesley College—along with one high school—are all under investigation for alleged shared ancestry violations of Title VI. The department has said more investigations are likely forthcoming.
Opening an investigation means that the department has identified a credible allegation—not a conclusion that a law has been violated. In most cases, the department will reach an agreement with the institution that outlines how it can come into compliance with federal law.
"If an institution refuses to follow the law to protect students, we would withhold dollars," Education Secretary Miguel Cardona told CNN Friday. "That said … I haven't spoken to a college leader that doesn't want to do everything they can."
Julie Rayman, managing director of policy and political affairs at the American Jewish Committee, said the scale of the current problem on college campuses is unprecedented and calls for "drastic action" beyond what the Education Department has done in the past.
"Knowing the scope of what is in front of us, a medium-level response doesn't meet the fever pitch of the moment," Rayman said.
But for the politicians and advocates calling for universities to be swiftly punished for not responding adequately to antisemitic or Islamophobic incidents, patience will be required, and the results likely won't satisfy everyone.
Lengthy Investigations Expected
The Education Department's Office for Civil Rights rarely terminates a college's access to federal financial aid and hasn't done so in decades. Doing so is seen as a "nuclear option" because many institutions can't survive without federal funds. The office typically focuses on compliance, not enforcement, and tends to use its threat of withholding dollars as leverage to get colleges to agree to remedies such as increased training for employees or policy reviews, though the specifics depend on the individual cases.
The federal government did withhold federal money from school districts in the 1960s, prior to the creation of the Education Department, over their refusal to integrate.
Jonathan Fansmith, senior vice president of government relations and national engagement at the American Council on Education, said institutions have faced penalties and fines for violations rather than having their federal funding suspended or terminated for "lots of good reasons."
"One of them is you're basically punishing a lot of people in terms of the entire student body and the entire institution for what may be the actions of a handful of people," he said, adding that the proposals to pull funding aren't well-developed. "… There are better ways to pursue justice there than that as an alternative."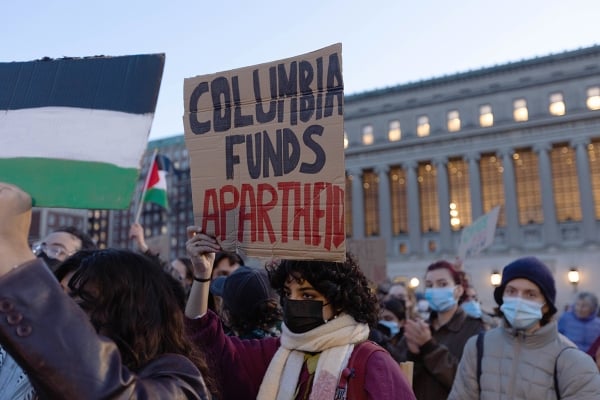 Kenneth Marcus, the founder of the Louis D. Brandeis Center for Human Rights Under Law, ran the OCR during the Trump administration. At a congressional hearing last week, Marcus, who's been calling for federal investigations, noted that removing funding "requires a number of steps, as it should."
Any path to pulling funding begins with an OCR investigation, which can take "months, if not years," said Brigid Harrington, a higher education attorney at Bowditch & Dewey who focuses on helping institutions comply with civil rights laws. Investigations entail data requests to the institution, interviews and other fact-finding. OCR typically gives institutions an opportunity to remedy the situation before taking steps to withhold federal money.
Harrington said the fastest she's seen the investigative process take is "a couple of months. And that's for things that involve a discrete issue that the college can address relatively quickly. When it involves student-on-student interaction, we're generally talking years."
For a college to lose funding, it would have to be unwilling to work with OCR at all, Harrington said.
"It usually doesn't come to that because it is such an extreme situation," she said. "When OCR investigates the college, they typically don't end in revoking their funding. They end with a resolution. And in the resolution, the college agrees to do what OCR recommends."
In the event that OCR and the college can't reach a resolution agreement, the agency can initiate an enforcement action—either referring the case to the Department of Justice for further enforcement or initiating administrative proceedings "to suspend, terminate, or refuse to grant or continue federal financial assistance."
Even then, the process wouldn't be over. Under the administrative proceeding, colleges wouldn't lose access to federal funds until they've had an opportunity for a hearing and exhausted all other appeals. And if a college disagrees with the investigation's outcome and the decision to cut off federal funds, it could challenge the feds in court.
Fansmith said if OCR finds violations and can't reach an agreement, it's likely to refer the case to the Department of Justice, which can pursue prosecution, litigation or sanctions against the institution.
"It would make a lot more sense for Justice, with an army of prosecutors enforcing federal law, to be the people who make a determination as to whether to pursue charges and what this looks like," he said. "OCR isn't necessarily set up to do that. That's not their primary function. The primary function is to oversee educational institutions and make sure that they are complying with the civil rights laws."
Although losing federal funding is the ultimate risk for colleges and universities when OCR opens an investigation, it's not the only one. Responding to investigators takes up time and resources. And then there's the reputational risk of being under investigation.
"Colleges do tend to view OCR as a big hammer," Harrington said. "Even if funding doesn't often get taken away, they generally comply."
How One Antisemitism Investigation Panned Out
The Education Department didn't say what led to the investigations opened last week, but several of the institutions have been in the headlines for suspending pro-Palestinian groups and for antisemitic threats against Jewish students on campus, among other incidents.
Whether those actions and the institutions' responses will be considered Title VI violations is also unclear. That decision is up to the Office for Civil Rights. Students protesting over the Middle East conflict have defended their actions as protected free speech.
But OCR officials have made it clear in "Dear Colleague Letters" sent this year to all federally funded institutions that failing to respond adequately to student complaints of antisemitism, Islamophobia and other bias would violate the law. The first letter was sent in May as part of the Biden administration's national strategy to counter antisemitism. The second was released Nov. 7—a month after the Israel-Hamas war began.
A case against the University of Vermont that was resolved in April could offer some hints into what the OCR considers a Title VI violation—and what consequences colleges subject to investigation might face. (The agency says its letters and agreements don't set a precedent and only represent a determination on an individual case.)
In a complaint filed by the Brandeis Center and Jewish On Campus, a group of Jewish students at the University of Vermont told OCR they'd faced online harassment from a teaching assistant who posted on social media about lowering the grades of students who identified as Zionists and cheered the theft of an Israeli flag from a Jewish student's residence. They also alleged that a campus group barred "Zionists" and that students threw rocks at the campus Hillel building.
"It does not appear that the university determined whether the cumulative effects of these incidents created a hostile environment based on students' shared ancestry (Jewish) or took action regarding the cumulative effects of the incidents until after the commencement of OCR's investigation of this matter," OCR wrote in a letter to Vermont officials that outlined the investigation's findings.
Vermont Investigation Timeline
The Vermont investigation was wrapped up in seven months—a relatively quick timeframe for the office, which has seen record numbers of complaints in recent years and had a backlog of cases. OCR found that the university's failure to investigate allegations of antisemitic harassment "may have allowed a hostile environment for some Jewish students to persist at the university."
The quick turnaround was in part because the university decided to voluntarily resolve the matter by agreeing to a number of changes in order to comply with federal law.
As part of the resolution agreement, university officials agreed to release a public statement that it will not tolerate acts of harassment and discrimination on the basis of shared ancestry. The university also had to review its 2022 campus climate survey data and assess what other steps are needed to improve the campus environment for its diverse communities including the Jewish community, among other steps.
"We view [the Vermont agreement] as a success, and it's our understanding that there's been a dramatic difference on that campus as a result of the resolution," said Marcus, whose group helped to file the initial complaint against the university.
Cardona told CNN that the Education Department is available to assist colleges, but he didn't take the threat of enforcement or loss of federal funding off the table.
"At the end of the day," he said, colleges and universities "should know that if they're not protecting students, we are going to investigate and if we have to, we will withhold dollars."