You have /5 articles left.
Sign up for a free account or log in.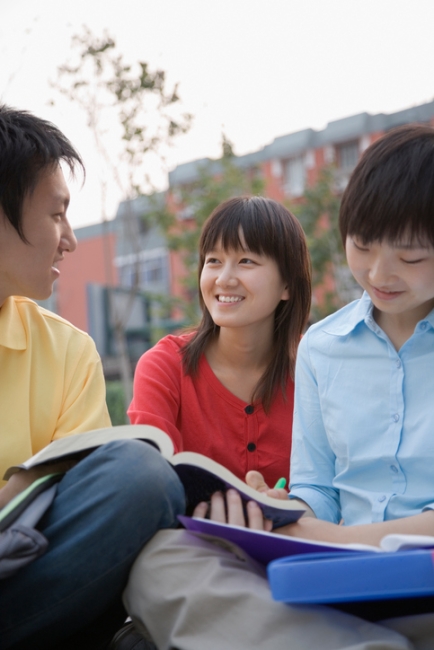 Recently, the president of the undergraduate Asian Advocacy Group at the University of Virginia invited me to speak at their spring gala. My subject was how it feels to be a minority (Asian) in a field (Italian) in which there are very few minorities. After the event, I decided to pursue the subject further and contacted 40 minority graduate students and faculty members in Italian, French and Spanish. Their accounts reveal considerable differences in the management of diversity within those fields. While there is not enough data to make broad generalizations, there's enough to complicate our commonly held views.
Let's begin with a view from the inside: my own worst experience. When I was an assistant professor in the late 1980s, two former colleagues whom I considered friends used the terms "slants" and "chinky" in my presence. Those slurs were not directed at me. I said nothing at the time, but the experience left me nonplussed: it seemed my colleagues had forgotten that I was Asian.
This peculiar practice continues today, as the frequent experiences of Asians I know personally or have contacted demonstrate. A Japanese Hispanist recalls being ignored routinely by his professors while he was a graduate student. An Asian professor of French recounts the irony of colleagues "speaking over" her during a department discussion of how to attract more minority students. Such incidents seem to be ironies of situation, but this kind of disregard is symptomatic of a deeper reality. At the habitual level of immediate perception, Asianness can seem invisible.
At other times, Asianness becomes oddly prominent. Job interviews can be fraught. A member of a search committee suggested to an American whose ancestry is Indian that he list English among his languages. Interviewers asked an Asian male applicant, "How do you get along with American students?" A mixed-race Italianist was told during her job interview that she was not "ethnic enough" to qualify as a diversity candidate. Sometimes the erasure is partial.
And of course, we experience the usual indignities of being a person of color: explaining for the umpteenth time why we are not teaching Chinese/Japanese/Korean or answering the variously inflected "How did you get into Italian?" Those incidents can be perplexingly intersectional. Witness the frustration of female minorities who wonder if it's their gender or ethnicity that occasions slights. And then there are outright exclusions: male graduate students in the Italian program at an Ivy League institution did not include a black woman, whom they had nicknamed "la perla nera" (the black pearl), in study groups. At another university, a professor repeatedly referred to a Chinese graduate student as Japanese, asking her if he needed to "slow down," despite the fact that her English was better than that of Italians in the class, and telling her she was taking up the space of another student. We often face the loneliness of being the only person of color in professional spaces.
Fluency constitutes another challenge. Virtually every person of color has stories about being tested, all the more so if one speaks English with an accent. Many native speakers erect barriers by speaking their language pointedly. As Wan Tang, assistant professor of Romance languages at Boston College, puts it, "I think the main issue to address is incredulity that a phenotypically Asian woman with an Asian name can speak, much less, teach in Spanish."
My point here is less about slights than the larger issue of diversity. Views of the inclusiveness of the different Romance languages vary. Some languages have diversity built into the program of study. Spanish programs typically include Latin Americanists. Opinions on the diversity of Peninsular Spanish are mixed. Some find the field Eurocentric, male dominated and white. Others think Spanish is becoming more diverse, noting that Asian-Hispanic studies is an emerging field. Witness the forthcoming conference in Hong Kong on Theater Under the Ming and the Hapsburgs: Angelica in and out of Cathay. The composition of French departments reflects the country's colonialist history. Many have African -- both sub-Sahara and Maghreb -- scholars as well as minority colleagues who work on Francophone culture.
I've found the situation in Italian to be markedly worse. In responding to my query concerning the field's diversity, Italianists tended to limit their comments to mentioning minority students they had taught. A certain blindness prevails, exemplified in the question raised by a visiting professor of Italian at a university in California who wondered to another professor, "What are all of these Asian-American students doing studying Italian?" Such incomprehension belies a failure of empathy as to why Asian students might wish to take Italian and the way in which their presence broadens interest in the language. Only four of the 15 Italianists I contacted acknowledged that "Italian is not very diverse." Outreach undertaken by the American Association of Italian Studies has, from what I've seen thus far, been limited to creating caucuses for queer studies, women's studies and Jewish studies. What's included is important, but so is what's excluded.
The problem is all the more acute because Italian studies is in precipitous decline. The latest data from the Modern Language Association on undergraduate enrollments shows a drop of 20 percent from 2013 to 2016. Various reasons have been identified: few high schools offer Italian; the job market is bleak; university administrators have cut budgets for language departments. But internal factors area also to blame: the field has been insular for decades, and a patronage culture prevails. Many Italian programs strive for "authenticity" by favoring native Italians. The persistence of this practice fosters the widely voiced opinion that "Italians hire Italians." But a failure to diversify has consequences, as well.
In fact, greater diversification offers a way forward. The actions of some learned societies offer a model for Italian and other imperiled disciplines seeking to rebuild themselves. The Latin American Studies Association, a large multidisciplinary organization with more than 12,000 members in 2017, introduced a division on Asia and the Americas in 1995. Membership in that division has grown every year and numbered 129 scholars last year. Members pursue an array of interests: Chinese investment in Latin America; Asian diasporas in Cuba, Mexico, Nicaragua, Argentina and Peru; Asian Latinos and the U.S. Census.
Last year the Renaissance Society of America introduced travel grants to minorities to participate in its annual meeting. In 2012, Lino Pertile, former director of Villa I Tatti, the Harvard Center for Italian Renaissance Studies, extended outreach to scholars in Japan and China. Pertile invited Chinese scholars, who had never seen Italian works of art, to spend time at I Tatti. One year later, they participated in a conference, The Italian Renaissance and Chinese Receptions, at the Harvard Center in Shanghai.
In March, the Medieval Academy of America introduced a number of initiatives: the Belle Da Costa Green (named after Pierpont Morgan's Afro-American librarian) research prize for a medievalist of color; diversity and inclusivity travel grants for members presenting papers on race-related topics; and committees to adjudicate these prizes and organize a mentoring program for minorities. The annual meeting in March opened with a plenary sponsored by medievalists of color. These are substantive interventions to define a field in the face of the alt-right's recent promotion of the Middle Ages as a world of a white Europe.
Four years ago, contributions from the Folger Shakespeare Library and several donors enabled the Shakespeare Association of America to offer a Scholars of Color reception, now a regular event at annual meetings. Ayanna Thompson, who spearheaded the initiative, was elected the first black president of the association this year. Erika Lin, associate professor of theater at the City College of New York Graduate Center, has organized plenary panels on The Color of Membership as part of a new series on Shakespearean Futures, the aim of which is to promote conversation about the institutional conditions that affect our intellectual lives. Established in 1977, the association has tripled its membership in the last 20 years.
I was the only Asian Italianist on the job market in 1986. While my position is no longer unique, the number of minorities in Italian studies remains dismally small. But while we can do little to control external forces, we can take advantage of the importance accorded diversity in academe and the national discourse to make Italian more diverse and inclusive. "This is a crucial issue for our field's survival and intellectual thriving," notes Deanna Shemek, professor of literature, at the University of California, Santa Cruz.
More of the same clearly will not revitalize Italian. Identity politics matter greatly to today's undergraduates. More minorities within the professoriate will attract a broader demographic among students. As Asian students have told Christina Lee, a professor of Spanish at Princeton University, "I want to do what you do."
Qi Chen, assistant professor at Beihang University in China, who has been a visiting scholar at Harvard University and Villa I Tatti, puts the challenge before Italian bluntly: if Italian studies were confined in the West, it may have difficulty achieving truly international status. This is especially true for large countries like China, with great potential. Researchers in Italian studies should be more open to minority researchers, and understand that different views about the same topics are possible.
Virtually everyone I queried deemed this topic "important and timely." Can this sentiment be converted to action? Can Italian enact a bold and more inclusive vision for its future or will we be left with managing a decline?