You have /5 articles left.
Sign up for a free account or log in.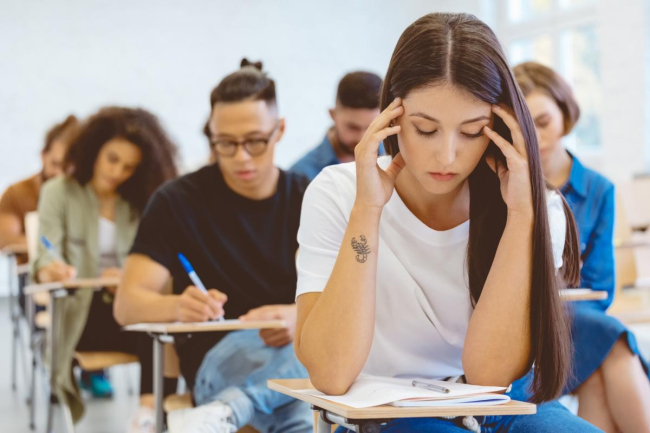 "As you return home,
your home, think of others.
Don't forget those who live in tents."
-- Mahmoud Darwish
"Numb" is the most appropriate adjective I wanted to use this past year when someone would ask me, "How are you?" Starting last summer, I noticed that I felt powerless to feel.
By September, I found myself searching online: "Why can't I cry?" The pandemic triggered strong flashbacks, if not also nightmares, to when I was middle school age in Baghdad in 1991. When Operation Desert Storm launched, schools across the country shut down abruptly. We did not have the internet nor the ability to attend school virtually. Landlines were disconnected, and we lost electricity immediately when the bombing started. My father had a tiny battery-operated radio that we listened to in the morning after a night of bombing. We tuned in to the BBC to learn about which areas were targeted the night before, and then my father and uncle predicted how bad the next night's bombing would be. One morning I heard my parents whispering about the bombing of the Amiriyah shelter, which was primarily occupied by women and children. I was terrified that my friends and schoolmates were in there.
The bombing lasted from Jan. 17 until Feb. 28. Shortly after the bombing ended, we went back to school. We came back expecting that some of our classmates and teachers would not come back. We'd heard on the news that people died. I'd heard rumors about students who were in the shelter the night it was bombed. The first class I attended was composition. I sat in the second-to-last row next to a wall. I was a serious student with few friends, but I knew everyone in my class. I immediately noticed that the first row was missing one of my classmates. I remember wondering if I would ever see her again. I passed notes to my classmates, asking them if they knew what happened. Then I raised my hand and, with tears in my eyes, asked to talk about the shelter bombing.
The war weakened the infrastructure of the country and caused it to regress from a thriving and developed country to one that barely had electricity. We lived under sanctions that caused tremendous amounts of stress and made basic life necessities hard to obtain. So, how did I, and my classmates, move forward and continue to learn? We did not have therapists or mindfulness training. We had teachers who told stories about their own methods for processing and moving forward. Our teachers allowed us to feel, to grieve, to goof off, to be vulnerable and to be human. Slowly but surely, we began to feel excited about learning and imagining our future.
A recent Student Voice survey from Inside Higher Ed and College Pulse, with support from Kaplan, examined how students feel about their level of success this year and what they predict their success will be in fall 2021. Fifty percent of students who participated in the survey (total 1,411) chose "mental health" as a source of concern regarding their ability to "complete coursework and get good grades." These mental health concerns among students were documented previously by the JED Foundation's and Active Minds' 2020 survey of college student mental health. For months I have been reflecting on how we will welcome our students back to our institutions and classrooms this fall.
What can we, as faculty and educators, possibly do to help attend to our students' mental health and ameliorate their anxiety, depression and loneliness?
In answering that question, I recognize that first, we do not need to be therapists or have any formal training in counseling. Our job is not to diagnose or fix. Parker Palmer, founder of the South Carolina-based Center for Courage & Renewal, reminds us, "The human soul does not want to be advised or fixed or saved. It simply wants to be witnessed -- to be seen, heard, and companioned exactly as it is." Second, and related to my first point, we each bring remarkable and rich assets and experiences that enable us to create the space for ourselves and our students to connect and reconnect; in doing so we can work with our students to leverage the healing power of what Naomi Shihab Nye calls the "tender gravity of kindness." Nye connects our potential to experience kindness to our ability to know, experience, connect with and bear witness to others' sorrow.
When we bear witness, we acknowledge and advocate for truth -- our students' struggles, pains and griefs -- and in doing so, we validate and empower them to heal. By using our positionality and proximity to our students, we can transform the classroom into a bridge that allows them to move from an uncertain, painful, disenchanted present to a future they can feel excited about and look forward to.
Below are 13 suggestions for supporting our students this coming fall term and bearing witness to their pain and joy, their stories and shared humanity. Reflect on these ideas and then share with our higher ed community and me (@lrningsanctuary) your own planned strategies for this fall semester, using #bearwitnesshighered.
Before the Semester: Course Planning
1. Focus on student assets. What will be your first communication with your students? What is the impression you want to leave on them after they receive the initial email from you? Consider articulating that when they come into your class, they bring past experiences, language, stories and cultural assets that can enable meaningful learning for themselves and the rest of the classroom community. For example, consider sending a short email a week before the semester begins to let students know how excited you are to embark on a learning journey with them.
2. Emphasize the intellectual and emotional aspects of learning. Add to your course learning outcomes an objective about the human dimension of learning, about our interdependence and interconnectedness. Often, our syllabi use technical language that does not encompass the affective dimensions of learning. Intentionally impart to your students that you want them to engage, to grow, and that there is responsibility that comes with knowledge. For example, consider adding a version of the following learning goal: "By the end of this course, students will be able to articulate the power of empathy in helping us see our common humanity and strive for truth and justice in the world."
3. Explicitly prioritize student well-being. Add to the syllabus a statement about mental health and that you will prioritize your students' well-being. In addition, include in the course schedule a mental health day when students take the day off to attend to themselves. Provide a list of national resources to learn about mental illness -- why we become depressed or anxious, for example -- and offer tools to help students. Libraries can purchase a license for the recent documentary The Wisdom of Trauma with Gabor Maté. Invite students to watch the documentary and share a paragraph about what resonated with them.
4. Connect institutional support with the classroom. Schedule an in-class visit from a college therapist or mental health specialist to share resources the institution offers related to grief, anxiety and depression and explain how to access them. During the session, ask questions and invite your students to ask questions. For example, what are warning signs of mental or emotional distress that you and students should be aware of and what should they do about them? Also, why do students struggle to seek help, and how can you, as their instructor, encourage them to do so?
5. Infuse music, poetry, humor and storytelling into your course. We store trauma in our bodies. One powerful way to metabolize trauma is through expressive arts, because they allow us to connect, create, make meaning, express, communicate and imagine new narratives. When planning your course, incorporate the arts throughout. For example, have music playing in the background when students arrive at your class. Invite students to request songs you can play throughout the semester. Another example is to offer 10-minute mental breaks during which students may journal, draw or write lyrics. Divide the time equally between creating and sharing.
At the Beginning of the Semester
6. Share your own story. Talk about how you navigated the past year and how you are processing the grief. This gesture will help normalize the feelings of pain and sadness and help create a space for your students to process their own experiences. It is important to remember that our stories should not burden the students but remind them that to feel sad is to be human. Jessi Gold, a psychiatrist at Washington University School of Medicine in St. Louis, whose patients include college students, faculty members and staff, says showing "some level of vulnerability can go a long way" toward helping students. While Gold doesn't advocate a need to disclose our mental health history to students, she reminds us that talking about our own pandemic-related challenges will help students open up.
"Students assume faculty don't understand what they are experiencing … they will never approach you to talk about it if they don't feel you are a safe person or trusted person to talk to, or one who even values the emotional experience in the first place." Storytelling helps others imagine and connect and begin to feel comfortable to tell their own stories and even ask for help.
7. Remind students that you are there for them. Let students know they can come to you if they need help and that even if you cannot personally help them, you will find help for them. Let them know that you will also check on them if they stop showing up, because you care. If you continue not to hear from them, you will seek support from a dean or counselor, because you are concerned about their well-being. When or if that happens, it is crucial that your students know that you are not upset with them and that they are not "in trouble."
Throughout the Semester
8. Remember that language matters. Invite, reassure and encourage. When the fall term begins, after a year of learning during a pandemic, students will likely have retained less than they would have in a typical year. (In the Student Voice survey, 52 percent of students reported feeling as if they learned less this past year compared to pre-COVID.) It can be overwhelming for students to hear how they are "behind" academically without giving them a road map to catch up.
Student Voice explores higher education from the perspective of students, providing unique insights on their attitudes and opinions. Kaplan provides funding and insights to support Inside Higher Ed's coverage of student polling data from College Pulse. Inside Higher Ed maintains editorial independence and full discretion over its coverage.
Presented by
We have to balance content with grace and be mindful not to overwhelm them with a sense of urgency to "catch up." For example, during your first meeting with your students, congratulate them on making it through last year and let them know that you will devote time to review and bring everyone up to speed. Gold notes, "Be aware of the language you use in emails. The smallest thing you write in an email to the whole class, but especially in reply to a student, will be analyzed over and over and sometimes can be taken out of context. Lead with validation and empathy where possible. Especially right now." I have forgotten much of the contents from my undergraduate years, but I do remember things my professors said to me when I was feeling anxious or self-doubtful and how that made me feel.
9. Focus on learning as a process. Remind students throughout the semester that learning involves a complex series of events that change the brain's structure. Learning is a journey, and struggle is part of that journey. Failure to understand the materials the first time around is part of the learning. It is essential that when we discuss failure as an opportunity for growth, we model that and remain consistent in that message. Communicate to students that your approach to assessment is to help them learn the materials, even if it means you slow down and or take multiple tries. For example, consider using an assessment or grading approach that centers on students and their learning improvements.
10. Center meaningful learning. Remind students of the big picture throughout the semester. Our brains seek and make meaning and assign value to those meanings and invest energy accordingly. If an activity we are engaged in is meaningless, our brains will quickly disengage and divert attention to other, more meaningful activities. At the beginning of the semester, ask why they are taking your course and how their reasons relate to their dreams and the betterment of their community and the world. Then, throughout the semester, say, "Remind yourself why being here matters to you, your family and your community." Invite them to write their answers on a Post-it and place it on a wall and have everyone examine all the Post-its during the break.
11. Help students tell their stories. Help students get to know, support and advocate for each other. Trauma impacts our sense of self and causes us to view ourselves as an other. One reason peer support helps us is that it allows us to connect with others who can bear witness to our story as we bear witness to theirs. Sometimes, when we feel stuck, our peers can help us tell our truths and lessen our pain.
This support from our peers can help liberate the stories we carry, as was echoed in Maya Angelou's words: "There is no greater agony than bearing an untold story inside you." For example, during the first couple of weeks of the semester, encourage students to learn each other's names and three everyday things that connect them. One of your assignments could be to ask students to advocate for each other. Let them know you will give five points extra credit to the entire class if everyone completes the assignment, and every student has an advocate.
12. Pause to reflect and advocate. Advocate for systematic mental health support. I have written about how institutions need to have a holistic approach to mental health where an ethic of care and kindness becomes foundational to our institution -- for students and employees alike. At times it will seem like no change is happening, and no one is taking us seriously. We persist in the name of love -- for our students, our colleagues and humanity. Someone will eventually listen.
13. Take care of yourself and find a support network. One of my former mentors used to tell me, "You can't give what you don't have." In the same spirit, we have to take care of our own well-being so we can continue to give. Gold notes, "It is really hard to be a faculty member, especially in the middle of returning to a 'new normal' work environment after a pandemic. You have a right to feel whatever you will feel and to have your own support. It will make you a better teacher to understand your reactions and why you are having them, to cope with the experience yourself, and to problem solve." Self-care is not a luxury but rather a way to help us metabolize pain, grief and traumas in order to continue to help others.
In two recent Inside Higher Ed columns, I wrote about how intentionally engaging students and their well-being can help them navigate their way through murky terrains to a beautiful future where they can be more confident and excited about learning and life. Our healing journey ahead is not going to be easy or painless or predictable.
There is nothing I wish to romanticize about my life as a middle school war survivor: it was scary and painful and, at times, still is. But our journey can be communal, and in that community, even as we grieve we can find comfort and even joy.