Title
Who Is Telling Your Story?
It's likely not your students. But maybe it should be.
Many consumer brands are shifting their communication model away from traditional brand-to-consumer marketing and toward consumer-to-consumer marketing. And the research backs up this shift, as 90 percent of consumers say authenticity is important when deciding which brands they like and support. And consumers are almost three times more likely to believe content created by a consumer over content created by a brand.
With the recent focus on audience and message by college and university staff, how many people are thinking about who is doing all the talking?
Take a moment and ask yourself whose voice prospective students hear when they receive or find information about your college. Often, it's the voice of the college itself -- meaning the institution's talking points passed through a marketing and communications filter and presented as the admission team's message. Now ask yourself if prospective students know who's speaking to them (hint: they do).
Teens are more marketing savvy than every generation that preceded them. And they don't want to be talked to. Rather, they want to be invited into a conversation -- with people they can relate to and with. A recent study found that 70 percent of customers trust peer reviews over descriptive content from the brand. We see this when students visit campus. Most colleges use current students to lead their campus tours. Why? They can relate the day-to-day experience. They can tell insider stories. They can connect in ways that you likely cannot. Because they live the experience.
And more and more colleges have taken this to heart -- handing over the reins to their social media for Takeover Tuesdays, for example. But why stop at social media? Why not let current students and young alumni be the voice of your college? I'm not suggesting that you let students write your marketing copy or press releases. I'm encouraging you to include the voices of your students and young alumni into what you're already doing. If you've done your job right, they are your best brand ambassadors.
Two examples of this student-to-student marketing include:
Antioch College, known for its outspoken student body during the civil rights movement, is continuing its mission to develop students with a strong voice. To prove this to prospective students, Antioch's admissions publications layered the student voice on top of the college's voice -- quite literally, by allowing students to annotate in their own handwriting layouts from the view book. This multilayered approach ensures that prospective students hear what they need to hear from the college and what they want to hear from current students.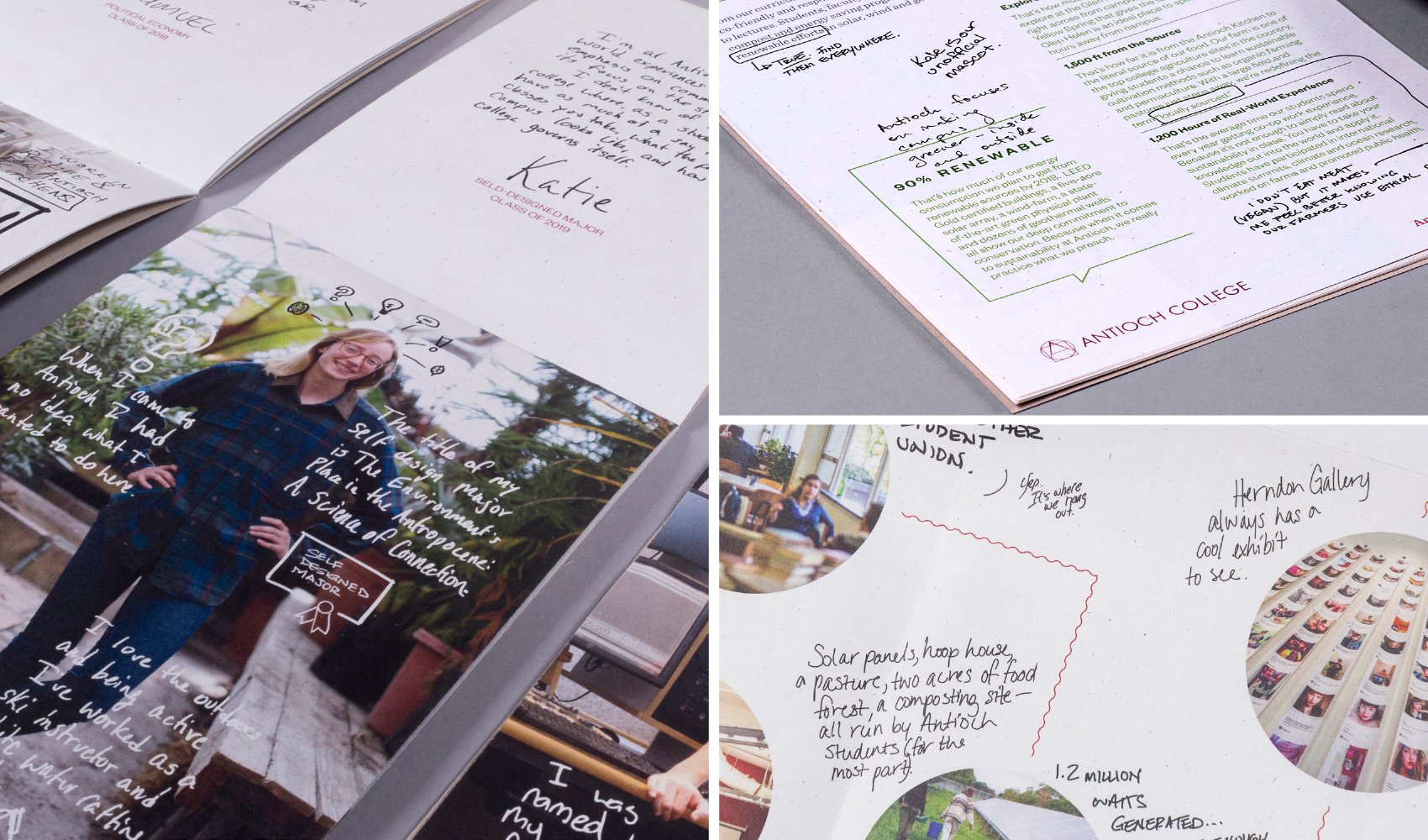 In their view book, Ohio Dominican University chose to use photography rather than words to achieve a peer-to-peer connection. Rather than hiring a photographer to shoot that ever-so-clichéd smiling diverse group of students under an autumn tree, ODU let their diverse students take selfies of themselves at their favorite places around campus. The result is an authentic portrayal of campus as it will be seen by next year's incoming freshmen.
Let's face it -- even the best marketing plan cannot guarantee that prospective students will feel what you want them to feel. Marketing and branding are about seeing the whole picture and knowing and understanding your audience. Defining who you are and what your students get. Who knows this better than those who have experienced it?
Jeff Packard is a partner at Nonfiction, a branding and design agency in Columbus, Ohio. He has spent the last two decades creating award-winning and impactful brands for established corporations and start-ups, liberal arts colleges and top universities, arts organizations and community foundations, among others.
You may also be interested in...
Today's News from Inside Higher Ed
Inside Higher Ed's Quick Takes