Title
Fidelis: College, Networks, and the Transition from Military to Civilian Life
Some thoughts about Fidelis, an education startup that -- unlike a lot of the other ones that seem to be getting all the buzz -- isn't focused on the content of college, but on the community.
Virginia Commonwealth University professor Jon Becker recently drew the diagram below to illustrate what he identified as some of the dichotomies in our discussions about MOOCs and online higher education: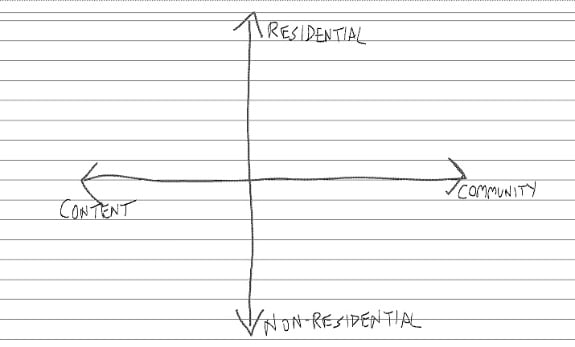 Content and community on the X-axis. Residential to non-residential on the Y-axis. I think I'd want to add more axes too – certification, cost – but golly, I make lousy diagrams.
Becker's drawing helps highlight how most of what's discussed (by the press, specifically) vis-a-vis the impact of technology on higher ed involves the left-hand side: that is, how technology will impact content delivery. Take, for example, the buzz about Udacity, Coursera, and edX. (The discussions also focus on the axes I'd add – how much college costs, the necessity of a college degree.)
As a result, we are overlooking a lot of other things that college provides at the other end of that X-axis: the "community" element that connects us to other learners, like-minded individuals, scholars, experts, colleagues, team members, recommendation-letter-writers and so on. And by extension, we largely ignore how technology could affect that. But I think there's plenty of opportunity – for startups and for institutions – to use technology to enhance the community side of the equation too. Online community is, of course, part of the impetus of the first connectivist MOOCs. It's what drives DS106. Offline, it's what makes the network of a Harvard MBA so powerful too, I should add.
And it's one of the things that makes Fidelis such an interesting startup.
Fidelis, which was founded last spring, describes itself as solving the problem of the transition between military and civilian life by helping support former military through college. Although Fidelis is a for-profit company, what it does is quite different than the for-profit colleges – these, according to some estimates, receive about a third of all GI Bill benefits and focus (again) largely on courses and content. For its part, Fidelis partners with other colleges and universities for "content" – it insists "only the very best institutions" – but it offers a more comprehensive program that helps customize a veteran's path through college and on to a civilian career. Throughout the program, the emphasis is not simply on course content or on degree plans, but on community and networks (professional, academic, and military) and on outcomes.
This fall, Fidelis will begin offering its degree-completion program through Arizona State. It also has planned what it calls the "2+2 Plus" program -- 2 years of general ed requirements taking online through the University of California system while still in the military, help transferring to the best possible school to complete a degree, and connections and introductions along the way to companies and employment opportunities. In both cases, along the way Fidelis students are proactively building a portfolio of activities and a support network of professional and former military relationships and resources.
Currently Fidelis is running a pre-MBA bootcamp in conjunction with UCLA that helps prep military who are entering MBA programs this fall make professional networking connections and master some of the jargon of business school. These students are "overprepared in leadership," says Fidelis founder Gunnar Counselman, "but underprepared in the lingo." Counselman, a former Marine himself with an MBA from Harvard, would know and he speaks from experience about navigating the different worlds of the military and business school.
Although there's really nothing about the Fidelis approach that is really just for military-only – its strong emphasis on personalized, outcomes-based support network for students that connects them to mentors and career opportunities – the military population is Fidelis's first target.
Certainly that makes sense in terms of the size of the military population and their struggles with college completion (only about 25% of veterans who begin post-secondary training actually graduate) and with unemployment. Furthermore, by being part of the military, the Fidelis students are already part of a strong network, although one that is organized and navigated very differently than civilian networks.
Unlike many of the other new initiatives and startups that are springing up to build technology platforms for higher education, Fidelis is focused on "community" and not just content." And back to Professor Becker's drawing above: Fidelis too recognizes the tensions along that Y-axis. While the courses it makes available to its students are blended or online, Fidelis recognizes the regional nature of networks. "Place matters." Adult learners -- veterans or not -- can't always relocate for college. And while they want to take advantage of online learning opportunites, the technology platform should be built about students' offline communities.
Opinions on Inside Higher Ed
Inside Higher Ed's Blog U
What Others Are Reading
Past:
Day
Week
Month
Year