Title
Googling Education: Data from Google on Edu Searches
Data from Google show what types of degrees and programs people are searching for.
Tough economic times often prompt people to consider returning to college, whether it's for a specific type of job (re)training or whether it's to avoid the job hunt or unemployment. However, with the rising cost of tuition and the pressures of student loan debt, "going back to school" might not seem as good an alternative as it once did. Or at the very least, it makes it something you weigh carefully, something you research.
That makes a report that Google shared with me about trends in education searches during the third quarter of 2011 particularly interesting.
Among the findings:
Despite having its largest year-over-year growth in the first quarter of 2011, searches for arts & design programs had their biggest year-over-year decline this past quarter. Searches for education and criminal justice programs also fell, while searches for health care programs remained steady. Of the areas in Google's report, technology and liberal arts programs saw the biggest increase in searches over this time last year.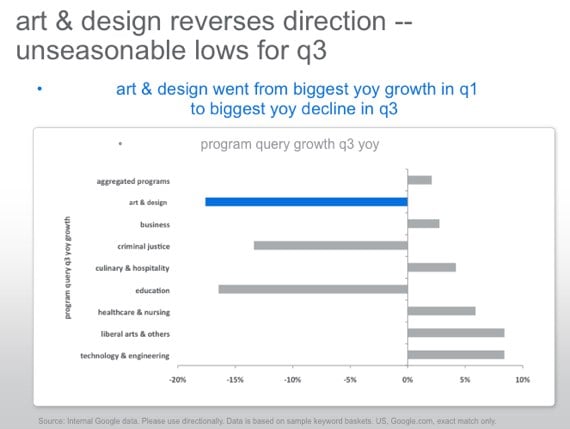 The increase in technology search queries isn't that surprising. The job market for technology careers is pretty hot right now, with many employers (in Silicon Valley in particular) complaining they can't hire enough qualified workers. A technology program might seem like a good bet for students then.
But a liberal arts degree? It's easy, considering many of the anti-liberal arts degree narratives out there, to blast the job prospects for liberal arts students. Yet students continue to be more interested in liberal arts programs than in many other fields.
Even if "liberal arts" remains a popular search, "bachelor's degree" isn't as popular as shorter-duration programs. Searches for associate degrees and certificates saw the biggest growth of any degree category during the last quarter, says Google.
And the demand -- or at least the search -- for advanced degrees is slowing. But searches for PhD, MBA, and MA programs aren't actually declining. At least, not yet.
The implication for schools and marketers, says Google, is to "ensure search coverage where demand is growing -- healthcare, liberal arts, technology & engineering, associate's degrees, and certificates." (And that's "search coverage," I should point out, not necessarily "degree coverage.")
One other data-point from the report that's worth noting: the number of searches for educational brands far surpass searches for programs or degrees. Although Google doesn't give any examples of what it counts as brands, that's something to consider when it comes to thinking about what people are looking for when it comes to furthering their education.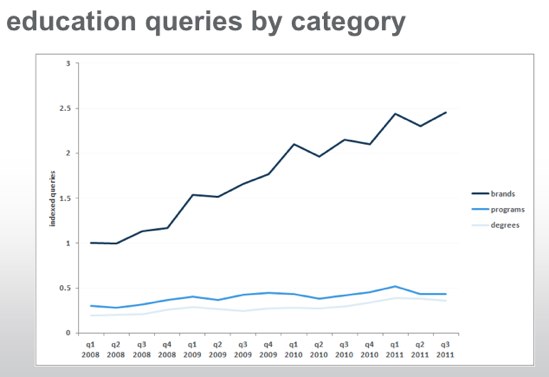 You may also be interested in...
Opinions on Inside Higher Ed