You have /5 articles left.
Sign up for a free account or log in.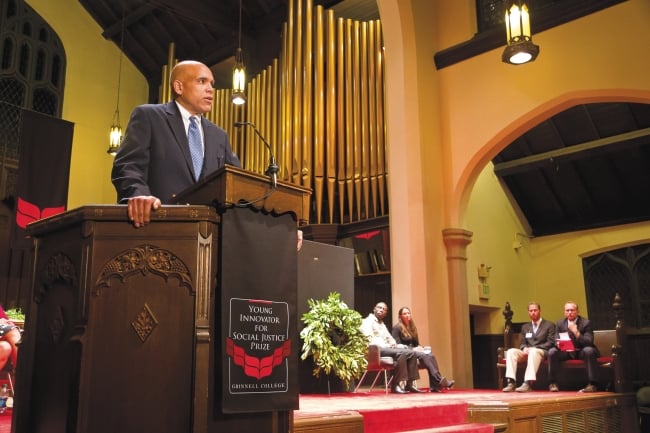 There are still no fair trade shops on the Kalamazoo College campus.
After returning from study abroad trips in Thailand and Kenya and Botswana, a group of Kalamazoo students wanted to open a store that would showcase goods that artisans in those countries made for a living wage.
But before leasing a storefront, the students conducted a study to see whether a fair trade shop would be viable. Their findings suggested it wouldn't. Instead, they helped convince local businesses to carry fair trade goods.
President Eileen Wilson-Oyelaran considers the project part of the pragmatic approach to social justice taught at her campus's Arcus Center for Social Justice Leadership.
The Kalamazoo center is part of a growing trend, particularly at liberal arts colleges, to expand social justice education. While many colleges have for years housed social justice groups and boasted about the commitment of their students and faculty members to social justice, the new programs are more formal and more closely tied to academic missions than most earlier efforts. Often seeking to encourage student leadership and reconnect with an institutional history of activism, at least a half-dozen new or expanded programs have started in recent months and years.
The Arcus Center's focus, Wilson-Oyelaran said, is in giving all students an idea of how to impact the world. The goal isn't to teach students what to believe, but instead to give them the business and technology savvy for them to turn their passion into a viable social justice enterprise through classes and financial support.
Founded in 2009, the Arcus Center also seeks to integrate social justice topics into courses across campus. A recent $23 million grant, the largest in the history of the Michigan liberal arts college, will expand the center by offering two endowed faculty chairs, scholarships, internships, annual lectures and other programs.
Elsewhere, similar projects are taking root. Whitman College in Washington and Philander Smith College in Arkansas both have new programs on social justice.  Brandeis University offers a minor in social justice and social policy. Grinnell College offers an award to young social justice leaders. Lake Forest College in Illinois also offers a minor. Saint Mary's College of California just announced a new master's degree concentration in social justice leadership. And the movement isn't limited to private institutions: Arizona State University introduced a master's degree in social justice and human rights last fall.
The reason the programs are so common at liberal arts colleges can often be traced back to their founding, Grinnell President Raynard Kington said. Abolitionists founded his college in Iowa, and early civil rights leaders like Frederick Douglass and Sojourner Truth spoke on campus in the early days of Kalamazoo College.
The social justice program at Philander Smith also has roots in the drive for racial equality. In 1957, faculty members at the historically black college tutored nine students barred from attending Little Rock Central High School because of their race. The Little Rock Nine helped integrate the nation's schools at a time when skin color still dictated which water fountains one could drink out of in the South.
Joseph Jones, director of the college's new social justice program, said the lessons from the civil rights movement are still relevant today when discussing the aftermath of Haiti's earthquake or food availability in Little Rock. Instead of creating a separate academic program, Jones said the goal of Philander Smith's new center is to promote service learning and inject social justice concepts into different classes.
And with that history, he said, a new generation of Philander Smith students is uniquely positioned to take a look at social justice issues in Arkansas that are often ignored. "It's meaningful," he said, "especially for a city like Little Rock that has a lot of issues there that haven't really been dealt with in a serious way.
"If we can provide a framework, we can get students to think about some of these problems and thinking about doing something to solve them."
Like Philander Smith's, Grinnell's social justice emphasis has grown stronger in recent months.  The college awarded its first three awards last fall to young people working for social change, with $50,000 going to each winner and another $50,000 to a charity of their choice. Grinnell received 1,200 applications.
The winners –a rabbi connecting Palestinians with American Jews, an activist in Ghana and a pair of young men who helped install a social justice component in Uganda's national curriculum –  spent a week on campus meeting with students and speaking in classes with social justice themes. Two have agreed to come back to teach short courses at Grinnell and two have taken on Grinnell interns at their organizations. Back in Iowa, students are helping with a growing prison education program and managing a local microlending program.
That renewed interest in social justice both at Grinnell and elsewhere, Kington said, might be partially due to the economic downturn. He sees students evaluating whether fortune or good works are more important and looking for concrete ways to improve the world.
"Students are having serious discussions about what they want out of life," he said. "They may very well die with fewer toys and richer lives and that would be O.K."
Wilson-Oyelaran, the Kalamazoo leader, attributes the growth of social justice programs in part to the new skill set needed to have an impact. Enthusiasm isn't always enough to create change as an activist or organizer, something her students found out first-hand when trying to open that fair trade store.
"I think it's very important to link the practicalities with the passion and ideals," she said. "The skills which are needed now are slightly different than the current leaders."