You have /5 articles left.
Sign up for a free account or log in.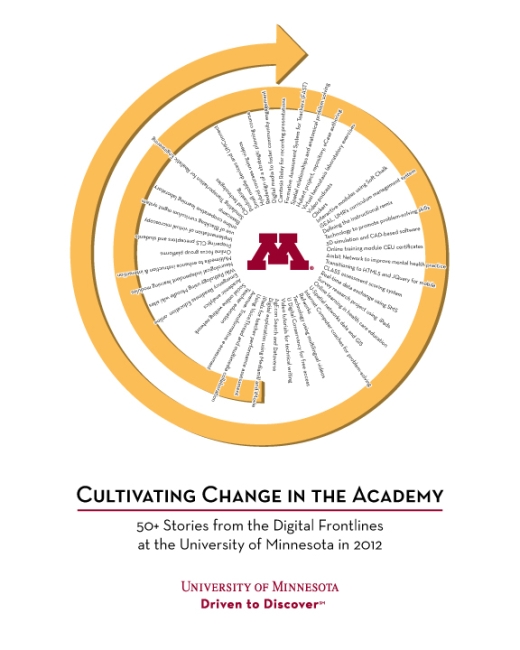 Faculty and staff from the University of Minnesota accomplished what some might consider a near-miracle of publishing: they turned blank pages into a 317-page book in 10 weeks.
E-book, that is. Since the book -- Cultivating Change in the Academy: 50+ Stories from the Digital Frontlines at the University of Minnesota in 2012 -- is online, its producers could circumvent some of the cost and time associated with print publishing.
Ann Hill Duin, a professor of writing studies at the University of Minnesota-Twin Cities and one of the book's three editors, elicited the help of colleagues to produce the book, which addresses advances in academic technology. The book was released to the University of Minnesota Digital Conservancy, along with its complementary WordPress site, this month.
The book addresses four overarching topics -- ideas for transforming teaching methods, solutions to specific classroom problems, examples of campus leaders providing direction and support for these efforts, and ways the university is spreading its innovation off campus. It includes chapters on web-based problem-solving coaches for physics students, using disc jockey vernacular to encourage instructors to "remix" education by combining instructional materials, concepts or areas of expertise, and developing instructional videos geared toward multilingual students needing help with American academic English.
The university held an academic technology showcase in early April with presenters from across academic departments. "We were just amazed at the great work," Duin said. After the showcase, she invited presenters, along with other university researchers she knew of, to contribute to the burgeoning effort.
And 10 weeks after she sent out those invitations, the finished book included submissions from 130 contributors -- 57 faculty, 51 staff, 17 graduate students and five undergraduate students. All of the contributors volunteered, so there was no cost to producing the e-book, Duin said.
"The e-book is far greater than the sum of the parts," she said. "It's connecting people with the innovative, imaginative, creative, collaborative dynamic work under way."
And she hopes the idea will spread: She said the University of Michigan, Indiana University and Pennsylvania State University have all expressed interest in pursuing similar projects.
Achieving 'Traditional Pedagogical Goals'
Abram Anders, an assistant professor of business communication at the University of Minnesota-Duluth's Labovitz School of Business and Economics, contributed to the book with a chapter about his work in Google Apps script.
The University of Minnesota uses a Google Apps environment, meaning that professors and students can use Google Docs and Google Plus hangouts to communicate and share information. Anders created a process for providing feedback on class presentations with which he and other students can enter ratings and feedback on a presentation into a Google Docs form, and a customized script then merges the ratings into a readable report and automatically emails it out to the student. He started using this script last fall.
"It's not so much about sophisticated programming or the latest killer app, but it's about figuring out ways to achieve traditional pedagogical goals," Anders said, adding that the question of evaluating a presentation -- taking notes and making corrections in a brief period of time -- is one of the hardest ones to address, and his script for generating feedback reports makes evaluation more streamlined.
"The larger principle takeaway there is what I think is exciting about a lot of the new technology coming out," he said. "Increasingly, faculty members who have a certain level of savvy are able to program their own tools."
Anders said that since the book's content became publicized, he has been connected with other apps programmers, including a Google Apps programmer who cited Anders' script as an example of good educational script and a high school teacher working on educational scripts of his own.
"There's lots of people out there doing things with this, but it's definitely going to take some time to become more mainstream," Anders said, adding that he hasn't yet received much feedback from University of Minnesota faculty wanting to adopt his script.
Online and Free
Anders is also one of the main developers of the book's WordPress site, which he said has seen more than 4,000 all-time views since its July 9 launch.
"The WordPress site was actually a little bit of an afterthought," he said, adding that since the book's production was a very collective, grassroots effort, he suggested taking a similar approach to market it.
"I can see that we're getting some people coming to our site from the press release that the school put out, some people coming from email links, some people coming from Facebook," as well as some people also being directed to the site by Twitter, he said.
The book is also available online through the university's digital conservancy, which serves as an online open-access repository for scholarship by university faculty and students.
Lisa Johnston, a research services librarian at the University of Minnesota-Twin Cities and co-director of the conservancy, worked with two others to contribute a chapter about the conservancy's role in curating digital scholarship. The conservancy monitors its digital collections and updates items for formatting so they won't become unreadable due to issues such as a deleted web address or outdated word processor format, she said.
"We really want to maintain access just like we do with our print," Johnston said. "We are a service that makes information available publicly via the web."
The book is already housed in the university's digital conservancy, which gives it a permanent web address. The producers are also working to set up relationships with other distributors, such as Google Scholar, iTunes, and Amazon, Johnston said.
"None of these cost money to set up an account, but some of them don't like to work with people who are freely making their work available," she said, adding that Amazon won't host an eBook unless it costs at least $0.99 to download.
Too Quick for a Traditional Book
Lucy Dunne, an assistant professor of apparel design at the University of Minnesota-Twin Cities, contributed a chapter on 3-D simulation software she has used in her apparel design courses for about three years.
She submitted a presentation to the university's April showcase, and liked the book idea when Duin asked her to participate: "It's a more accessible medium," she said. "The other places to talk about something like this would be more professional associations for apparel, which is pretty restricted to apparel professionals."
Dunne said her contribution was mostly a summary of information she had already collected, since the 10-week turnaround was too quick to delve into comprehensive analysis or research. "This is more of an outlet for something that was nearly there, rather than starting from scratch or anything."
She said she's working on writing a book, which has a much longer deadline -- two years. She said she's not sure whether the quick publishing timetable associated with e-books would work for a single-author book, because it takes more time to conduct research and writing for a solo work than it does for a short contribution.
"I don't think everything can be done this way," she said. "But for things like this [e-book], I don't know, I think it works really well."