You have /5 articles left.
Sign up for a free account or log in.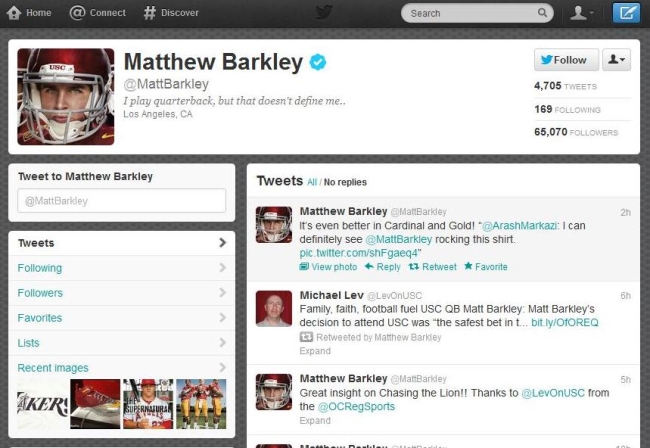 California legislators last week sent a bill to the governor's desk that would prohibit colleges from requiring students to hand over access to their social media accounts, raising the re-emerging question of how much control athletes -- who are very much public faces of many universities -- should have over personal accounts that nonetheless are visible in the public domain.
The California Senate passed the bill the same week the Universities of Kentucky and Louisville became the latest institutions to take flak on the issue, for requiring athletes to install software that monitors posts on their accounts or forfeit their spot on the team. The Golden State is the second in two months to pass such a bill, after Delaware, which forbade colleges from requesting or requiring login information or software installation, or allowing officials to view content that an athlete has classified as private online. (Both Facebook and Twitter allow users to customize privacy settings.) Maryland's Senate passed a similar bill that ultimately stalled.
The only content of concern is what the public can see because that is what affects "the brand" of the university and the athlete, the Kentucky athletics spokesman DeWayne Peevy said.
"If they're all wanting to have private accounts and not put it out to the public, I think we'd be all for it," he said. But Peevy also noted that most athletes want as many friends and followers as possible, widening the pool of potential witnesses to a faux pas. "We spend every day trying to protect their privacy here.... [Social media] is a tool, but if used wrong it's a dangerous tool." Only 10 or so of Kentucky's 500 athletes have been reluctant to install the software, Peevy said.
The monitoring software, which alerts coaches when students post potentially embarrassing or damaging comments on their accounts (Louisville and Kentucky each flag around 400 words or slang expressions related to drugs, sex, alcohol and sports agents, The Courier-Journal reported) is one approach some universities have taken to maintaining a positive public face of athletics and individual athletes. Others, such as the University of North Carolina at Chapel Hill, require students to "friend" an athletics department official on Facebook.
"I think that any time student-athletes represent the university there's a concern about what they say in public or do in the public the same way as what they would say in a press conference," said Steve Kirschner, a UNC athletics spokesman. "I think by and large most of them understand the position that the university is in, in terms of having 800 people represent UNC athletics and the visibility of being a student-athlete, and I think most of them understand why the policy was put in place."
In March, the National Collegiate Athletic Association slapped North Carolina's football program with a scholarship reduction and one-year bowl ban for rule violations involving academic fraud, improper benefits and use of an agent (who also happened to be an assistant coach for the team). The NCAA's investigation was prompted by a tweet from a player that suggested he was receiving impermissible benefits.
In the case's public infractions report, the NCAA said colleges should monitor public content that athletes post on social media sites if there is "reasonable suspicion of rules violations." The NCAA mandates that if colleges suspect or see any indication of rules violations, they notify the association immediately.
But the association doesn't have a formal policy -- "nor even a recommendation" -- for how colleges should oversee or regulate social media, an NCAA spokesman, Cameron Schuh, said (with the exception of athletic programs not being allowed to recruit through social media).
"Clearly the oversight of [accounts] are done at a campus level, but once it's public it's out there for the world to see and things can either be discovered or brought to the attention of the enforcement staff, and if rules have been violated, a follow-up does take place," Schuh said.
An athletics spokesman for the University of Southern California, one of California's biggest sports programs, said the department does not use monitoring software or require account access from students, but he wasn't aware if individual coaches did so.
"Are there people who friend our athletes and read what they post and that sort of thing? Well, yeah," USC's Tim Tessalone said. For instance, the department frequently retweets USC quarterback Matt Barkley (whose account just last week became the first of a college athlete to be verified as legitimate on Twitter).
"Inappropriate use of social media could result in some sort of consequences, if you will, in terms of involvement with the team…. Social media can help you, but it can also harm you if you're not smart with it. because what you're doing is you're building your brand. If something kind of falls outside of that, then I think that is something we would certainly talk to them about. Again, it has more to do with representing your team and your university."
But athletes are more than walking billboards for their sports programs, said William Creeley, director of legal and public advocacy at the Foundation for Individual Rights in Education, a free speech and civil liberties advocacy organization that has criticized the Kentucky and Louisville policies. They're young people, expressive individuals, still-learning students.
"I think it should be concerning for folks who care about civil liberties on campus and folks who appreciate the importance of freedom of expression to recognize that a university's decision to monitor students' speech at all times just by virtue of their being a student-athlete kind of raises serious slippery slope problems," Creeley said. "First it's their Twitter feed, then it's their dorm room conversations, then it's their work in class, etc. It sends a strange message to student-athletes about what being a student-athlete entails."
Creeley posed these scenarios: If a devoutly religious student -- "a Tim Tebow type" – proclaimed his or her beliefs online in a way that provoked controversy, would the university step in? And would a student have to think twice about posting about a friend who was killed by a drunk driver, because it will prompt a college official to lurk on their Facebook page?
"There's a normative argument to be made about student rights and university monitoring of students, and the fact that a student-athlete is still a student," Creeley said. "It's one thing to punish a student for mouthing off to their coach -- it's another to monitor all communication on campus, which is starting to be the trend here."
The new law won't affect the University of California at Los Angeles because officials there agree that invading students' social media territory is going too far. They keep an eye on what athletes post publicly, and coaches may or may not enforce their own policies, said a UCLA spokesman, Nick Ammazzalorso, but nobody requires Facebook friendships or uses monitoring software. Instead, athletes get a briefing on university expectations and guidelines regarding social media use annually in their handbook.
"[We] shouldn't be policing everything that they do, as a public university," Ammazzalorso said. "We don't want to infringe on our students' rights to have social media accounts."
But colleges in other states with more hands-on policies might have to change their ways if and when more legislation emerges, said Natasha Baker, a senior associate at the Curiale Hirschfeld Kraemer law firm in San Francisco who specializes in student affairs issues. She believes more states are likely to follow suit with similar bills.
"I think this definitely sends a message to other states. That was sort of the trend we saw in the employment context," Baker said, referring to similar legislation that applies to employers rather than colleges. (The California bill, SB 1349, is actually a counterpart to another directed at employers that require social media logins.)
Even colleges in states other than California and Delaware would be well-advised to back off on this, Baker said, because lawyers will start looking at that legislation as a measure of "reasonable conduct."
"It's feel-good legislation for protecting privacy -- you're protecting your students, you're sort of thinking about the appropriate bounds of social media," Baker said. "I think other states are going to do that as well."
But the legislation protects colleges as well, said Bradley S. Shear, a Washington-area lawyer who specializes in social media issues and advised the California senator who sponsored SB 1349. The more data institutions collect, Shear reasoned, the greater the risk of a data breach or liability misstep and potential lawsuit.
"Can you imagine if the coaches are following everything these kids are saying online, and they knew or should have known that a student was doing something or should be doing something and didn't act to stop it?" Shear said. "That's a liability situation that I don't think any school should have to deal with."