You have /5 articles left.
Sign up for a free account or log in.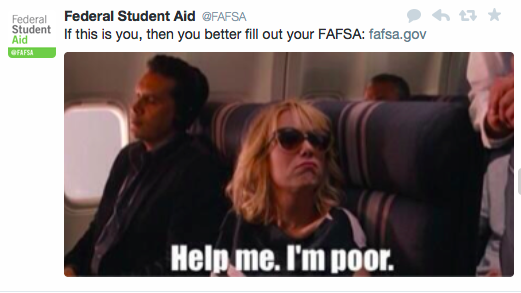 The U.S. Department of Education early Wednesday morning apologized for a tweet that some people found offensive because it appeared to mock low-income students.
On Tuesday evening, the Twitter account for the department's Office of Federal Student Aid sent out a message that said: "If this is you, then you better fill out your FAFSA."
It included a photo of a woman frowning with the caption, "Help me. I'm poor."
The photo depicts a scene from the movie "Bridesmaids" in which Kristen Wiig's character is intoxicated and protesting a flight attendant's decision to kick her out of the first-class cabin.
The tweet, which was subsequently deleted, immediately prompted a torrent of negative reaction on Twitter.
"Unbelievable. Take this down," wrote Anne Kress, president of Monroe Community College. She added: "everything about this is tone deaf and just wrong."
"If I didn't hate FAFSA enough before, that tweet definitely did it," wrote one student. "There is nothing amusing about not being able to afford your education."
"Hey fafsa, I relied on you during my entire college career and still have hundreds in loans to pay each month," wrote another user. "It's never funny."
Still, other students said on Twitter that they would be willing to move past the incident – for a price. One wrote: "[H]onestly that tweet was very offensive ... give me an extra 6k and we can act like you never offended me."
The federal student aid office's Twitter account sent a message early Wednesday morning that apologized for the "insensitivity" of the tweet.
"Our goal is to make college a reality for all," the message said. "We're very sorry."
A department spokeswoman responded Wednesday morning via email to a request for comment sent late Tuesday night.
"We apologize for this insensitive Twitter post, which flies in the face of our mission of opening doors of opportunity for every student," said Dorie Nolt, the spokeswoman. "It was an ill-conceived attempt at reaching students through social media. We are reviewing our process for approving social media content to ensure it reflects the high standards we expect at the U.S. Department of Education." (Note: This article has been updated to include the department's statement.)
The Obama administration has in recent months been making a concerted effort to boost completion of the FAFSA. It has announced plans to share more student-level data with states and guidance counselors, so they can help students fill out the form.
Attracting low-income students has been a particular challenge. The percentage of low-income students who filed a FAFSA for the first time in the 2013 fiscal year ticked down to 57.1 percent from 60.3 percent the previous year, failing to meet the department's own goal in that area.
One blogger, Liz Gross, who writes about social media and student loans, offered a more sympathetic view of the tweet, noting that FAFSA has had success in the past with visual memes that use the language of students. Gross, in a blog post, expressed fear that the uproar may make those who seek to communicate with students more cautious, and ultimately less successful.
"I'm afraid that the backlash from one tweet will cause a chain reaction that stalls or shuts down the FAFSA social media program," Gross wrote. "They are doing the best they can to make federal financial aid accessible to the millennial generation. They've created helpful tweets, informative YouTube videos, and infographics that break down incredibly complicated concepts so teenagers (and learners at all stages of life) feel confident navigating the financial aid process. For a government agency, they've been fairly nimble. They participate in monthly live Twitter chats. They respond to Facebook comments. And they take some risks. Some risks turn into learning opportunities. I'm confident they'll learn from this one."