You have /5 articles left.
Sign up for a free account or log in.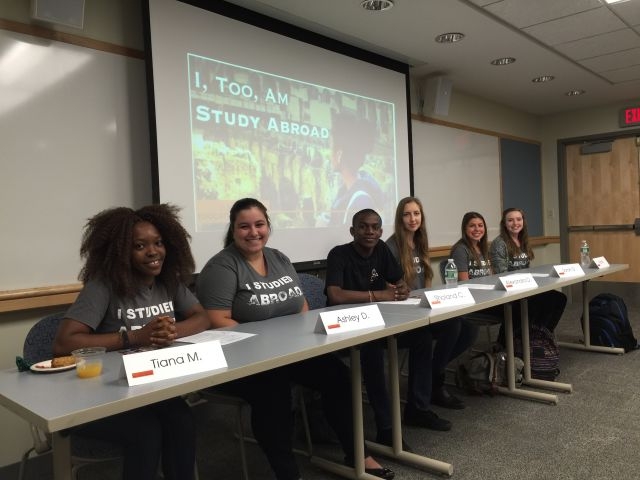 When Tiana Morris flew to London to study abroad last spring, it was her first time out of the country and her first time on a plane. "After going abroad I really became a study abroad advocate," said the marketing major from Long Island. "I was just obsessed with it because of the experience that I had over there."
Morris, a senior at the State University of New York at Oswego who wants to attend graduate school in international education, co-organized a panel about race and gender and study abroad after she returned to campus. "We talked about why you should study abroad, things like that, but one of the questions that we asked all the people who participated was, was there any time when you were abroad and people were negative towards you because of your color?" recalled Morris, who is black. "I know from my personal experience no one was rude to me or negative when I was away. When I went to visit Morocco, people were taking pictures and rubbing on my skin and saying that they loved my color so much, which is something I'm not used to people doing, at least here in America."
The experience didn't bother her, Morris said. "I was very confused by it but also very flattered."
"I felt," she said, "like Beyoncé."
Morris had a ready-made model for the panel she co-organized with a friend. For several years now SUNY Oswego's international education office has done a series of panels each semester under the tagline "I, Too, Am Study Abroad." The panels, which feature returnee students discussing their experiences overseas, focus on topics like race and gender identity, financing study abroad, and marketing the study abroad experience (the latter panel was organized in conjunction with the career services office).
The international education office has in cases partnered with student organizations to put on the panels, and has sponsored panels at the annual ALANA (African, Latino, Asian and Native American) student conference and in connection with the PRIDE Alliance's programming on LGBTQ History Month, celebrated each October. An event to be organized in partnership with women's organizations on campus is tentatively planned for the fall.
Keith Davis, the university's assistant director for education abroad, came up with the idea for the campaign after learning about the "I, Too, Am Harvard" campaign, which highlighted the experiences of black students at the university. To the degree Oswego students looked at the university's study abroad marketing and thought, "Study abroad is not for me," Davis wondered, "Why is that? Why not you?"
At the same time Davis emphasized the risk of pandering, of just putting a person of color on a panel or a poster and hoping that another student will think, "That person looks like me -- I'm going to go abroad."
"The message we're putting out needs to be natural," he said, stressing that the goal is to highlight all kinds of study abroad experiences had by all kinds of students. "There is a wide swath of experiences out there that students go through whether or not they fall within one demographic or another."
The panels -- students talking to other students -- typically get audiences of 10 to 50 people and are held on different topics about three times a semester. The international education office recruits panelists by sending mass emails to students who have returned from abroad and also draws on a group of student study abroad mentors, like Morris, who volunteer or work for the office. International education staff members moderate the discussion, asking questions like why students studied abroad, the obstacles or challenges they overcame, how they paid for it, and how their identity, culture or social upbringing affected their experience.
It's a relatively modest initiative both in cost and in time, but SUNY Oswego officials think the inclusiveness of the messaging is at least partly responsible for the university's success in persuading a more diverse group of students to study abroad. In 2010-11, students from underrepresented racial minority groups made up 13.3 percent of Oswego students going abroad. In 2014-15, the last year for which complete data are available, they made up 25.4 percent -- a figure that fairly closely mirrors the proportion of minority students in Oswego's undergraduate student body.
Nationally, there's a push to both expand and diversify the population of American students going abroad. According to the Institute of International Education, which has launched a "Generation Study Abroad" campaign with just those goals, about 74 percent of study abroad students in 2013-14 were white, a disproportionate percentage in light of fall 2013 federal data showing that white students accounted for about 62 percent of students at public four-year universities and 67 percent at private, not-for-profit four-year universities. (White students made up 54 percent of students at public two-year institutions, which send smaller numbers of students overseas.)
The Institute of International Education recently bestowed SUNY Oswego's "I, Too, Am Study Abroad" initiative with an honorable mention in its annual awards for best practices in internationalization.
"Part of the logic that led to the 'I, Too, Am Study Abroad' campaign was to try to present study abroad as something that every student could do," said Joshua S. McKeown, the director of SUNY Oswego's Office of International Education and Programs. "I would say the tradition in study abroad in this country was largely a Western European program of a long duration, a semester or year, the famous junior year abroad concept, and the typical student was someone who came from a family who could afford it, and had the kind of major that encouraged it. Therefore it was a boutique activity, an elite activity, you might say."
McKeown continued, "Whether it's President Obama's 100,000 Strong initiative" -- actually two parallel initiatives that aim to send 100,000 American students each to China and Latin America -- "or IIE's Generation Study Abroad, there's been a great change in that thinking."
McKeown said SUNY Oswego sent more than 300 students abroad in 2014-15 out of an undergraduate population of about 7,000. The college's study abroad participation rate -- the number of students going abroad each year divided by the number of undergraduate degrees conferred that year -- is just above 20 percent. McKeown considers that to be a pretty good percentage for a campus like Oswego, which is located far upstate, about 300 miles outside New York City. The campus has a strong regional focus: a quarter of last fall's entering freshman class came from the immediate central New York region, and more than 90 percent came from within New York State.
Beyond the marketing and messaging aspects of the "I, Too, Am Study Abroad" campaign, McKeown described how Oswego has sought to attract a broader group of students by expanding the number of shorter-term, faculty-led study abroad programs. "Faculty mentoring becomes much more possible when you have more faculty-led programs," he said. A faculty member can present a program to his or her class in such a way, McKeown said, "that every student can think, 'I can go with that professor.' It actually brings it down to the human level -- 'I can go with her. I never thought about going to Brazil before, but I would go with her.'"
Officials in SUNY Oswego's study abroad office also described the importance of having a broad mix of programs by cost. Lizette M. Alvarado, the associate director for study abroad and exchange programs, recalled one student who wanted to go to Barcelona but wasn't able to figure out a way without taking out $10,000 or more in loans (SUNY Oswego has some study abroad scholarships available, but funding is competitive). In the end the student chose a cheaper semesterlong program in Puerto Rico.
It wasn't Spain. But it wasn't New York State, either.