You have /5 articles left.
Sign up for a free account or log in.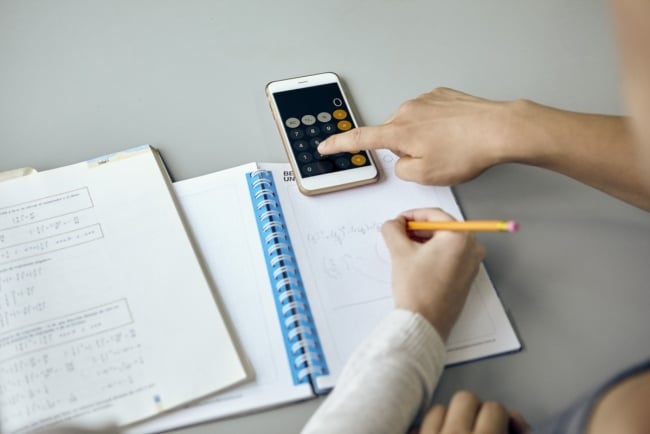 Florida gambled big in 2013 when the state adopted a law eliminating placement exams and remedial college courses and gave recent high school graduates the option to take college-level introductory math and English courses.
New research released this month by the Center for Postsecondary Success at Florida State University found that the gamble paid off. More first-time college students, including black and Hispanic students, passed the college-level math and English courses, also known as "gateway" courses, after the law went into effect in 2014. While other states have made big moves to reform college-based remedial education, Florida remains the only state that allows students to opt in to a gateway course. The state's remedial education law also mandated that two-year colleges replace remedial courses with credit-bearing developmental education courses.
The researchers studied six years of freshman data, from 2011 to 2016, at Florida's 28 two-year colleges and found more students passed the college-level English and math courses after the remedial education law was adopted. The law also required the colleges to offer "enhanced advising" and more academic support services, such as tutoring and early alert academic intervention systems because of concerns that an influx of underprepared students would rush into college-level courses. Those additional services appear to have helped students, according to the report.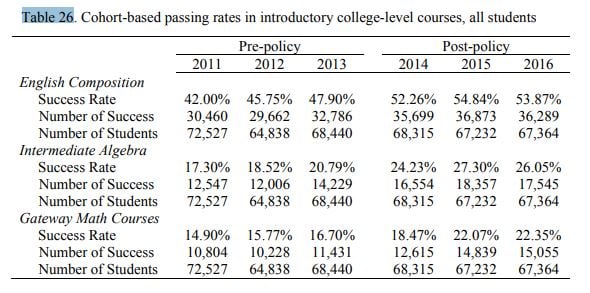 About 54 percent of 67,364 students passed gateway English courses in 2016, compared to about 48 percent of 68,440 students in 2013. More students also passed gateway math courses; 22 percent of 67,364 students passed in 2016 compared to about 17 percent of 68,440 students in 2013.
"There has been very good progress," Shouping Hu, director of the center, said. "But at the same time, a lot of fine-tuning is needed so student success can be optimized."
Despite the progress, the FSU researchers found they still have plenty of unanswered questions, such as why a significant percentage of students are failing the revamped remedial or developmental education courses. The researchers also have not determined if the progress overshadows the financial and implementation challenges rural colleges and those with modest budgets often face, such as inadequate or no faculty training, when adopting new reforms.
"We cannot just look at the overall trend," Hu said.
Although the law has helped a lot of students, it hasn't helped those students who don't succeed in developmental education classes or gateway courses, he said.
The study also found that more minorities and students of color are opting out of the revised remedial courses and taking the college-level courses than before the law change, Hu said.
It's difficult to know if these students took the advice of their college advisers on whether or not to take a remedial course. Hu said the study didn't collect that information.
"Some students are advised to take the developmental education course, and they decided not to take it, and those students were rather successful," he said.
The Florida results show that prior to passage of the law, some academically talented, low-income or socially disadvantaged students were improperly placed in remedial courses, or undermatched, as the practice is called. Students in remedial courses often dropped out or took longer to graduate because they didn't receive academic credit for the classes.
The pass rates of black students in gateway English courses increased by 6.17 percentage points from 2013 to 2014, to 44.5 percent, after the policy change. The pass rates of Hispanic students also went up from 49.8 percent in 2013 to 54.3 percent in 2014. The pass rates of black and Hispanic students also increased in intermediate algebra and gateway math courses.
"When students are placed in more rigorous courses, they will rise to that challenge and meet the rigorous standards for those courses," said Christopher Mullin, director of Strong Start to Finish, a national network of educators and philanthropists who promote policies that help adult learners, low-income students and students of color succeed in developmental education courses. The network is a part of the Education Commission of the States.
Hu noted that despite the increased pass rates, the overall numbers aren't great.
"For some of the student population, we need to encourage or advise them to opt in to developmental education," he said. "What are the thresholds for students' academic preparedness to advise them to opt out? Until we find an answer on that kind of question, we should have some hesitance to just break it loose and let students do what they want."
Enrollment rates in developmental reading, writing and math courses declined after the remedial education law went into effect. Even though the traditional remedial courses had been eliminated and replaced with developmental classes, students still chose to opt out of the developmental courses.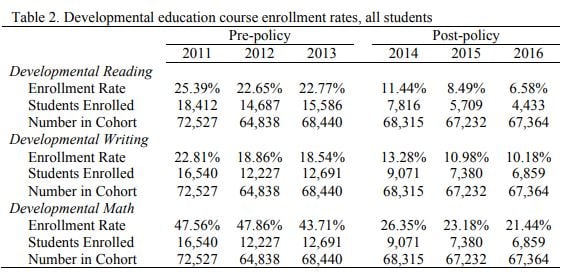 Enrollment in developmental math decreased from 12,691 students in 2013 to 9,071 students in 2014. Enrollment in developmental writing and reading also decreased.
Although enrollment in the developmental courses sharply declined, the FSU researchers found that students passed those courses at about the same rate as they did before the law changed and eliminated traditional remediation. Sixty percent of students passed the developmental math course in 2013, and about 60 percent passed in 2014, after the law changed.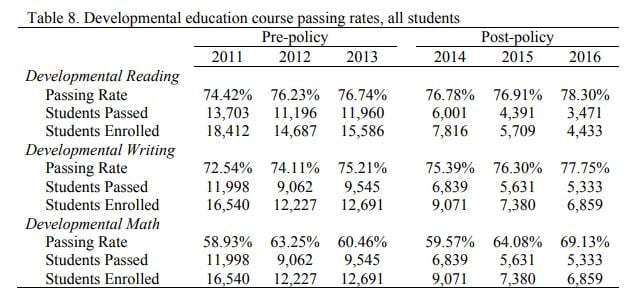 The Florida remedial education law allowed colleges to use multiple types of developmental education, which includes modularized, compressed or corequisite remediation. Corequisite remediation places remedial students in a college-level course but offers them additional support such as a computer lab or study sessions. It has become the most popular form of developmental college education in recent years -- California legislators passed a law last year requiring the state's two-year colleges to transition to corequisite and eliminate traditional remediation, and Texas passed a similar law two years ago mandating corequisite use in remedial courses.
"When we look at the reforms Florida is talking about, they have some things that may be promising but some things we need to dig deeper in to functionally before we can actually say it's better," said Andrew Koricich, an associate professor of higher education at the National Center for Developmental Education at Appalachian State University in North Carolina. "What's glaringly missing is talk about place and locale. We know these reforms are playing out in urban, suburban and rural community colleges differently."
Hunter Boylan, a professor of higher education at the Appalachian State center, said the original reform models have shown progress in student success, but the level of impact at individual colleges will naturally decline as they look less like the original.
A corequisite course that puts students in a college-level math class but only gives them one hour of extra study time in a computer lab isn't going to work as well as a corequisite course that provides a mentor or tutor who spends multiple hours with a student, Boylan said. And these differences between the types of remediation offered to students vary and often depend on how much funding and resources colleges receive. Colleges that have limited financial resources won't perform as well, he said.
"It's a problem that a number of people who are promoting this change believe one size fits all … Many of the institutions implementing some reforms or developmental education need coaching and mentoring," he said.
Koricich and Boylan, who co-wrote a recent report examining remedial education in rural community colleges, warn that the differences in college characteristics and funding should give lawmakers some pause as they consider changing remedial education policies.
"Whether a student is taking a developmental education or gateway course, there is still a cost to the institution," Mullin said. "We don't know how much of a cost savings there is to an institution … in all cases it's making college more affordable for students, and for institutions it's reducing the amount of money they have to spend to get to graduation."
Hu said the Center for Postsecondary Success at Florida State didn't study the impact of each type of remediation on student learning because colleges offer the courses in various ways. Nonetheless, corequisite courses stood out during the researchers' college visits.
"Those who took the corequisite courses tend to be [more] successful in college-level courses than the students who took some other format of developmental education," Hu said. "Corequisite works a little bit better, because by nature they have the college-level exposure."
Hu said the center is examining the reforms at each of the state colleges to determine how they adopted the new law and how the different practices relate to student success and narrowing equity gaps.
"Florida is such a diverse state in terms of geography and rural versus urban and suburban areas," Hu said. "From our site visits, we've seen some variation in institutional programs and institutional response and reaction, but we're trying to figure out all of those variations and how that affects student success."