You have /5 articles left.
Sign up for a free account or log in.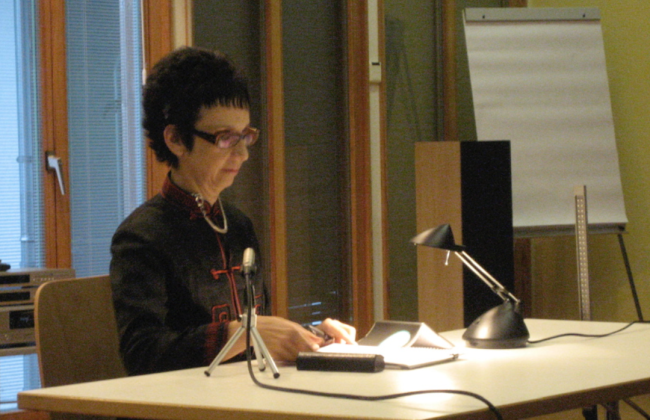 With a new academic year under way in most places, students on several campuses are objecting to the presence of several known harassers.
This week, students at New York University pushed back against the institution's response to their petition against the return of Avital Ronell. The professor of comparative literature and German was found in 2018 to have sexually harassed a former graduate student. She was suspended without pay for the last academic year.
The university says that it responded promptly, thoroughly and substantially to the complaint against Ronell and that it wouldn't let her -- or anyone -- return to teaching if it had doubts about student safety or professional fitness.
But NYU's graduate student union, which is affiliated with the United Auto Workers, and the campus antiharassment group NYUToo maintain that Ronell should be fired, immediately.
"We find your responses regarding the return of Avital Ronell unsatisfying, and with the backing of the many community members who support this demand, we will continue to call for her termination," reads the open letter to NYU, sent this week. "We expect a thorough and thoughtful response to our petition and demands by the end of October."
Ronell's case caught attention last year due to her scholarly profile and because it defies stereotypes about harassers. Ronell identifies as queer, and her target is a gay man. The former advisee, Nimrod Reitman, who has talked publicly about his experiences with Ronell, says that she would touch and kiss him over his objections and demand that he be available to her at all hours of the day and night. Ronell allegedly would reprimand or refuse to work with Reitman if he did not respond effusively enough to her demands for affection and admiration.
Reitman sued NYU and Ronell last year, alleging sexual harassment and more. Ronell and her supporters have pushed back against Reitman's allegations, saying that there was nothing sexual about their interactions and that he used her to advance his own career. But that defense has fallen flat among NYU students.
The graduate students' and NYUToo's petition, published earlier this semester, says that "Ronell's behavior is not isolated to this particular instance, but is part of a long-standing pattern of intimidation and misconduct, as testified by other students and faculty. We therefore call on NYU to enforce its policy 'to maintain a safe learning, living, and working environment' and immediately terminate Avital Ronell's employment."
Thus far, the petition continues, "NYU's handling of the case suggests that its stated commitment to diversity and inclusion is nothing more than tokenism in place of actual institutional reform. Allowing Ronell to return to NYU demonstrates the university's complicity in reproducing the structures that produce harassment and exclusion."
Also "troubling," the petition says, is NYU's "silence regarding a disinformation campaign against Ronell's accuser in which many prominent scholars, including NYU professors, signed a letter defending Ronell solely based on her scholarly reputation and slandered her accuser's claims as being motivated by malicious intent." Indeed, the letter in question was signed by such scholars as Judith Butler. Butler has since apologized.
NYU referred questions about the graduate students' concerns to its formal response to them, sent last month. The letter said, in part, "We take this case, like all cases of sexual misconduct, seriously, and respond accordingly." Ronell's interactions with students will be monitored "to ensure that she has absorbed the lessons of her misconduct and to ensure that she has rectified her behavior and that her interactions with students are in line with NYU's professional expectations."
The matter has raised broader questions about the "appropriate, professional conduct that should exist between faculty and doctoral advisees," the university also said. And so Phil Harper, dean of the Graduate School of Arts and Sciences, and the school more broadly have finalized guidelines for faculty members on mentoring doctoral students that will serve as the basis for a handbook to be developed this year.
Ronell did not respond to a request for comment. One former graduate student who had previously served as her spokesperson referred requests for comment back to the university.
Another Case, Another University
At Rutgers University at New Brunswick, there are additional student concerns about Marybeth Gasman, who arrived on campus this fall as the Samuel DeWitt Proctor Endowed Chair in Education and executive director of both the Samuel DeWitt Proctor Institute for Leadership, Equity and Justice and the Rutgers Center for Minority Serving Institutions.
Previously, Gasman served as founding director of the University of Pennsylvania's Center for Minority Serving Institutions. There she grew her national reputation as an expert on historically black colleges and universities. But Gasman, who is white, also grew a reputation within the center for making sexually charged jokes and innuendo, with her students of color often being on the receiving end of that inappropriate humor. Students alleged that she "fetishized" some of her Latinx and black staff and students, even rubbing men's arms and chests and asking a man and a woman to compare butt sizes.
Gasman also required students at the Penn Center to sign blanket nondisclosure agreements about what was said there. The practice is virtually unheard-of in academe. And while nondisclosure agreements don't cover illegal activity -- such as harassment and discrimination -- several former center students told Inside Higher Ed earlier this year that they were intimidated enough by the document to think long and hard about reporting Gasman to Penn.
Eventually, they did report Gasman. Penn investigated, in 2017, and made certain changes to center operations. Perhaps most significantly, master's students were moved out of the suite, to provide more oversight. But the case remained hush-hush until this summer, when Inside Higher Ed reported on it. Gasman has made no public comment on the Penn findings.
Several news outlets in Philadelphia and New Jersey picked up the story. At Rutgers, the student newspaper, The Daily Targum, also ran an article on Gasman. Late last month, the newspaper also ran an editorial that harshly criticized Rutgers for signing off on Gasman's appointment.
Rutgers "cares about sexual assault and the issues surrounding it. That is, until it has to take legitimate action rather than spout out a few token phrases," reads the editorial. "Given that minorities are over-represented in rape and sexual assault statistics, and given that she has a history of creating a racially insensitive culture, is Gasman really the best option for this job? Were there no other viable candidates?"
Referring to Rutgers's earlier statement that the Graduate School of Education vetted Gasman before her appointment and "eagerly looks forward to her joining the faculty as an internationally recognized expert in higher education," the editorial says that the "cavalier dismissal of these allegations shows nothing more than cowardice on behalf of Rutgers."
Wanda J. Blanchett, dean of the Graduate School of Education at Rutgers, did not respond to a request for comment about lingering student concerns about the appointment.
Neal Buccino, a spokesperson for Rutgers, said the university is "committed to maintaining an educational climate in which all members of the university are valued, respected and treated with dignity." He also said that Rutgers would not allow Gasman to require her Rutgers students to sign the kinds of blanket nondisclosure agreements she asked her Penn center students to sign.
Justice Deferred?
This isn't the first year students have objected to a professor's return to campus following a harassment case. At the University of California, Los Angeles, historian Gabriel Piterberg was forced to cancel classes due to student sit-ins upon resuming his teaching duties in 2017. He was previously accused of harassing two of his former graduate students and forcibly kissing one. The university settled with the graduate students and fined Piterberg -- who never admitted to any misconduct -- $3,000, suspended him for a quarter and said that he couldn't meet with students with his office door shut for three years.
It seemed the case was settled, however unhappy students were with the university's response. But last year, in a surprise announcement, UCLA said that at the urging of the Privilege and Tenure Committee of the Academic Senate, the administration and Piterberg engaged in settlement negotiations. Piterberg was out.
"The parties have reached a settlement, which includes separation from employment, denial of emeritus status, denial of future employment with the University of California, denial of permanent or temporary office space or support, and denial of parking privileges and campus access beyond that which is afforded to general members of the public," read the university's statement. "The administration remains firmly committed to increasing transparency on the issues of sexual harassment and sexual violence."