You have /5 articles left.
Sign up for a free account or log in.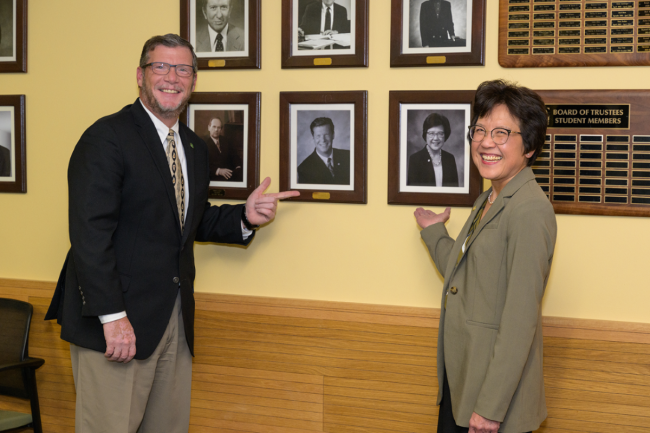 When a college president resigns or retires, the institution's governing board usually announces the steps it will take to replace the outgoing leader. The Board of Trustees of Parkland College followed that script in 2019 when Thomas Ramage told board members he planned to retire in 2022. But rather than provide an estimated timeline for replacing him, as is sometimes customary, the board president flipped the script and announced that a replacement would not be stepping in any time soon.
Ramage would instead spend the next three years essentially training his successor, Pamela Lau, the college's chief academic officer. The move was part of an executive transition plan that also involved promoting Lau to executive vice president of the two-year college and informally making her "president designee."
"Community college trustees from across the country talk about the importance of transition planning and how critical it is to the stability and success of their respective institutions," Gregory Knott, the board chairman, said in a written statement announcing the plan. "We are taking proactive steps to put it into action here at Parkland College."
Knott explained that while Ramage's role would remain unchanged for three years, "he will be bringing Dr. Lau alongside him in the process to learn the complexities of the college presidency."
In doing so, Knott said, "We have set Parkland up for a seamless transition, and the institution will be stronger because of it."
Lau and Ramage, both veteran administrators at the institution in Champaign, Ill., and quintessential team players, were used to playing the long game—she has worked at Parkland for 28 years; Ramage worked there for 24 years—but even they questioned the lengthy time frame of the transition period.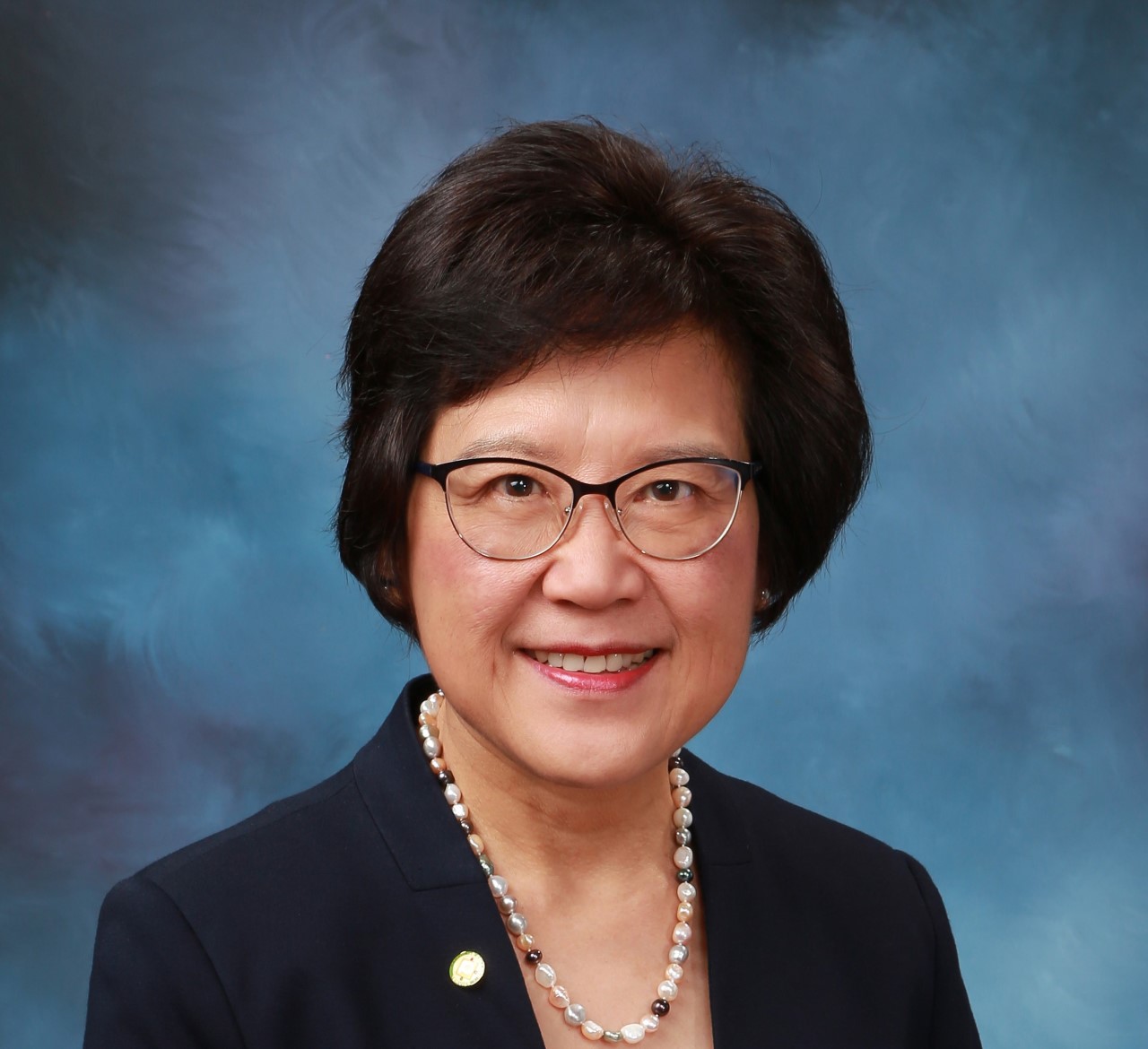 "To be frank, looking back, both the outgoing president and I, as the incoming president, said it was kind of long," Lau said. But she understood the plan was also forward-looking.
"One of the questions that was asked was, do we have somebody from within that would be ready to step in? And so, I was officially appointed and named as president designee."
Nancy Sutton, vice president for academic services, said others at the college also wondered about the long wait time.
"When it was initially announced, everyone thought that a three-year transition period seemed like a very long time," she said. "But from my standpoint, it always made a lot of sense because there's so much that goes from one position to another."
While it's common for colleges and universities to have detailed executive transition plans, Parkland's process is unusual. Community colleges tend to have fewer layers of executive positions and don't typically need as much lead time for transitions of top leaders.
"I have not heard of other colleges that have taken this approach, but I do know that succession planning is something that leaders and board members discuss frequently," Martha Parham, senior vice president of public relations at the American Association of Community Colleges, said in an email. "That said, most search processes are open to applicants from across the country."
But doing things differently is not necessarily a bad thing.
"Each college and its community is unique, and leaders and board members are best qualified to determine the best way to transition to a new CEO," Parham said.
Lau, who became Parkland's sixth president in January, now believes the transition period allowed her to see all the ins and outs of managing an institution with 8,533 students and 886 employees—especially during a global pandemic that hit colleges and universities particularly hard. The pandemic gave new meaning to the concept of on-the-job training.
"Watching how Dr. Ramage handled the crisis and sort of sitting right by him and being in all of those conversations was the lesson I think neither of us thought that we would experience," she said. "There was great upheaval with the pandemic so, in that sense, I was able to learn in a different way, and that was a valuable thing."
Other benefits of the long lag time from designee to successor became more apparent over the years.
"The president of a college these days is very much an outward-looking position, where you have to know the leaders in your community," Lau said. "So it actually gave me an opportunity to be introduced, after the pandemic, to a lot of different people in the community. So when I actually assumed office in January of this year, it was no surprise to anyone."
Lau joined Parkland's faculty in 1995 as an instructor in the college's developmental reading program and became director of the program in 2003. Two years later she led a task force that coordinated the institution's academic support services into a one-stop Center for Academic Success, serving as its founding director and later becoming dean of academic services and then vice president for academic services. She won an Emerging Chief Academic Officer Award from the National Council of Instructional Administrators in 2017.
Lau said becoming president was not a long-term goal.
"I am actually not a very ambitious person. I would just take up meaningful opportunities and work hard," she said. "I didn't start out by thinking that this is where I want to be. I was actually quite content at every point in my career. I'm one of those few people who never had it on my radar to say, that's what I am aiming for."
Sutton has worked with Lau since 2005 and started working more closely with her in 2010, when Lau was dean of academic services and Sutton was chair of fine and applied arts. They also attended Ferris State University together and both received doctorate degrees in education from the local institution.
Sutton attributes a new "level of energy and excitement among the faculty and the staff" to Lau and believes her professional background will enhance her ability to lead the institution.
"One thing about Pam is she learns and listens from everything she does, and I think that's the way she taught her students as well in the developmental reading classes," Sutton said. "And her background simply benefits her in her ability to listen to what people need and to develop ideas and clearly explain the vision going forward."
Sutton believes developing leaders from within can make for a "very strong institution." Lau agrees.
"At Parkland, we have a very long tradition of raising leaders from within," she said. "We look for ways to encourage people to grow as leaders, and I'm a product of that."
Ramage is also part of that tradition. He applied for the president's job in 2005 but was turned down because board members believed he lacked sufficient senior leadership experience. They chose an outside candidate who left the job less than a year later. Ramage applied again and was named president in 2007.
"I think the parallel is that back in 2007, when I got hired, some of the board members were the same when Dr. Lau's time came up," he said. "So they remembered that a national search isn't always the best thing to do."
There's also a large pool of longtime employees at the college. Administrators, faculty and staff members tend to stay at the institution and work their way up, according to Lau. And Parkland's Center for Excellence in Teaching and Learning provides them support "in the creation and upkeep of their professional development plans," according to the center's website.
"We have a leadership development program that works at all levels of the college—faculty, staff, administration—and encourages people wherever they start at the institution … to look at what their next steps might be," Ramage said.
Just three months into her presidency, Lau is still mapping out next steps for where she wants to take the college. She plans to focus on three main themes: expanding access to more students, helping students get and stay on guided pathways to degree completion, and encouraging students to value their time at Parkland.
She also plans to incorporate the lessons learned during the last three years into her management of the university: "Build a good team." "Build a network of partnerships." "It's not about me." "Value and affirm the team." And, perhaps most importantly, "Find my own shoes."
"Dr. Ramage was an excellent leader in so many ways. I initially felt the proverbial angst of having to fill his big shoes," Lau wrote in an email. "I learned that a president has to walk the leadership journey in their own shoes, the ones that fit their feet. I must find and develop my own leadership personality and articulate my vision for Parkland College in my own voice."
Lau earned a bachelor's degree in philosophy from the University of Singapore, where she was born and raised. She immigrated to Illinois along with her husband and attended the University of Chicago, from which she received a master's degree in philosophy in 1983.
"When I came to the United States, there was a possibility that, when I finished my graduate degree, I would go back to the university in Singapore to teach philosophy," she said. "Then the paths of life changed and I didn't go back. I stayed here."
Lau didn't set out to work at a community college and didn't know much about them while living in Singapore, but she liked the mission of American two-year institutions.
"I was very drawn to the much more egalitarian approach that even if you didn't do well, or you didn't get the highest score in terms of grades but want the opportunity for higher education in the United States, there are community colleges that open that door for you," she said. "I like that a lot, and it resonated deep within me, even though that was not how I grew up."
Three years as president designee might seem a bit excessive to an outsider, but for an insider like Lau, it was just part of the arc of her nearly three-decade career at Parkland.
"So I always tell people, 'I drank the Kool Aid,'" she said. "I've been at Parkland all these years, and I've had the opportunity to take responsibilities over the years, and that's how I got where I am."
More from Executive Leadership